Web scraping is the best data-collection method if you are looking to grab data on web pages. As capital flows around the globe through the Internet, web scraping is widely used among businesses, freelancers, and researchers as it helps gather web data on a global basis, accurately and efficiently.
We listed the top 10 most scraped websites here according to how frequently the Octoparse task templates were used. As you read along, you may come up with your own web scraping idea. Don't worry if you are a newbie in web scraping! Octoparse offers pre-built templates for non-coders and you can start your scraping project.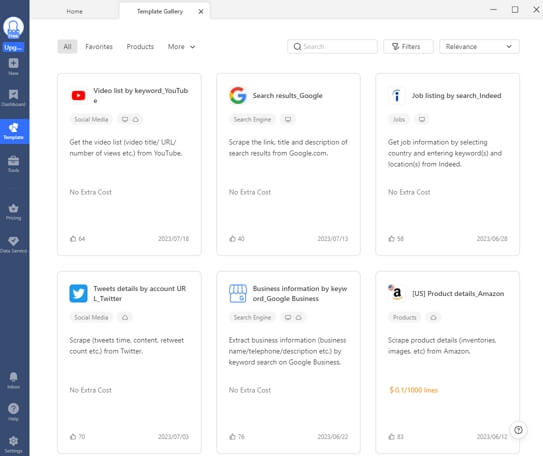 What is an Octoparse task template? For programmers, in order to scrape the web, they are able to write scripts and run them in Python or whatever way. A task template is like an already written script and the only part you have to do is to figure out what data you want and enter the keywords/URLs on our task template interface.
What is web scraping? You may read this article What Is Web Scraping – Basics & Practical Uses to get a sense of the technique.
Categories of Popular

Scraped Sites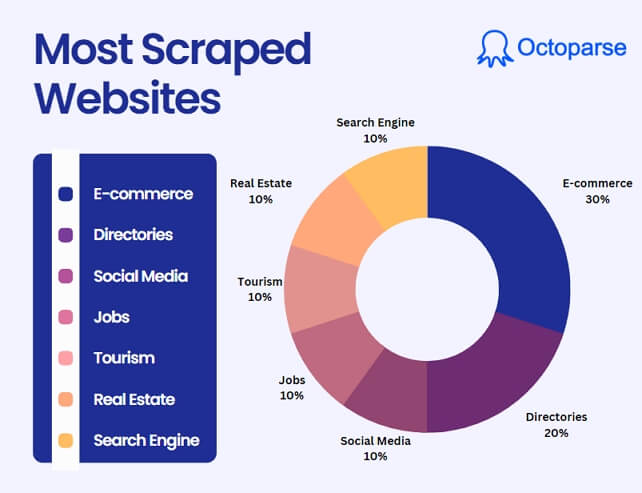 E-commerce sites are always the most scraped websites among others, both in frequency and quantity. As shopping online becomes a household lifestyle, e-commerce affects people from all walks of life. Online sellers, storefront retailers, and even consumers are all e-commerce data collectors.
Directories sites earn the second rank in the race, and this isn't surprising at all. Directories sites organize businesses by categories and thus serve as a functional information filter which is a good pick for efficient data collection. Many are scraping directories sites for contact information to boost their sales leads.
Social media incorporates a wealth of information concerning human opinions, emotions, and daily actions. Generally speaking, scraping from social media sites is more challenging than from others. That is because many social media sites employ strong anti-scraping techniques in order to protect users' privacy. Yet, social media still serves as an important source of information for sentiment analysis and all kinds of research.
Other sites fall into categories such as tourism, job board, and search engine. In fact, people of all industries are taking advantage of the web scraping technique to exploit data value to serve their interests.
Let's get to the Top 10 list directly and check out which websites were most scraped and how they are helpful for our data collectors.
TOP 10 Most Scraped Websites
Top 10. Mercadolibre
Mercadolibre may not be familiar to all but it is a household e-commerce marketplace in Latin American countries with Brazil as its largest contributor in revenue. The pandemic accelerates its growth and now the company is worth $63 billion on Nasdaq. It is depicted as "Latin America's answer to China's Alibaba" in the Financial Times.
Octoparse.es found this site the most popular among our Spanish users and we formulated the ready-to-use template where users can enter the listing page URLs and get the product data: product name, price, detail page URL, image URLs, etc.
Top 9. Twitter
According to Statistics, there are around 330 million monthly active users and 145 million daily active users on Twitter. With a great number of users, Twitter is not only a platform for socializing and sharing but also becomes a perfect place for branding and marketing.
People are seeking data on Twitter for various reasons, namely industrial research, sentiment analysis, customer experience management, etc. And if you read this article about text mining Donald Trump's tweets, you know tweets data can be used in more different ways.
Task templates for Twitter are widely consulted at our support center, and we have delivered a good number of customizable templates for our customers. If you use pre-built templates on Octoparse, you can get post data or profile info from certain authors.
Related Article: How to Scrape Data from Twitter
Top 8. Indeed
According to Indeed, the giant job board has received 175 million CVs in total. Seeking jobs online now is so natural that we barely remember what a traditional job fair looks like. Building a job aggregator, especially for niche markets, has become a profitable business in recent years. And guess how people do this? Yes, web scraping is the trick.
Job board builders are not the only people who benefit from job site data. Human Resources professionals, job-seekers, to-be job hoppers, researchers focused on recruitment, and job markets are all eager for job data. If you are seeking a job, having a big picture of the market always helps with your bargain.
Related Article: How to Scrape Indeed for Job Postings
Top 7. Tripadvisor
The travel industry has seen a blow during the pandemic and now the recovery is happening. The need to scrape tourism websites could bounce up as well. Why would people scrape websites like booking.com, TripAdvisor, and Airbnb? One example could be service agents who offer integrated service for tourists, including ticketing, and hotel/restaurant booking.
Web scraping is also widely used for price comparison, and this is how smart people build price comparison sites to service the public. If you try, you may build a price comparison site for flight tickets to help tourists book the most economic one!
Related Article: How to Scrape Hotel Data from Tripadvisor
Top 6. Google
With its super machine learning algorithm, Google could be the robot that knows everybody better than their families and friends. That's all about data. From an individual's perspective, what can we get from Google?
SEO marketers may be the bunch of people most interested in Google searches. They scrape Google search results to monitor a set of keywords, to gather TDK (short for Title, Description, Keywords: metadata of a web page that shows on the result list and has a critical influence on the click-through rate) information for SEO optimization strategy.
In addition to Google search result extraction, Octoparse offers a template for Google Maps as well. Enter the URL of the search result page, and Octoparse will get you well-organized data on the related stores.
Top 5. Yellowpages
According to Wikipedia, Yellowpages.com, also known as "YP", was founded in 1996, and over decades of development, the site has developed into the most well-known directory website and hosts 60 million visitors per month.
Well, in the eyes of web scraping people, Yellowpages is the perfect place to gather contact information and addresses of businesses based on location. If you are a retailer and find competitors in your area is as simple as a few clicks. If you are a salesman and looking to generate sales leads efficiently? Check out this story and you will know what I am talking about.
Octoparse, the best web scraping tool, can scrape data like shop name, rating, address, phone number, etc. from Yellowpages via its preset templates. And the data can be exported into forms like Excel, CSV, and JSON.
Related Article: How to Scrape Yellowpage for Sale Leads
Top 4. Yelp
Same as Yellowpages.com, Yelp can get you business data based on location. And there's more. When you are traveling around and a question pops up in your mind: who has the best pizza in the city? That's where Yelp comes into the scene. Yelp serves not only as a business directory but also as a free consultant for consumers in food-hunting, and home services, and who are looking for a good massage.
That's about ranking and reviews, which is gold data for businesses. Those scraping Yelp are capitalizing on the reviews and ranking data to get an idea of what their business looks like in a customer's eye and also for competition analysis.
Related Article: How to Scrape Yelp for Business Data
Top 3. Walmart
If you are interested in the retail business landscape, this article from Vox has portrayed an image of how retailers use data to track every move of their customers in order to promote sales. While the real thing is that data is also used to form a transparent market and serve shoppers' interests.
Price comparison sites are generated under the work of web scraping. Walmart can be one of the targets to scrape from as its slogan reads "Save Money Live better". That's one of the reasons people are scraping from Walmart. For retailers and groceries, Walmart is also an important source of information to get product data for market research.
Related Article: Extract Product and Price Data from Walmart Site
Top 2. eBay
E-commerce websites are always the most popular websites for web scraping and eBay is definitely one of them. We have many users running their own businesses on eBay and getting data from eBay is an important way to keep track of their competitors and follow the market trend.
There is a customer story mostly impressive to me. The customer is an eBay seller and he is diligently scraping data from eBay and other e-commerce marketplaces regularly, building up his own database across time for in-depth market research.
Related Article: Scraping and Cleansing eBay Data Easily
Top 1. Amazon
Yes, it is not surprising that Amazon ranks as the most scraped website. Amazon is taking the giant shares in the e-commerce business, which means that Amazon data is the most representative of any kind of market research. It has the largest database.
While getting e-commerce data faces challenges. The biggest challenge for scraping Amazon could be the captcha, and we get it handled. Captcha is a way to prevent the sites from crashing as too many are craving Amazon data and frequent scraping can overload the servers. Octoparse employs cloud extraction and IP rotation, which can perfectly nail it.
Scraping from Amazon can give you data for all below purposes:
Price tracking
Competition analysis
MAP monitoring
Product selection
Sentiment analysis
Using Octoparse Amazon template, you can gather product data like ASIN, star rating, price, color, style, reviews, and more.
Related Article: How to Scrape Amazon for Product Data
Final Thoughts
Data is the new oil. But without a handy tool, no one can exploit its value of it. Octoparse is working to make data more easily accessible to the public, whether they can code or not. In this way, all of us can get a hand on the needed data and create value for the world through data analysis.
If you are interested in generating original opinions and just lack the data to back you up, get your data!