When will the expansion of the e-Commerce industry reach a turning point? The answer is definitely not the year 2023. Although its growth is slowing, top e-Commerce statistics for 2023 remain optimistic about online sales. According to Insider Intelligence's report, sales of e-Commerce are expected to increase by 10.4%, reaching a market size of $6.3 trillion in 2023. And this number is predicted to climb to over $8.1 trillion in 2026.
However, a flourishing industry is always born with intense competition. Whether you're considering starting your e-Commerce business or running one right now, you might need to utilize everything you have to stay ahead of the rat race. And data, it's the perfect tool. Its value has endured testing and has never decreased–in fact, it has increased. According to a report by Statista, the global big data market will reach $103 billion by 2027, double its expected size in 2018.
And the e-Commerce industry, which is mostly online and depends on digital technologies, relies heavily on data to make informed decisions. Its entire life cycle is filled with data. Throughout this article, we'll explore all phases of the e-Commerce business and find out how web scraping can benefit it.
The Three Stages of E-Commerce Business
Generally, there are three stages of running an e-Commerce business, planning and launching, growth and optimizing, and scaling up and expanding. The main missions of each phase are different.
Great business often starts with a small idea. But the idea must first, however, show promise of success. As a result, most businesses begin by evaluating the initial business idea, then developing a detailed and practical plan with it. It is the most important task during the planning and launch phase. Digging into the market at this stage will help get valuable information and persuasive proof that can support the upcoming commercial actions.
Although the e-Commerce market is still expanding, some research has pointed out only 10% of online businesses succeed on average, with the majority failing within the first 120 days. So, there is not much time for breaks following the launch. To make sure customers can come in and business grows as intended, daily operations will become a primary concern. Yet, an undercurrent of slow growth might soon emerge. In order to overcome this difficulty, some actions should be prioritized, such as expanding the customer base, improving the products, and developing marketing strategies.
If an e-Commerce company can stay in good shape and turn a profit during the second phase, business expansion can be put on the agenda. The business must have achieved a solid customer base, a good business model, more importantly, a huge database about its products, competitors, and the entire market, before scaling up. This database can serve as a road map for growing the company, entering new markets, releasing products, etc.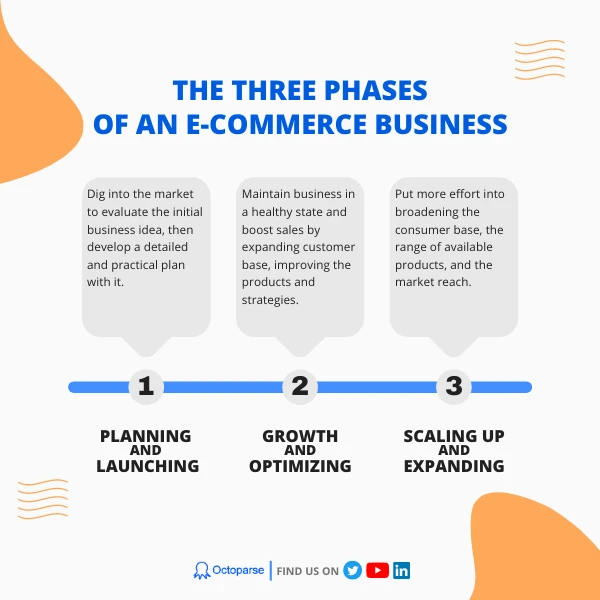 Thus, whatever stage your e-Commerce business is in, data always plays a critical role in decision-making, problem-solving, and optimization. But filtering valuable data from the flood of the Internet all by hand is out of the question. Web scraping tools, to some extent, are born to address this problem.
Now, let's take a look at some examples of typical web scraping and data-use scenarios in each stage of the e-Commerce business, and how Octoparse can be applied to boost the business.
Plan and Find a Product That Will Sell Like Crazy
The first phase is about planning and launching a business. We all know that building a business from scratch is no simple task. There is still a long way to go when there is a desire or an idea to create an online business or sell goods online. What can make a product the next hit? The answer is beside the item itself, customers' preferences, market demands, sales channels, and even commercial partners need to be taken into account.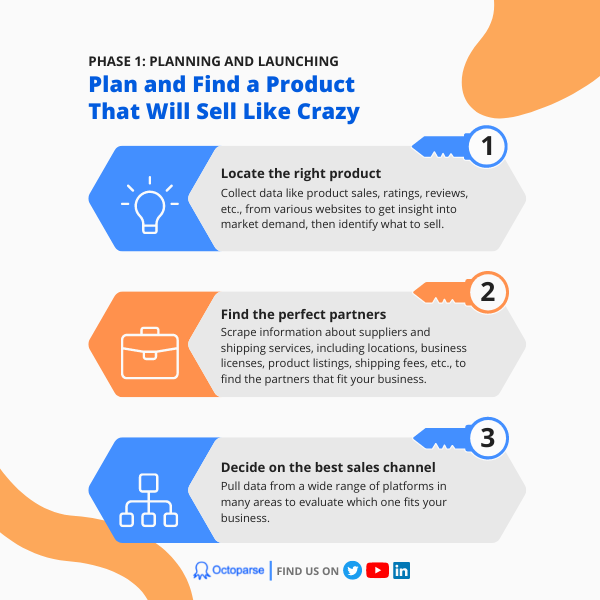 Locate the right product but not create it behind closed doors
Before going forward, the more time you spend researching and validating your product ideas, the better your choice of succeeding. Finding the right products and targeting the correct market can allow you to achieve twice as much accomplish with only half the effort.
Customers' behaviors are complicated and almost unlikely to be measured. Sometimes you put a lot of effort into observing and even designing polls to collect their opinions, but what you get is not what it is supposed to be. But data always reflects their tendencies even though they might have never realized that. Product sales, ratings, reviews, and other metrics reveal how much consumers adore, value, and desire a product. To be more precise, a good user persona, an analysis of market demand, comprehensive market research, etc., all develop from this raw data material.
Luckily, we can access all this information on most online shopping platforms now. And web scraping tools make it easy to collect thousands of lines from these websites in one go. After grabbing data and crossing various websites, then analyzing the characters of users among different platforms, you can find what to sell and locate the most potential market for your business.
Find the perfect partners for your business
No one can create and maintain a successful business without partners. Even while operating an online store may require fewer human resources than a conventional one, you still need the assistance of suppliers and delivery services to make sure you have enough products for sale and that customers can get their orders on time.
Finding reliable suppliers and delivering services is an important task to do during the first phase. Not only will it be a crucial component of your company plan, but it'll also impact your business model and day-to-day operations in the following phases. The official websites of the producers are valuable resources when determining whether businesses are worthwhile to work with. With some e-Commerce sites, though, you can see how they genuinely perform. For instance, Alibaba gathers a lot of manufacturers, suppliers, wholesalers, etc., on its site. You can easily scrape locations, business licenses, and products from each manufacturer and supplier from Alibaba. With this knowledge, you might be able to find cooperation quickly without getting lost.
You can also learn about express delivery services from relevant websites by collecting shipping information. Online shops usually highlight shipping fees, expected shipping times, and shipping-from locations of products. That can be your reference to decide which delivery solutions might fit your business and the budget for shipping service.
Decide on the best sales channel for your business
Your products will reach the right audience in the most effective way by choosing the right platform, which will also boost your sales and profitability. This implies that you can maximize your return on investment while raising your chances of closing deals and producing income.
To select an ideal one, you can first consider your target audience and the unique characteristics of your products, then research and evaluate the different sales channels available, such as online shopping platforms and social media. For example, if you are going to sell high-end luxury goods, a discount marketplace like eBay might never be on your list. Moreover, Lazada or Shopee will not be your first choice if your target market is the U.S. or Europe, since most of their users come from Southeast Asia. And of course, this information is contained in the data you can extract from websites.
The use of data is crucial in this process. You can pull data from a wide range of platforms in many areas to evaluate which one fits your business. For example, tracking the best sellers to gain insights into which kinds of items are popular on these platforms, and extracting customer feedback and reviews to understand which channels they prefer and which ones may be causing issues or barriers to purchase.
Here are some big players in online shopping that you can use Octoparse to scrape data from:
Skyrocket Your Sales in the Growth and Optimization Stage
According to some research, up to 90% of e-Commerce start-up businesses fail. Thus, when your e-Commerce business steps into this phase, congratulations! You have survived the most challenging stage! Now you might have some loyal customers, reliable partners, and proper channels to sell your products. In the following phase, you are likely to experience steady growth, and the main missions will change into maintaining business in a healthy state and boosting sales to maximize profitability.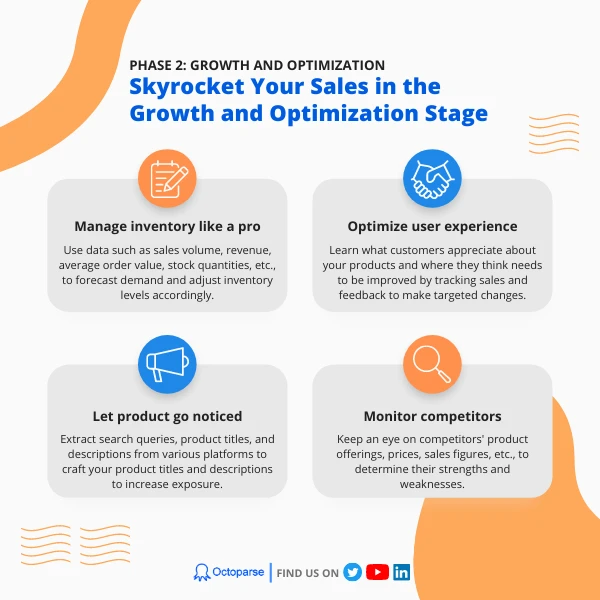 Manage your inventory like a pro
Making you have enough inventory is one of the most crucial and significant tasks in daily operations. By keeping your inventory current, you can meet your customers' demands on time. As a result, you might increase customer satisfaction and loyalty. Meanwhile, it's an effective means to avoid overstocking to minimize storage costs.
You can use data such as sales volume, revenue, average order value, stock quantities, etc., to forecast demand and adjust your inventory levels accordingly. This information can originate from your own sales records as well as the platform listings for your suppliers. However, these kinds of data are fast-changing. To get the latest data, you can use web scraping tools to track all wanted data around the clock. Then you are more likely to be clear about when to stock products and how many you should stock.
Optimize user experience from bounce to buy
User experience directly impacts customer satisfaction which in turn contributes to business success. A good experience can improve customer retention, increase sales, and boost brand reputation. There are numerous ways to improve user experience, but no matter what course of action you decide to take, the foundation is knowing how customers feel about your products and services and what appeals to them.
Data is a fantastic intermediary for understanding clients, as was previously mentioned. Enhancing user experience in this phase can help you in many ways. By scraping customer feedback, you may learn what your customers appreciate about your goods and services and where they think there is room for improvement. Then you can make targeted changes to better customer experience.
Meanwhile, you can track sales data to spot patterns in consumer behavior, such as the most popular products, most profitable pages, and most successful promotions. Additionally, it is necessary to monitor social media channels to observe what people are saying about your business.
Don't let your product go unnoticed
Countless pieces of information flow on the Internet every second. Every product in online shops can be submerged under the data floor without any sound. This phenomenon pushes e-Commerce merchants to try their best to improve products' visibility so that more audiences can see their products.
Improved titles and descriptions are very common methods for increasing products' exposure. Often, shoppers use specific keywords to find products when searching online. Therefore, optimizing product titles and crafting product descriptions with relevant keywords and phrases that accurately describe the product and its features can help reach more potential customers.
Data plays a crucial role in this area as well. You can scrape search queries and results on search engines like Google to analyze which keywords and phrases are most relevant in driving traffic to your products or competitor goods. Additionally, web scraping tools can help extract product titles and descriptions from online shopping platforms. This data can be utilized to determine what words and phrases are most effective at catching people's attention as well.
Monitor your competitors and win in your market
The e-Commerce industry is incredibly competitive. Staying ahead of the competition requires competitor analysis in every business plan. It allows you to identify your competitors' strengths and weaknesses, adjust your strategy accordingly then help maintain your market position. As part of competitor monitoring, data is crucial in almost every step, including identifying competitors, monitoring their performance, analyzing their content, monitoring their pricing, etc.
To identify your competitors, you can use web scraping tools to extract their product offerings, prices, and company information to determine your rivals. Along with prices, you may scrape their prices, sales figures, product reviews, and ratings to observe how your competitors are performing and then determine where you can improve.
Your competitors also can be your best teacher in optimizing marketing content. To be more specific, you can analyze their content strategy by collecting their product titles, descriptions, campaign content, and even social media posts to understand how they engage with their audience. It'll help you improve your own content and marketing strategy.
During this phase, Octoparse can be applied to several aspects, including:
Conducting market research with web scraping.
Bring Your Business to a New Level in Expanding Phase
Your e-Commerce business might enter a new phase once it has built a solid client base and a successful business strategy. This new phase of scaling up focuses on expanding operations and increasing revenue. It entailed making a conscious effort to broaden the consumer base, the range of available products, and the market reach.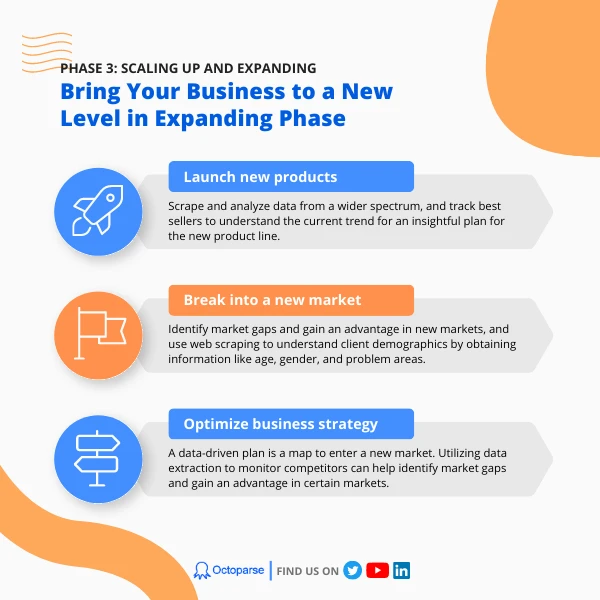 Launch new products with a winning strategy
One primary aspect of this phase is the expansion of the product line to introduce new products and services to cater to customers' growing needs and preferences. You must be aware, having gone through the building phase of a business, that launching a new product is intricate and demands careful preparation and execution. And you should not ignore the role of data.
Similar to what you have done in the phase of planning and launching, data is needed to conduct market research here. It called for data from a wider spectrum. You need to analyze sales, profits, and feedback on your own offerings, and also scrape customer feedback to conduct sentiment analysis to understand how people think about your products. Additionally, market research requires data that can reflect the current trend, for instance, tracking best sellers, collecting sales and feedback data of your competitors, etc.
With the help of data, you'll develop an insightful plan for the new product line. And by diversifying the product offerings, your e-Commerce business can increase revenue streams and reduce the risk of relying on a single product.
Break into a new market
When you look for new growth sparks, considering entering a new market can be a wise move. Because a new market will let your business tap into a new customer base, reduce dependence on a single market, and increase brand visibility.
It's like climbing a mountain you don't know when you enter a new market. In this scenario, a map becomes essential, and in the world of e-Commerce business, a data-driven plan is a map. Before you make the final decision, you need web scraping tools to grab sufficient data to complete your plan. In this context, competition monitoring through data extraction can be utilized to identify market gaps and gain an advantage in certain markets. Also, you may use web scraping to understand client preferences and demographics by obtaining information like age, gender, and problem areas.
Optimize business strategy with smart goals
The business strategy, in fact, is important in every phase of any business. The expansion of a business requires a more detailed, insightful, and data-driven business strategy. Market research, competitor monitoring, price monitoring, and consumer sentiment monitoring with web scraping tools are all necessary, but you need to focus more on your brand and reputation at that time.
Therefore, you can apply web scraping tools to reputation management, take advantage of tracking mentions and sentiment, and automate reputation management tasks. Then you can optimize your business strategy to meet customer needs better and set your business for long-term growth and sustainability.
The Octoparse Way to Go the Extra Mile in E-Commerce
Efficiency is the key to success in this high-paced society. The same idea is suitable for the e-Commerce industry. Besides making web scraping easier for everyone, Octoparse has put more effort into helping users improve working efficiency and reduce labor costs in several aspects.
Here are some examples of how you can improve scraping efficiency with Octoparse.
It provides web scraping templates for everyone without configuring any scraping rules or writing code.
It allows users to schedule tasks to run on a regular basis without manually clicking on the start button again and again.

It also offers one-stop data scraping solutions and custom-made crawlers for specific needs.
Octoparse is aware of the characteristics of websites and data and considers practically every aspect or situation in which a user can apply the tool. So whatever frequencies you want to scrape data or what platforms you aim to pull data from, Octoparse is likely to give an optimal solution to web scraping and help your business go the extra mile.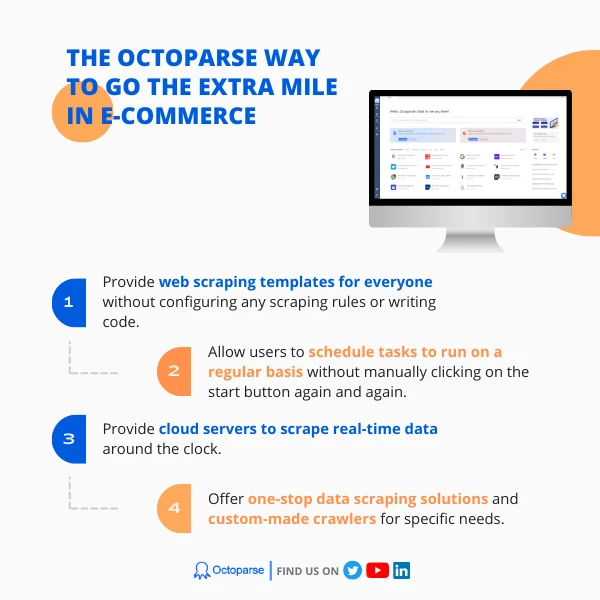 Wrap-up
Running an online business is a long-term game. Data can be its compass as well as its fuel. Web scraping is, therefore, essential to every phase of an online business. Market research, competition analysis, price monitoring, competitor monitoring, and other business operations can all benefit from the use of a top-notch web scraping tool like Octoparse. No matter what stage your business is in, making greater use of data and web scraping will help it.