The amount of information that occasionally has to be organized and included in a new website's design may be overwhelming, making the task even more challenging. A sitemap can be a useful planning tool that can help arrange and simplify the material that must be on your website and remove any unwanted pages. Additionally, a well-designed sitemap provides visitors with a positive experience, increasing conversion rates.
The finest web design methods for years have included sitemaps; therefore, they are not a new concept. But now that search engines have started using sitemaps, their significance has increased, making effective sitemap engineering even more crucial. In this article, we will discuss the best 10 sitemap crawler tools and the no-coding way to extract content from any website.
What Is Sitemap
A site map is a representation of the material on a website made to aid in site navigation for both people and search engines. A site map can be an XML document that gives instructions to crawling search engine bots, a hierarchical collection of webpages (with links) arranged by topic, or both.
The sitemap is simply a basic HTML file containing a listing of all the important pages on a site when it is intended for users.

The sitemap, sometimes referred to as a sitemap.xml file, aids in the indexing of all pages on the website by search engine crawlers. Even though a site map does not ensure that a crawler will visit every page of a website, most search engines suggest using them.
Site maps are particularly crucial for websites that employ JavaScript or Adobe Flash menus without HTML links. Google created Google Sitemaps to make it easier for web crawlers to identify dynamic sites, which were frequently overlooked. All other search engines, including Bing, also support this method.
Importance of sitemap for a site
The sitemap provides the user with a quick overview of your website's topic and aids in helping them understand the services and goods you supply. When a new section is added, the sitemap is also helpful to the administrator since it allows them to see the site's structure from the ground up and consider it while still keeping the site organized.
Sitemaps make it easy for crawl reports to detect any missing, inaccurate, or broken internal links on your website. Sitemaps can provide short-term repair and assistance while the issue is being rectified, which should happen as quickly as feasible.
10 Best Sitemap Scraper Tools
In this portion of the post, we will offer recommendations for the best sitemap scraper to utilize when attempting to extract data from a sitemap file.
Internet marketers that are involved in SEO frequently utilize the popular scraping tool ScrapeBox (SEO). The standard version of ScrapeBox does not include Sitemap Scraper. Although the ScrapeBox tool is a premium add-on, you can only use it if you have access to a paid ScrapeBox subscription. It is among the most potent sitemap scrapers available.
Main Features:
All blog comments from websites can be scraped, saved to text files, and customized to scrape more data.

It works with URLs from multiple domains and can quickly convert a list of URLs into an RSS XML feed.
The XML Sitemap Extractor, created by Rob Hammond, is one of the best sitemap scrapers available and is debatably the simplest one. It may be accessed using a browser and is offered as a web-based application. Simply input the right URL of a sitemap you are familiar with, and the URLs included in the sitemap will be quickly delivered to you. Along with the URLs that are supplied, you also receive information on the overall number of URLs.
Main Features:
For staging servers that employ HTTP basic authorization, this tool also offers more sophisticated options.

Interestingly, the XML Sitemap Extractor is a free utility with unlimited usage.
You may scrape any type of website on the Internet, including contemporary Ajax-enabled websites, with the full-featured web scraper known as WebScraper.io. It includes a Sitemap.xml link selecting tool that you can use to retrieve a website's URLs. Both the common Sitemap.xml files and compressed ones are supported by it. If this tool encounters another sitemap within a sitemap, it first recursively locates every URL in the sitemap before continuing.
Main Features:
Web Scraper is a free Chrome add on that is accessible.

There is a cloud version that is available for purchase that has more features and fewer restrictions.
Python programmers can use the ultimate-sitemap-parser.
Main Features:
Despite having large sitemap hierarchies, it doesn't use much RAM.

Provides a sitemap tree that is easily accessible as an object tree.

Supports the use of a custom web client.

Uses a few actively developed third-party modules.
This is an XML sitemap scraper for Node/JavaScript.
Main Features:
Only compressed sitemaps that are nestled inside of <sitemapindex> tags are supported.

The URLs of child sitemaps that are nestled inside <sitemapindex> tags will be included in the output array once the child sitemaps have been decompressed. According to the argument given in the function call, compressed sitemaps are processed simultaneously. When processing a large number of compressed sitemaps, it can assist prevent memory and CPU load problems.
This web crawler aids you in improving onsite SEO by gathering data and checking for typical SEO concerns. You may download and scrape 500 URLs for free, or you can purchase a permit to eliminate the limit and gain access to additional capabilities.
Main Features:
Crawl a website in real-time to detect broken links and server issues. Export the problems and source URLs in bulk to correct or give to a developer.

Using CSS Path, XPath, or regex, you may extract any data from a web page's HTML. This might contain social meta tags, supplementary headers, pricing, SKUs, and more.

Employing dynamic crawl and directory force-directed diagrams, as well as tree graph site visualizations, assess internal linking and URL structure.
Slickplan provides an easy-to-use sitemap generator as well as a WordPress plugin. It lets you create a sitemap from scratch using drag and drop, or you may start with an existing website by inputting its URL, sitemap index file, or Google XML file. Slickplan's visual sitemap generator creates easy-to-navigate structured sitemaps to assist you in presenting and testing various web page architectural scenarios.
Main Features:
It allows users to effortlessly import a website into the program from a previously exported XML file.

You can also immediately export and import your current XML website sitemap from WordPress into Slickplan.
With interactive visual sitemaps, this generator provides a solid option for understanding and showcasing the true design of a website. Dynomapper's sitemap can crawl up to 200K pages each crawl. Users may reorganize the structure, categorize pages, and give a process status to each page using the sitemap editor.
Main Features:
Automatically import keywords from a site and receive daily keyword monitoring statistics regarding ranks on Google, Yahoo, and Bing, with the flexibility to monitor by region or device.

Display Google Analytics stats in each sitemap and allow your visual sitemap to be sorted and filtered. Sitemaps that have been filtered can be exported to PDF or CSV.
Use this plugin to dramatically boost SEO by creating specific XML sitemaps that will assist search engines like Google, Bing, Yahoo, and Ask.com in better indexing your site. Using such a sitemap, crawlers will be able to view the entire design of your website and obtain it more effectively. The plugin works with all WordPress-generated pages and custom URLs.
Main Features:
It alerts all widely used search engines whenever you publish fresh material.

It is very easy to use and you can use it for free.
Deepcrawl is your technical SEO command center. Accelerate online business by bringing together the personnel, data, and insights necessary for high-performing, revenue-generating websites that are ready to rank highly in organic search. Deepcrawl's enterprise-scale site intelligence platform, driven by our world-class crawler, allows you to realize your site's full economic potential.
Main Features:
Monitor website changes and detects potential risks with customized notifications and trend-spotting widgets for all your sites and projects—all in one place.

Dive deep into insights with dozens of built-in analyses and limitless custom extraction options.
Easy Website Scraper to Extract Contents Without Coding
Octoparse enables anybody to rapidly create a crawler. This software has not only improved the responsibilities of experienced developers by providing a one-stop platform to handle all mining chores, but it has also made web data available to people who want web page data but may not have coding talents. Furthermore, it includes pre-set Templates for the majority of the sites, making the scraping process faster and easier to begin.
It captures data from web pages in real-time by mimicking human-like browsing activities such as accessing a website and engaging with a webpage component or link. Each action in the workflow that describes the extraction technique represents a unique interaction with the desired page.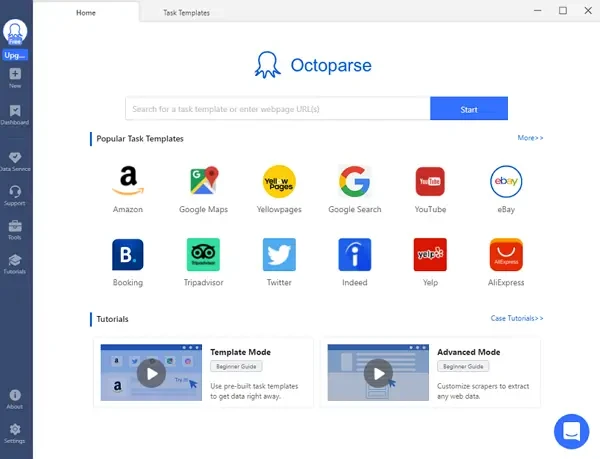 Hope this article will provide solutions to all your queries related to sitemaps, their requirements, and usage. Additionally, it will help you in deciding which sitemap crawler is best for you. For the individuals and organizations that want a one-stop & no-code solution for their web crawling queries, they can go for Octoparse. The sitemap can serve as a centralized clearing corporation for tracking your project's status, including what has been accomplished, what still needs work, and how far it has progressed.