As we all know, LinkedIn has tremendous value for having over 3 million companies who built a company page on it, not to mention the individual profile pages. We are living in the era of social networking, and we benefit from the information on LinkedIn, especially for startup companies and someone who is landing a new gig.
In the following content, we will talk about LinkedIn data scraping knowledge and the best LinkedIn scraper to help you extract data from LinkedIn easily and quickly.
Can I Scrape LinkedIn
Is it legal to scrape LinkedIn data
Since the LinkedIn User Agreement says that a LinkedIn user is not allowed to scrape or copy profiles and information of others by manual or automated tools, the only way that could scrape LinkedIn is through search engines like Google – LinkedIn seems to give permission to this type of scraping. (LinkedIn Prohibition of Scraping Software)
What if I need some LinkedIn data? A data vendor who does not agree to the LinkedIn T&C may help you gather the data you want from the public search engine results or from other channels. Or, remember everything you need from LinkedIn in your mind.
However, this is not convenient. You can get the public data according to your local laws. Web scraping is now legal in many countries, what you need to still pay attention to are data usage and personal information protection.
What data can be extracted from LinkedIn
Although, LinkedIn has some rules and restrictions on web scraping as mentioned above, it still provides an API which allows authorized developers to access certain data and integrate LinkedIn functionalities into their applications. So, you can generally extract the public data from LinkedIn as below:
LinkedIn post details
User profiles
Contact information
Company information
Search results
Other data you can see
Benefits of scraping LinkedIn data
As you have known what types of data you can get from LinkedIn, then how can you use them to improve your business? Here are several potential benefits for reference.
Talent Acquisition and Recruitment
LinkedIn is a popular professional networking platform with a vast pool of user profiles. Accessing authorized LinkedIn data can provide valuable insights for talent acquisition and recruitment efforts. It allows companies to identify potential candidates, analyze their skills and experience, and make informed hiring decisions.
Market Research and Competitive Analysis
Scraping LinkedIn data can assist in market research and competitive analysis. By analyzing profiles of professionals, companies, or industries, you can gain insights into market trends, competitor strategies, and industry benchmarks.
Find Lead Generation
LinkedIn data can be used to identify and connect with professionals in specific industries, roles, or locations. By scraping LinkedIn profiles, you can gather contact information and initiate networking or lead generation activities.
Industry Insights and Trends
By scraping LinkedIn data, you can gather information about professionals' skills, job titles, career progression, and industry affiliations. This data can be valuable for understanding industry trends, identifying emerging skill sets, and adapting business strategies accordingly.
Best LinkedIn Scraper Without Coding
Octoparse can extract public data from LinkedIn without any coding skills asked. It supports both Windows and Mac systems, and you can realize the extraction process via the cloud service, API, IP proxy and rotation. With Octoparse, you can create the crawler by auto-detecting, and you just need to make some modifications by clicks. Here are the simple steps you can extract LinkedIn public data easily.
Steps to Scrape LinkedIn Public Data with Octoparse
Step 1: Paste LinkedIn page URL into Octoparse scraper
Download and sign up for this no-coding web scraper for free. Copy the target LinkedIn URL and paste it to Octoparse.
Step 2: Customize LinkedIn data fields
You will enter the auto-detecting mode by default. After that, you can customize the data field from the preview mode or workflow on the right side. Pagination and loop can be done by following the Tips it gives, and you can modify the accurate data field by using XPath.
Step 3: Export scraped LinkedIn data to Excel
After checking all the data fields, you can click on the Run button to start the scraping process. The scraped data can be downloaded as Excel to your local device or save to the database.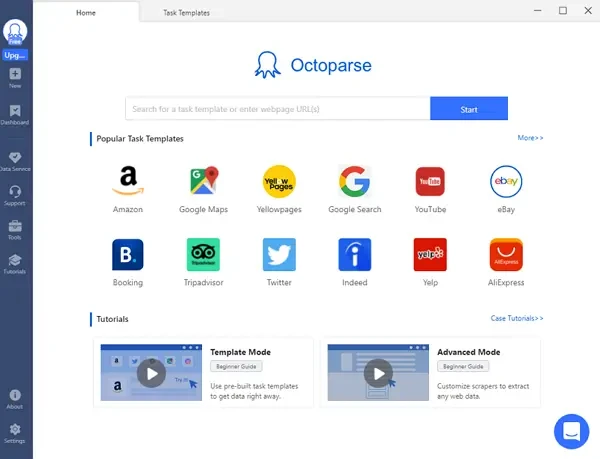 If you still feel confused about the scraping details, please visit LinkedIn Post Scraping Tutorial to find more information.
Final Words
Now, you have a general idea about scraping data from LinkedIn, and the easy tool to extract LinkedIn data without any coding skills. Download Octoparse for free and follow the steps above to have a try. Also, you can find preset templates for LinkedIn job postings which can finish scraping within only a few clicks. Enjoy your data journey from now on.