Tripadvisor is by far the most visited website for finding the best hotels, restaurants, tourist attractions, adventure games, and essentially everything else for a fun trip. It is becoming a ritual for everyone looking to travel to a different city or country to search Tripadvisor for the finest sites and activities to do.
Every year, millions of individuals use the internet to plan amazing journeys. Furthermore, millions of users have shared their experiences and opinions of venues on the internet. Because the platform is so popular, even more hotels, restaurants, and other tourist firms are attempting to get listed on it and maintain a good position, as positive ratings on the website could be quite advantageous.
All of this information is quite useful since it allows you to simply scrape peer reviews, monitor your competitors, improve your products, and much more. So, in this post, we will explore the types of data that may be scraped from Tripadvisor and the easy methods to scrape Tripadvisor.
Does Tripadvisor Allow Scraping
You can scrape Tripadvisor for the data that is public on the site. Tripadvisor has an abundance of helpful data, including flight pricing, hotel rates, popular locations, and even statistical indications of what's trending or can trend. Online scraping, or the automated extraction of information from websites, could be used to scrape Tripadvisor for this content.
The Tripadvisor API enables travel firms and hotels to integrate Tripadvisor ratings, reviews, and statistics into their websites. You'll be successful if you scrape valuable data and use the Tripadvisor API.
Different types of data that can be scraped from Tripadvisor
Tripadvisor is a site that allows individuals to book flights, hotels, and activities. Users can also offer feedback on hotels, restaurants, tours, and other businesses. As a result, the site itself provides a plethora of review and pricing information. Consumers may use this information to locate the greatest discounts, including bundles, and to assemble feedback to get a sense of a location beyond the photographs. In the congested and aggressive tourism industry, Tripadvisor helps visitors discover your resorts, rentals, or excursions for travel agencies or anyone operating in hospitality.
In addition to the prices of tickets or rooms, you can also scrape reviews left by customers, usernames, popular venue details, etc.
Benefits of Scraping Data from Tripadvisor
One of the biggest benefits of employing a Tripadvisor scraper is the ability to compare rentals or lodging pricing. This is a simple approach for people to seek the greatest value and evaluate different types of units. By digging for nightly prices, travel agencies may obtain a better feel of the market. Price comparison is especially important if you are still selecting where to vacation.
Tripadvisor allows travelers to post opinions on lodging, activities, cafes, and other services. Utilizing a Tripadvisor scraper to extract these reviews provides information on how people perceive your service. Tripadvisor offers statistics that can help you understand your public image, whether you manage a restaurant, guesthouse, or a trip to nearby landmarks.
You may use Tripadvisor data to examine every potential alternative for your clients. You may scrape certain keywords to obtain recommendations after you understand their preferences.
Scraping Tripadvisor.com Without Any Coding
In this section, we will show you how to scrape a website like Tripadvisor and export data such as hotel name, rating, price, and price comparisons. Octoparse is a no-code scraping tool that can gather hotel data from Tripadvisor without any coding skills asked. It enables anybody to rapidly create a crawler with the auto-detecting function. Furthermore, it includes preset templates for the majority of the sites (it contains a pre-built template for Tripadvisor also), making the scraping process faster and easier to begin.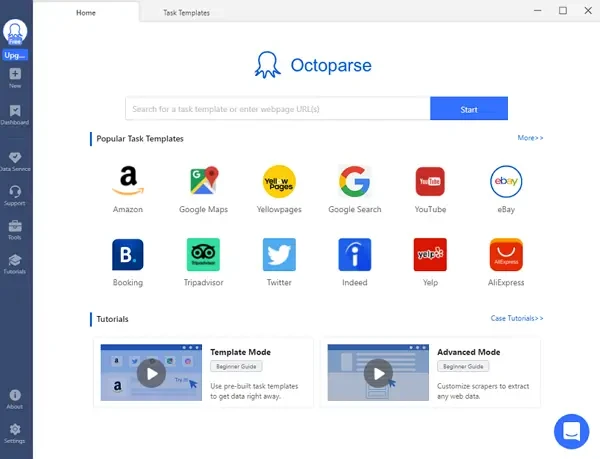 Steps to scrape Tripadvisor data without coding
After you have downloaded and installed Octoparse on your Windows/Mac devices, you can follow the easy steps below to have a free trial. If you want to learn more details about the guide, you can move to Tripadvisor Hotel Data Scraping Guide.
Step 1: Paste your targeted Tripadvisor URL for auto-detection
Just copy the targeted URL you want to scrape data from Tripadvisor, and paste it into the search box on the home screen of Octoparse. Then, you can use the auto-detecting feature to automatically scrape data by clicking on the Start button.
Step 2: Review and modify your workflow
Create a workflow after the quick detection, you can see the scraped data fields shown in the preview section. Modify any data field you want, you can find a Tip panel to give you some tips.
Step 3: Run the workflow to scrape hotel data from Tripadvisor
After the modification is finished, click on the Run button to start scraping data. You can export the scraping results in Excel, CSV, or any other format.
How to Scrape Tripadvisor Using Python
For those who have knowledge about coding, Python would be a good method to scrape data from any web page, including Tripadvisor. You can find many tutorials or codes shared by other developers on GitHub. For example, you can find the command lines about Scraping Tripadvisor with Python. Generally, we need some help from Python modules like Selenium or Beautiful Soup when taking Python coding way. Anyway, it may be a better choice for developers to scrape Tripadvisor reviews with Python.
Tripadvisor contains a wealth of information about traveling, lodgings, dining, and discussion communities. Web scraping, or the automated extraction of data from a web page, is the ideal method for collecting and analyzing this data to provide insights. Consumers may use this data to organize their dream holiday, incorporating tips from reviews to avoid frequent blunders.
Tripadvisor data tells travel agencies what their clients want most from certain places and assists them in scouting the competition. The Tripadvisor API enables agencies and other hospitality sites to integrate Tripadvisor reviews into their websites. Ultimately, I hope this post acts as a reliable guide for you while you scrape Tripadvisor.