How to Scrape Product Data from Amazon without Coding Skills?
Thursday, January 21, 2021
Table of Contents
How to scrape product data from Amazon
Why scraping Amazon
Amazon, being the biggest e-commerce company in America, has the largest variety of products in the world. You can benefit from the product data in many ways. Below are some benefits of utilizing the product data for your business:
Compare and monitor competing products of competitors with yours.

Get the top-selling product lists for a category to know exactly which products are trending.

Use product search results information for optimizing Amazon SEO position, or Amazon marketing campaigns.

Use reviews information for review management, and optimization for retailers or product
How to scrape product data from Amazon
There are three ways to get data from Amazon:
1. Programming
2. Web scraping extensions
3. Web scraping software
1. Programming
If you are a programmer and want to communicate with Amazon.com with a script, there are multiple APIs you could utilize to get Amazon data. What you need is just to code to connect to the API and easily download the data.
Amazon Product Advertising API is one of them. It is a web service and application programming interface that gives application programmers access to Amazon's product catalogue data(from Wikipedia). It is officially provided by Amazon and free to use. This API opens the doors to Amazon's databases for users to retrieve detailed product information, reviews, and images so that they can take advantage of Amazon's sophisticated e-commerce data and functionality.
But like most APIs, the API doesn't provide all the information on the product page. To get those data or to realize other scraping needs such as price monitoring, you can program your own customized web scraper using Python or other languages.
Building a web scraper needs professional coding knowledge and is also time-consuming. For non-coders or programmers who want to save time, web scraping extensions and software are better choices.
2. Web scraping extensions
There are many Google web scraping extensions helping people get data from web pages. Extensions are often easy to use and really leveraging your browser. By using just a browser and a Chrome extension, you do not need any special software or programming skills.
Web Scraper is the most popular extension for extracting data from dynamic web pages. You can create a sitemap showing how the website should be traversed and what data should be extracted. With these sitemaps, Web Scraper will navigate the site anyway you want and extract data which can be later exported as a CSV.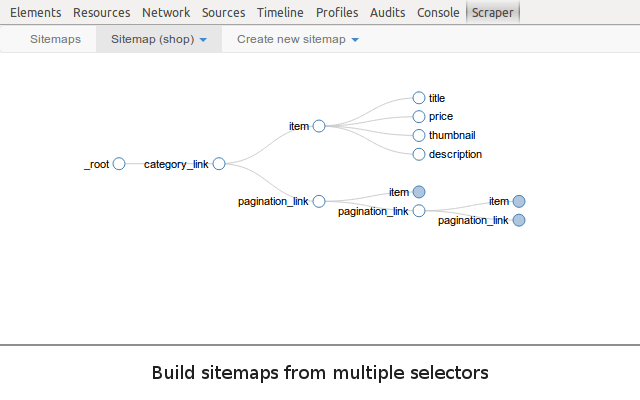 Some extensions are specially designed for scraping Amazon data. For example, Keepa is an extension used for Amazon price tracking and comparing. It can show the price history in a chart and notify you once the product dropped below your desired price.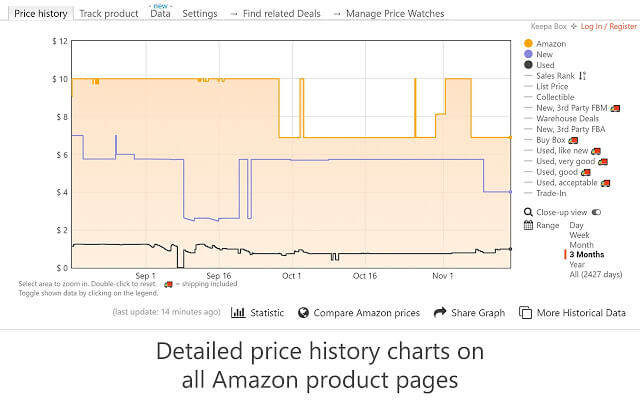 3. Web scraping software
The extensions do not scale well if you need lots of data or the data field is hidden deeply. For such cases, web scraping software is a better and economical option.
Web scraping software is also simple to use but quite powerful to deal with complicated scraping needs, such as scraping behind the login, infinite scroll, etc.
Octoparse is a fast and scalable web scraper. The point-and-click interface makes it easy for everyone to build their own scraper. Tons of ready-to-use scraping templates even allow you to scrape data with only several parameters entered. Octoparse also offers cloud service helping you to scrape 24/7 with faster scraping speed. You can check how to scrape the Amazon with Octoparse at Scrape product information from Amazon or use the Amazon templates to have a try.
We have listed a lot of other web scraping software in the article Top 30 Free Web Scraping Software. Check that out if needed.
Scraping Amazon is not so hard as you can choose any of the above options to get product data from the website based on your coding skills, scraping requirements and budget. With the help of so many scraping tools, you will be able to get full data and make good use of it.
日本語記事:Amazonから製品データ取得する3つの方法を公開!
Webスクレイピングについての記事は 公式サイトでも読むことができます。
Artículo en español: Cómo Scrape Datos de Productos de Amazon
También puede leer artículos de web scraping en el website official
Author: Yina

9 Ways E-commerce Data Can Fuel Your Online Business
3 Most Practical Uses of eCommerce Data Scraping Tools
How Big Data helps your Ecommerce business grow
Top 20 Web Crawling Tools to Scrape Website Quickly
Video:3 Easy Steps to Boost Your eCommerce Buiness
Video:How Big Companies Build Their Price Comparison Model