Amazon has become an essential sales channel for many brands and entrepreneurs in the competitive digital landscape. For products sold on Amazon, an effective marketing strategy is a key to success. Promoting and increasing visibility for products listed on Amazon.com and other Amazon marketplaces are the core of the strategy.
In this post, we'll provide you with TEN valuable Amazon marketing strategies about how to increase products' exposure and boost sales on Amazon.
10 Amazon Business Tips You Should Never Ignore
Tip 1: Optimize Product Listings
There are countless products available on Amazon. Optimizing your product listings is the key to standing out from them and capturing the attention of potential customers. Start by crafting compelling product titles that accurately represent your offering.
Additionally, ensure that product descriptions are informative, and highlight unique features and benefits of your products. During this process, you can use tools like web scraping to collect and analyze how your competitors describe similar products. Then, you can identify the gaps and improve your listings based on what works best for others. In the meantime, choose high-quality images for the products to help customers get a clear picture of what they are buying and make informed decisions.
Tip 2: Develop a Strong Brand
Establishing a strong brand presence is crucial for long-term success on Amazon. A recognizable and trustworthy brand enables you to lift sales, obtain loyal customers, and raise relevant conversations about the brands among customers.
The best way to increase brand recognition is to tell a compelling brand story, demonstrating your values and unique selling proposition to your target audience. Also, you must utilize consistent branding elements, such as logos, color schemes, and brand messaging across your product listings, storefronts, marketing materials, etc., to let customers recognize your products at only one glance.
Tip 3: Utilize Amazon Sponsored Products
Amazon Sponsored Products is the tool that can significantly enhance your products' visibility on the platform. The Sponsored Product ads on Amazon allow you to bid for prominent placement on relevant product pages, so you can reach potential customers at the moment they are actively searching for similar products. You can monitor the ads' performances regularly to adjust keywords and bids to optimize your return on investment (ROI). Then it will give your products the extra boost to reach a wider audience.
Tip 4: Competitive Pricing
The market is ever-changing, as well as the product prices. Today's consumers have access to detailed information regarding changes in a product's price over time. Visibility in price influences whether they purchase a product or not. A report claims that historical price changes can affect customers' purchase decisions. Online shop owners who use competitive and dynamic pricing strategies to adjust prices in response to market fluctuations and competitor actions are likely to attract more customers and boost sales.
Automated tools like web scraper can help you stay agile and maintain a competitive edge in pricing. Using Amazon price scraper, you can keep an eye on how your competitors price their products, analyze this data to improve your pricing strategy, and strike a balance between competitiveness and profitability, to ensure that your strategy can achieve your business goals.
Tip 5: Write Engaging Product Titles and Descriptions
This tip is the extension of Tip 1. Product titles and descriptions are great opportunities to highlight your product's unique features and benefits. It tells your potential buyers why they should choose your product over others. Besides improving product ranks on Amazon, an engaging title and product description can arouse consumers' curiosity and attract their attention, making your product stand out. It can also help build trust with consumers and enhance branding.
It takes time to write impressive product titles and descriptions, you have to analyze the titles and descriptions of other products to write your own. Using Amazon data scraping, you can analyze keywords and content for your business. Scraping competitors' titles and descriptions can help you understand the language and terminology used by customers, and help you write titles and descriptions aligned with their search intent, boosting your visibility and sales.
Tip 6: Analyze Customer Reviews
In addition to influencing purchase decisions, customer reviews provide insight into what buyers think about products. Customer reviews on Amazon are the raw material for sentiment analysis. By scraping Amazon reviews, you can use this data to learn about what consumers care about most, how they feel about some particular features of a product, whether are they satisfied with the service, etc.
Whether the reviews are positive or negative, they reflect consumers' real opinions. The sentiment analysis based on customer reviews will let you learn about the gap you need to improve on products and services.
Tip 7: Cross-sell Related Products
Cross-selling is a sales technique to encourage existing buyers to purchase additional products or services related to their initial purchase. Taking a laptop as an example, if a customer buys one on your online shop, you may suggest additional accessories like a laptop bag, mouse, keyboard, etc., on the page.
On e-commerce platforms like Amazon, one of the most common ways of cross-selling is displaying recommendations like "Customers who bought this item also bought" on product pages. By leveraging cross-selling, you can increase revenue per customer without incurring huge acquisition costs.
Tip 8: Up-sell Related Products
Up-selling is another sales technique that involves customers choosing a high-priced or upgraded version of the product they intend to purchase. Still taking a laptop as an example, when a customer has added a mid-range laptop to the cart, you can offer them a higher-capacity one with more storage and an advanced CPU. The offer must highlight the additional features, benefits, or values that the upgraded option provides. Similarly to cross-selling, up-selling can improve revenue per customer while reducing marketing and acquisition costs.
Tip 9: Offer Promotion and Deals
"Get more for less" must be one of the most well-known and effective slogans for selling products, as customers always look for the "best deal." On Amazon, they also adore promotions and deals. Seasonal deals, limited-time offers, coupons, etc., can create a sense of urgency, compelling them to make a purchase. You can start with small tests to evaluate the ROI of different promotion strategies and monitor the performance of each test to adjust your strategy.
Tip 10: Manage Inventory Effectively
Maintaining optimal inventory levels is essential for meeting customer demand and maximizing sales. Under-stocking can result in missed sales opportunities, and out-of-stock products receive fewer impressions and recommendations on Amazon. By contrast, over-stocking will tie up your capital and lead to additional storage fees. Thus, you need to pay more attention to inventory, utilize tools to manage inventory to ensure timely order fulfillment and minimize stock outs.
There are also many useful tools for Amazon sellers, especially newbies, which help to improve your Amazon shops' rankings.
Recommend Tool for Amazon Data Collection
Data is becoming more and more important in marketing and business nowadays. So, are there any tools to collect data from Amazon easily and quickly? We all know the traditional method is using a programming language, like Python, to scraping data from Amazon or any other sites. However, it is hard and time-wasted for marketers who may have no idea about coding.
Then, easy Amazon web scraping tools will help you solve this problem. Octoparse is one of the best Amazon web scrapers which provides auto-detecting and preset-templates to help you extract data from Amazon without any coding skills. With it, you can easily scrape Amazon product listing details, pricing, reviews and ratings, etc. and export them into Excel files or database for further marketing analysis.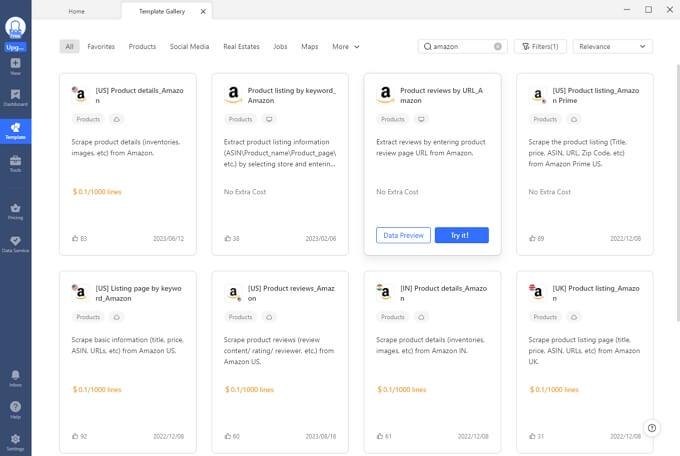 Download Octoparse for free, and sign up an account to start Amazon data scraping for free. You can find all using guide from the official help center.
Wrap-up
Running a profitable business on Amazon is not an easy thing. Many factors can affect business performance, including but not limited to product listings, pricing strategy, and selling techniques. This post has provided ten useful tips for you to drive sales. By combining these tips and leveraging web scraping, you can position your online business for success in the dynamic world of Amazon.