Amazon is an integral part of our lives and works as a one-stop solution for purchasing almost everything. But, besides products, it is also the best platform to collect data and information regarding online retailing and e-commerce. With tons of data available on the site regarding the product lists, pricing, and other details, you can conduct intensive market research, monitor competition, keep track of product prices, and perform a lot of other related tasks.
However, the question is that how to collect Amazon price data. A very direct method is copying and pasting the needed data on a spreadsheet, but with the volume of data available and needed with Amazon, a manual process is practically impossible.
A professional Amazon price scraper can help you solve this problem. This kind of tool always extracts web data automatically with its built-in browser. In the following parts, we will introduce how to scrape Amazon price data without any coding.
General Knowledge about Amazon Web Scraping
What is Amazon scraper
An Amazon scraper or Amazon data scraping tool is a specially designed program that helps to extract all the needed data from the site like the product details, sales rank, reviews and ratings, pricing, and more. These tools are easy and quick to work with and can scrap the data automatically without any need for coding. The extracted data can be saved to a spreadsheet or in different formats that are easy to study, relate and compare. Using these programs, you can track Amazon price history as well as other details in no time.
In short, the answer is YES. The action of Amazon data is legal as long as you extract information that is publicly available, such as product information, reviews, and prices. But a web scraper is just a tool. You still need to pay attention to where you use the data or have you against copyright and privacy rules according to local law.
How can Amazon price monitor helps you
Price monitoring is indispensable for any online business, especially in competitive marketplaces like Amazon. Your business can become more profitable with Amazon price scrapers in several ways.
Get fast alerts for price changes
The price of a product on Amazon might be fast changing. A price monitor can check competitor prices around the clock for you. So you can get the alert as soon as a change occurs and adjust your price to stay competitive. By contrast, without price monitoring, you may miss opportunities to gain sales or lose money by modifying your pricing strategy not on time.
Price competitively from the start
What is the best way to price the product? Many people might have this question before launching an online business. Your competitors' pricing strategies and histories are key to the correct answer. A price monitor can help you scrape Amazon prices in a period that allows you to use the data to determine an optimal launch price that balances profit margins with gaining advantages. From the beginning, you will have a better chance of success if you launch at the right price.
Spot pricing trends and patterns
There are many factors that might affect product prices, such as seasonal pricing fluctuations, periods of high or low demand, and the pricing strategies of major competitors. With the help of Amazon price monitoring, you can track prices over time and let data reveal trends and price cycles for your products. You will benefit from this intelligence in planning future pricing adjustments strategically based on what has worked best.
How to Build an Amazon Price Monitor to Track Price
If you're looking for an Amazon price scraper, Octoparse will be your right choice. It works on both Windows and Mac devices and lets you extract all needed data from Amazon like product details, reviews, price, delivery time, stocks, etc. You can simply build a price monitor for your Amazon product list without coding skills or complicated procedures, and set schedule scraping at any time you want to track the price changes.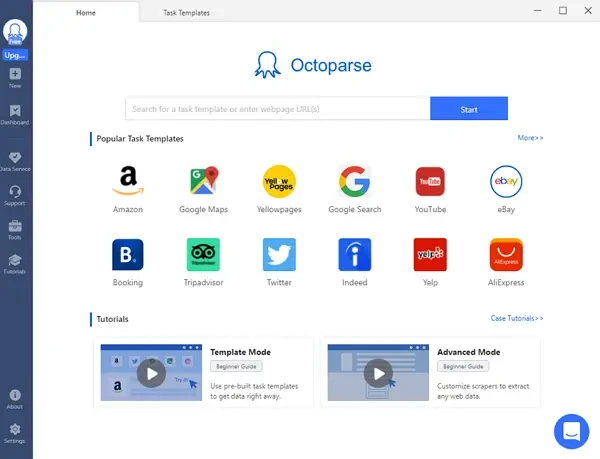 Steps to build Amazon price scraper using Octoparse
Step 1: Launch Octoparse and open the targeted Amazon page
Open Octoparse on your device after download and installation. You can sign up an account for free. Copy and paste your Amazon page link into the search box, it will start scraping automatically.
Step 2: Extract price data from Amazon
Next, create a workflow after the auto-detecting mode ends. You can customize the pagination loop, Ajax time, XPath, and other data fields easily. After that, click on the Run button to start scraping price data from Amazon.
Step 3: Set schedule scraping to track Amazon price
You can download the scraped file directly in Excel if you use the local device mode. If you want to track the scraping process at some particular time, you can click on the More button on the task from the Dashboard panel, and choose Cloud Runs – Set Schedule to set your time. Learn more details about it from Octoparse schedule scraping tutorial.
Here is a detailed guide on how to build an Amazon price monitor for Black Friday, you can learn more tips and tricks for your Amazon shop.
Final Words
Even though the price is only one element of selling products online, it can have a huge impact on boosting sales. Many online store owners use Amazon price scrapers to price their products more competitively. With the help of a price scraper, you can track real-time price data, learn about price trends, and then modify your pricing strategy to stay ahead of competitors. If you're looking for an easy-to-use Amazon price scraper, try Octoparse today.