Do you want to start your own E-commerce shop? It means you have to know all the dimensions of product marketing to generate more sales. For this, if you scrap an E-commerce website, you can keenly analyze a lot of necessary information relevant to your niche.
By the way, there are numerous sites available online for scraping. However, Shopee is among the leading names in the E-commerce world. Shopee scraper lets you collect a wide range of data according to regional localization. This guide will prove to be handy because why you have to scrape Shopee data, how to do it, which tool performs best for scraping, and various other info is going to be mentioned here. So, scroll down and get the secret scribes for scraping the Shopee website.
Can I Scrape Shopee
Shopee is one of the popular and leading E-commerce platforms, launched in 2015 in Southeast Asia and Taiwan, entailing various regions including Singapore, Malaysia, Thailand, Vietnam, Indonesia, Philippines, Brazil, Mexico, Japan, Korea, HongKong, Argentina, Poland, Colombia, Chile.
It connects sellers and buyers by providing various products, from electronics to fashion and others. Being a dynamic marketplace, it allows its consumers to scrape its data as per its particular policies.
What data can be scraped from Shopee
From Shopee, you will find an open door to scrape product prices, IDs, brands, descriptions, ratings, and other data using an efficient but unofficial API. You can scrape data from Shopee with all the minor to major info like:
Product Details: images, descriptions, seller info, listing time, and many more.
Search Results: any particular search result can be scraped via keywords.
Product Categories: scrape any product category along with pagination.
Max Page Numbers: easy to scrap a maximum number of pages, enough as you want.
Customer Reviews: all the customer reviews can be scraped to analyze the customer's choice.
Does Shopee have a public API
Shopee allows the users to get access to its API in order to scratch all the necessary info about the store and the products on Shopee. But you are obliged to follow the policies of Shopee to use API and extract the site's data. There are some specific app types that are allowed to call Shopee API. It mainly includes; ERP systems, Seller in House systems, and Product Management.
To use Shopee API, Shopee scraper GitHub depicts Markdown and Python codes to extract Shopee data. That script runs on the basis of Shopee's public API. Although, the site generates a highly dynamic page to show the products and their whole info – the Jason file. Moreover, the API is public. So, there is no need to select divs, classes or use selenium to stimulate the web browser for the Shopee data scraper.
Key benefits of Shopee web scraping
There are a number of benefits are associated with web scraping. You will be able to make the right and best decisions to meet the market demands and get more sales per annum through your E-commerce business. Moreover, you can be fortunate to get the following information:
Competitive superiority in the market

Customer perception at a superior level

Inventory management at a superior level

Monitoring unauthorized sales channels

Online retail arbitrage

Forecast of market trends

Tracking market changes

Product's review analysis
And much more beyond your thoughts. So, if you scrape Shopee data, you can easily initiate your online shop and boost your e-business to the next rave.
Steps to Scrape Shopee Product Data Easily
No doubt, there is the most important thing is the actual process to scrape Shopee product data. And for this, you can get many Shopee scraping tools online. But not all generate efficient results. However, you can rely on Octoparse – one of the most convenient tools to scratch millions of the product, page, and seller info from Shopee to fuel your business and marketing insights.
Another amazing thing with Octoparse you will get is that it already has a preset template to extract data from Shopee. You just have to give inputs according to the template and run it. Your desired data will be scraped out and moved to your own device within minutes. Download Octoparse and follow the steps below to have a free trial, or you can read more details from Shopee Product Information Scraping Tutorial.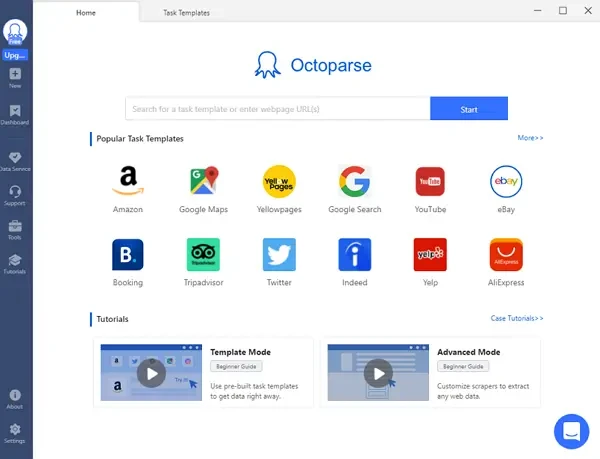 Step 1: Copy and paste Shopee URL to scrape
Open the target web page to copy the URL and paste it into Octoparse search bar on the homepage. Click on the 'Start' button to continue.
Step 2: Create a workflow and make changes
Octoparse will start auto-detecting by default. After that, create a workflow and you can see a 'Data Preview' section, from where you can inspect the scraped data. You can delete unnecessary data or modify the current data fields.
Step 3: Extract data from Shopee and export
Finally, save the whole task and give the 'RUN' command from the upper right side. Now, choose the 'Run on your device' option to extract the data on your device. For premium users, you can choose the 'Run in the Cloud' option as well to save the data in the cloud. Download your scraped Shopee data in Excel files or save them to database.
When you start an E-commerce shop, you need to get the relevant niche data to know the latest market trends and supersede the competitors. This guide is immensely dedicated to scrape Shopee data with Octoparse, so that you can grab all the necessary information and let it save to your own device in just a few steps. Hopefully, you can generate more sales from your e-business with millions of dollars in revenue.