Shopify Product Scraper to Crawl Shopify Stores for Free
Monday, September 6, 2021
If you are looking for a Shopify product scraper, Octoparse is the best pick. With this no-code web scraping tool, you will be able to crawl product data from any Shopify store into spreadsheets for further use.
Get Shopify Product Data
Product name

Page Url

Price

Description
As the product data is presented in a structured format, it can be easily recognized by the robot and within a few clicks, we can bulk scrape them. With this data at hand, conducting a market analysis or product research could be a lot easier.    
  Table of Contents
Prerequisites
Download Octoparse

and install it on your computer (Windows/Mac)

Sign up

for an Octoparse account

Target URLs where you are going to scrape product data from
Let's take this Shopify product page as an example. Octoparse's AI algorithm will help auto-detect the product data on the web page and arrange them in a table for your selection.
3 Steps to Build Your Shopify Scraper
Run Octoparse on your computer and enter the URL into the search bar. As you hit the "start" button, the page will be soon rendered in the Octoparse built-in browser.
Please note that the new version 8.4 is updated, shoot us an email or contact the customer service team if you have any trouble while scraping data!
Step One: Select the data you need to scrape
A popup can be annoying when one tries to scrape a website. When this happens, find the "browse" button and turn it on. With the browsing mode on, you can close the popup as you do in the browser. Click it once again to go back to scraping mode.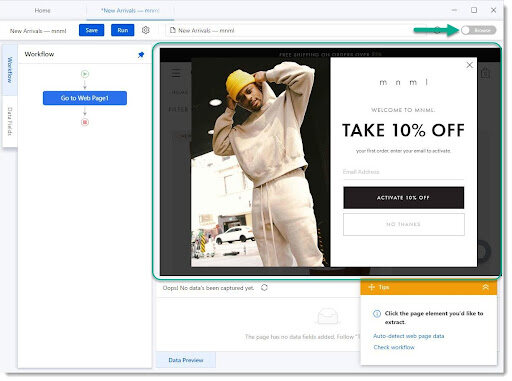 In the Octoparse user interface, you will find an orange panel - the Tips Panel. The option "Auto-detect web page data" is a command to let the robot scan through the web page and offer sets of data that you are very likely looking for.
As the auto-detection completes, datasets are shown in the preview section. You are free to delete any redundant data field and leave whatever you would like to extract from the page.
Step Two: Confirm and generate the scraper
By clicking "switch auto-detect results", you can choose among different sets of detected data.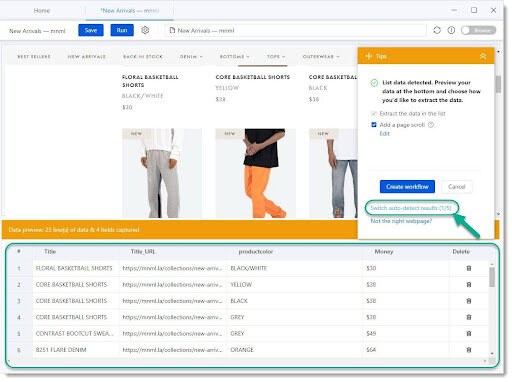 The algorithm is developed to detect different forms of structured data, such as product listing data, data in a table, long-form articles with titles, author and publish date, etc. Generally, in a well-structured web page, the HTML code of this data shows some patterns and Octoparse is able to parse them intelligently for our users.
Tips: Auto-detection results do not match your needs?
Your website may be a little bit complicated and the data needs to be accurately located by altering the Xpath. You can learn some basics of Xpath here, or contact our support for further help.
As you have picked the right set of data, hit the "Create workflow" button, and ahh the workflow will be automatically generated on the left-hand side. That's right! You have just built your own Shopify scraper.
(Advanced settings)
Are you scraping product data across pages or screens? 
Then you have to tell the robot to click the "next page" button, "load more" button or simply scroll down a few screens once the data has been collected.
In this case, hit "Click on link(s) to scrape the linked page(s)" can meet this end. As we have captured Title_URL, that's where we can click and enter into the detail page of each product.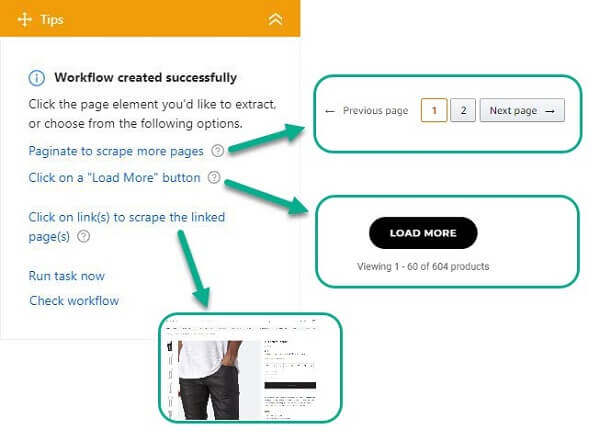 Step Three: Run the task and download 
Once the workflow is well built, click the "Run" button above and Octoparse will gather the product data for you. If you are a free user, you are confined to run your task locally. If you have subscribed to our plan, cloud scraping is available. In the meantime, you can schedule the task to run weekly, daily, or hourly.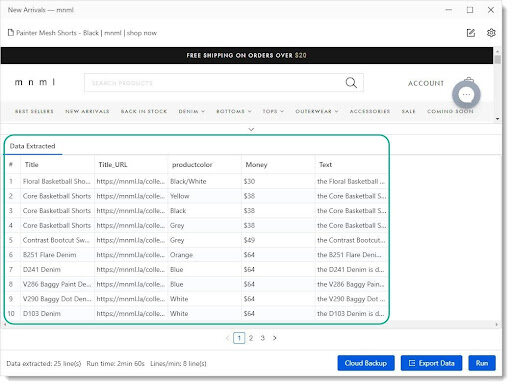 Octoparse can be extremely helpful if you are in need of eCommerce data. Ecommerce sellers use Octoparse to scrape product data from: 
Marketplaces like Amazon, Aliexpress, Shopify, etc.

Retailing sites like Walmart, Lotte, and online stores of some brands, etc.

Their suppliers' websites for direct use 
This data can shed light on where you are and give clues to a better business decision when you dig into it through market analysis, product research, etc.
Shopify Top Store List
If you are looking for stores that rock the market and would love to capture data from these sites, I have a way to reach top Shopify stores. No, I am not talking about Google search.
As Shopify stores are held under certain IPs which are owned by Shopify the company, you can enter their IP address and the list of Shopify stores will show themselves, and be ranked accordingly.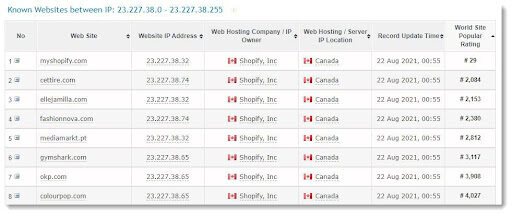 That's all. This is a strong data source for eCommerce or drop shipping analysis. Here are 9 ways you can benefit from eCommerce data you may want to consult with:
MAP compliance

Competition analysis

Discount tracking

Regional availability

SEO ranking monitoring

Reviews analysis
Get Shopify Data Now!
Download Octoparse here and give it a try! Get your feet wet with web scraping and you will have fun with web data.
Any problems using Octoparse, you are welcome to talk to our support team (support@octoparse.com). 
Author: Cici
9 Ways E-commerce Data Can Fuel Your Online Business
3 Most Practical Uses of eCommerce Data Scraping Tools
How Big Data helps your E-commerce business grow
Top 20 Web Crawling Tools to Scrape Website Quickly
Video: 3 Easy Steps to Boost Your eCommerce Business