Lazada is one of the leading eCommerce platforms in Southeast Asia. It is a platform with a wide range of products from various categories like beauty, fashion, electronics, home appliances, etc.
Lazada has around 150 million monthly average users from countries like Thailand, Singapore, the Philippines, and Malaysia. It has around 145k sellers and 300 million products listed, which makes it one of the top eCommerce sites in Southeast Asia. This product data can help you analyze the market in Southeast Asia as it includes data about the products and their prices.
In this article, we will discuss how we can scrape and extract product data from Lazada and get it in a structured format like Excel, CSV, or JSON.
Does Lazada allow web scraping
If you are looking to scrape Lazada, you might be wondering whether Lazada allows web scraping and if that is legal. As Lazada does not have any strict policy regarding web scraping, and hence it is completely legal to scrape data from Lazada's website.
We can scrape all the publicly available data from Lazada, like product name, description, brand, sold by, categories, images, price, condition reviews, product URL, shipping information, etc. With this data, you can analyze the market and trending products to know which products are popular and loved by the buyers. And if you are a seller, then you can use this data to add similar products to your store and boost your sales.
Hence, if you are a seller on Lazada or planning to sell your products on Lazada, scraping the data from the site and analyzing trending and popular products from Lazada can definitely help you succeed as a seller.
Steps to Scrape Lazada Without Coding
There are a lot of tools that you can use to scrape Lazada product data. If you are into coding, you can easily create a scraper with Python to scrape Lazada. However, if you have no idea about coding, then you can use a web scraping tool like Octoparse. It is one of the best data scraping tools available. It can extract data from almost every website and save the extracted data in a well-structured format. With Octoparse, you can create a scraper to scrape Lazada easily in just a few clicks with no coding required.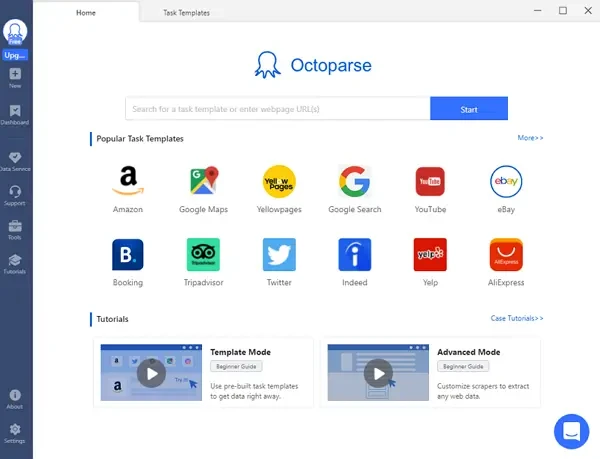 Step 1: Enter the target Lazada link to Octoparse
For this tutorial, we will be using this URL as an example: https://www.lazada.com.my/catalog/?q=phone+cover&_keyori=ss&from=input. It is a search query URL that you will get after you enter a keyword like 'phone cover' in the search box on Lazada and click the search button.
The first step is to download and install Octoparse and launch it on your device. After that, enter the URL above into the search box of Octoparse home section. Click on the Start button to continue.
Step 2: Create a workflow and custom it
Then, the Lazada website will open in the Octoparse built-in browser with the auto-detection function. The scraped data fields will be highlighted and click on the Create workflow button. You can find all data on the preview section, make changes if you need.
Step 3: Extract product data from Lazada
After all data fields have been checked, you can simply save the scraper and click on the 'Run' button. You can run the scraper on the cloud or on a local device. Download the data in Excel files or save them to your database after the quick process.
Final Words
If you are looking to scrape Lazada and extract the product data for research or any purpose, you can use Octoparse and create a scraper without needing to write any code. All you need to do is download Octoparse and follow the simple 4 steps discussed above, and you can easily extract the product data from Lazada.