Kickstarter – a grand, highly courageous, ambitious, and imaginative platform that is immensely tucked with funding goals for many creative projects which are full of innovation to support art, design, technology, games, movies, music, etc., with the intention to bring life via direct support to others.
When a site covers all the major data related to upcoming projects within the US, its info will really be more worthwhile. In this matter, retrieving the data from such a site will not be less than a blessing in disguise. So, this guide will let you know how to scrape Kickstarter data. All the aspects and dimensions will be covered here, along with unveiling the powerful Kickstarter scraper tool.
Why Scrape Kickstarter
Kickstarter is not just a site, it's a hub of all the crowdfunding projects in various states of America. From a concept to actualization, this spot has an extreme revolution in the world in unanimous little ways. However, the huge publically available data can be extracted from Kickstarter in a fraction of ways. Having said that, there are enormous positive aspects associated with the Kickstarter data, which is assumed to be more worthwhile.
Here are some tips which may help your business increase faster, read the article: How to Scrape Data to Boost Your Online Business.
Benefits of scraping Kickstarter
Let's reveal some of the major benefits of scraping Kickstarter data.
Keep an eye on the Kickstarter projects, both existing and upcoming in the future, in your own locality.

Monitor the projects which have successful track records in the past and still have huge potential to support your growth.

Reinforce your own crowdfunding campaign by getting real-time data from Kickstarter.

Pursue all the projects of the same genre, which are immensely competing all over the states.

Inspect your own preferred projects and get instant notifications into your inbox as per the funding received.

Endorse your Kickstarter investment analysis with the latest data.

Analyze and record all the successful and leading projects held in the past in your city, having more public support than others.

Compare the overall rate of crowdfunding campaigns in various cities.
Does Kickstarter have a public API
In general discussion, it's assumed that Kickstarter does not offer any public documented API. However, an internal API is supposed to be owned by Kickstarter, which the site uses to unify the site's data and its iPhone app.
This Kickstarter API is found on GitHub, which can be helpful to get projects via using their AJAX search functionality. Although it can stop at any moment, but it will prove to be useful. For the sake of proof, there is a scraping library in the project of Kickstarter data GitHub Wiki, which depicts having an API of Kickstarter.
No-Coding Kickstarter Scraper You Cannot Miss
Till now, you have gone through the various aspects of Kickstarter scraping, why it's needed, etc. But the most important thing is to determine how to scrape Kickstarter data easily and without any hassle. In this respect, various ways can be used. But here, you'll get an easy way by using a more popular and well-recognized web scraping tool – Octoparse, which tremendously comes in handy being a Kickstarter scraping tool without any coding.
However, different methods can be applicable for this, but Octoparse depicts the scraping data with the Load more button. Because various sites like Kickstarter have a Load More button or a Display button to load more content. And these types of websites use a lot of AJAX, but you can easily split any form of info by Octoparse process.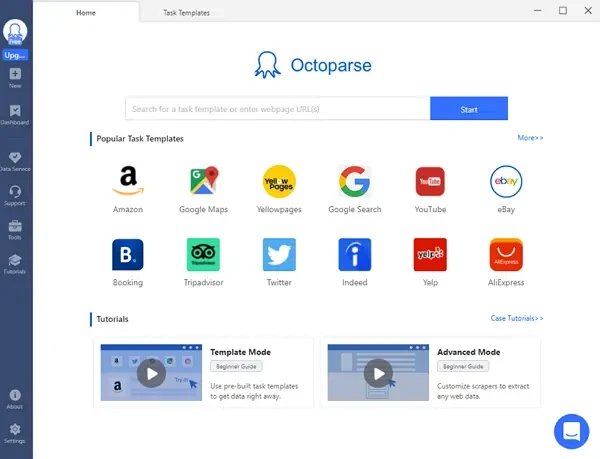 How to scrape a Kickstarter page easily
Step 1: Enter a Kickstarter page URL to Octoparse
Go to Kickstarter and discover the projects list on its webpage. Copy the URL of its web page and paste into the search box of Octoparse.
Step 2: Customize the worlkfow with Load More button
Octoparse will start detecting automatically, create a workflow after it is finished. You can check if the Load More button is added into the Loop process in the workflow. If not, click on the Load More button and follow what hints on the Tips panel.
Step 3: Run the crawler and download data from Kickstarter
Click on the Run button in the right-upper corner after you've checked all data fields. You can download the scraped data in Excel format.
If you still have any question about the details, you can contact the support team or find more details from Help Center.
Final Words
Scraping Kickstarter data means one has gotten highly dynamic info that covers all the latest projects in the USA. It can assist to inspect all the past and present projects of Kickstarter that can influence the future as well, with huge success. Although, the site does not have any public API to configure its data easily. But the scraping tools, like Octoparse, do it well. You can get data from Kickstarter either Auto-detect or Creating Pagination of Load More button as well. Just download and sign up for a free account to have a try.