Images are often the preferred medium for displaying information across the website and you may want to save all the images from the website. However, you would find it a little difficult to extract the images alone from the website as there are many other media on the website. Here, we will talk about 3 free image extractors or methods to satisfy your special need.
3 Free Images Extraction Tools Online
The Image Extraction tool is a free online tool to help you generate a list of images found within a designated webpage. It is very simple to use. You only need to enter the URL of the page into the browser. You will get the result after entering the target URL.
Download All Images is an image extractor extension based on the web browser, and helps you to download all the pictures in a given URL. It is very fast and easy to use as you just need to click the icon after installation. You could preview the images before saving them. It would also show you the size of the picture, which could help you better decide whether to download the images or not.
OWIDIG is an online image extractor and can automatically download the images of a target URL. It grabs and lists image content and information from websites with many filtering options. By OWIDIG, you can choose whether to include both standard and CSS images, or only ones of them. You can filter images by their dimensions, type, URL, filename and ordinal number. It also offers downloading of grabbed images and sharing grabbed images on social networks. With OWIDIG service, people can grab images from any website, view them, filter them or download them. Images can be grabbed from sites with standard HTTP protocol as well as secure HTTPS protocol by OWIDIG.
Best Image Scraper to Extract Pictures No Limits
The tools introduced above are for online image extraction and a single URL limit, and thus some people may find it not as powerful as they think. Don't worry, you can try web scraping tools, like Octoparse, to help you extract images from web without any limits. What's more, these web scrapers are easy-to-use and don't ask for any coding skills.
Octoparse is a modern visual web data extraction tool available for both macOS and Windows systems. You can easily bulk extract information including images from websites, no matter you're experienced or inexperienced. Because for most scraping tasks, no coding is needed. Just by clicking, you can get webpage images download to your local devices within several minutes.
Steps to extract images from webpage
You can build a crawler from scratch with the "Custom Task" in Octoparse to scrape data, or use the auto-detecting mode to create a workflow quickly.
Step 1: Paste the image webpage link
Go to the target page you want to extract images from, copy and paste the URL into Octoparse main panel after you have download and install it on your devices. The auto-detecting mode will be started and create a workflow to continue.
Step 2: Modify the image data fields
Check the data preview to see if all the images you want are included or any unnecessary data field you would like to delete. Click on the images you need to extract, and choose the option "Extract image URLs and download linked files" on the Tips panel to add it to the extraction process.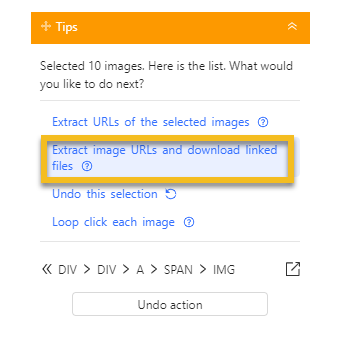 Step 3: Run the image crawler
After all changes have been checked, run the task, and you can download the images within a few minutes. If you have regular needs, you can also try the Cloud mode to set a schedule task.
You can change the download settings, and learn more details by reading the tutorial about download files and images with Octoparse.
On the other hand, Octoparse provides hundreds of ready-to-use web scraping task templates, which allow you to scrape data from popular websites directly without task configuration. It is excellent for the beginner who has no idea about creating a crawler to scrape the data they want. All they need to do is choose a template that can help to get the target data and enter some information. And then the scraper will scrape the data for you. With these pre-built templates, you can extract data directly from other big sites, such as Google Maps, Google Search and more within clicks. Below are some examples:
E-commerce & Retail platforms: Amazon, eBay, etc.

Directories: Yellowpages, Yelp, Google Maps, Crunchbase, etc.

Online travel agency sites: Booking, TripAdvisor, Airbnb, etc.

And more: Real estate listings, social media channels
Alright, hope this article is helpful to you if you want to bulk download images. You can learn more tools to scrape and download images from a list of URLs. Welcome to try out Octoparse if you are interested and have web scraping needs. Feel free to contact us if you have any questions or provide feedback through support@octoparse.com.