Nowadays, more and more people are discovering the benefits of starting an Amazon FBA business. On Amazon, it is possible for everyone to build a business that starts to generate high-level and regular income in a relatively short time.
Getting started can be overwhelming, but luckily there are a number of great tools that can help you to optimize your business.
It's easy to find a list of top Amazon FBA seller tools online, but not all of them are geared to newbies. In this article, a list of Amazon seller tools for newbies will put you on the right track to building a successful Amazon business.
Most Useful Amazon Seller Tools
Octoparse is the best web scraping tool to extract data from Amazon for both Windows and Mac users. Octoparse can extract data including but not limited to product details, customer reviews, profiles, and pricing. As an added bonus, this web crawler also provides built-in Amazon web scraping templates with pre-set extraction data fields. Amazon sellers can enjoy the convenience of data scraping without coding or configuration. You can analyze the data in the form of Excel/HTML/CSV and choose the right market strategy for your business at fingertips. Check out their super easy-to-follow Amazon scraping video tutorial on YouTube.
Keyworx is a keyword tracker tool specifically designed for Amazon sellers. Keyword tracking is important because having the right keywords in your listing is critical for Amazon SEO: that is ranking at the top of user searches on Amazon. This, in turn, is important because it means more potential customers will see your listing, increasing the chances of making sales. As a new seller, it is highly recommended that you get on top of keywords ASAP, and a tool like this helps to do it quickly. Keyworx has a monthly subscription fee, but this includes ongoing support, training, and tutorials. Many will find it worthy of the payment.
This is a free tool to help your retail arbitrage. Its main function is scanning items and then presenting a suggested selling price for you as an FBA seller. This app is fairly basic, but it is a good introductory tool. It can be a great option to try out Amazon FBA without any upfront investment because it is completely free. This makes a good way to "test the waters" of being an Amazon FBA seller.
This tool has a wealth of resources and information for Amazon FBA sellers and is particularly useful for those just getting started. It is essentially a website (with free membership registration required) that contains guides, news, tips, add-ons and downloads to help you with your Amazon FBA business. Extra bonus: it is completely free!
Once you've decided you surely want to proceed and pursue business as an Amazon FBA seller, you can start investing in a paid tool. Profit Bandit is a good option and is low-priced at $15/month. A little more sophisticated than Amazon Seller App, it has pre-set filters that automatically calculate profit/loss on your products. It has some other useful features too, like flagging items that are "collectible" and in-app competitor analysis from other platforms.
An essential part of running an Amazon FBA business is product research. Knowing your product, what competitors are selling, and what prices consumers are prepared to pay can make a huge difference. You may skyrocket sales at healthy profit margins, or struggle to break even. Unicorn Smasher is a website that provides its members with great information, downloads and support to help you with product research.
Another important aspect you need to keep in mind as an Amazon FBA seller is customer reviews. Customer reviews are critical for both ranking your listing in Amazon searches and convincing your potential customers to buy (also known as conversion rate optimization or CRO). AMZ Finder helps you seek reviews through automated emailing, offering 500 free emails per month. Paid plans that allow you to send more emails are also available, but 500 per month should be enough for a newbie seller.
Price Blink is an add-on you can download to your browser, which shows the lowest price available on a particular item across different websites. This is useful for Amazon FBA sellers in two ways: firstly, as competitor research to see what prices your items are being sold for elsewhere. Secondly, it helps you find the best prices on materials and products you may need for your business.
As your business continues to grow, you may consider subscribing to a comprehensive management tool for Amazon sellers. Sellics is an excellent tool specifically made for Amazon FBA. Sellics helps you with the major areas of your business, including SEO, PPC (pay-per-click advertising), research, reviews, competitor monitoring, and inventory management.
Amazon SEO Consultant helps Amazon FBA sellers rank products and exponentially grow their business. Professional consultants use a suite of professional tools to do this, but even a newbie seller will be able to see the benefit of entry-level tools to establish a successful business. 
Get ahead of the game with the Enterprise Management and Automation Software for Amazon PPC. Zon. Tools automates Amazon-sponsored products' best practices and allows you to manage your campaigns in an unprecedented way. Its smart engines are extremely flexible and can adapt to any Amazon advertising strategy or goal.
Amazon FBA Calculator provides users with extra information such as Sales rank (Current, 7d, and 30d averages), Price (Current, 7d, and 30d averages), of sellers – all that can be used to quickly pre-fill the calculator and see Profit, Revenue, ROI, etc. Users can even create a shareable link to the results so that it's easy to discuss them with their teammates or partners.
For those who need help in finding the best products to sell on Amazon, we found Zonbase extremely helpful. With a suite of 13+ web-based tools and services, Zonbase can help potential Amazon sellers build their business from scratch with tools focusing on product research, keyword research, keyword rank tracking, listing optimization, etc. Zonbase provides the results in a well-formatted way, which makes it easier for Amazon sellers to make data-driven decisions, start on the right path, and boost sales.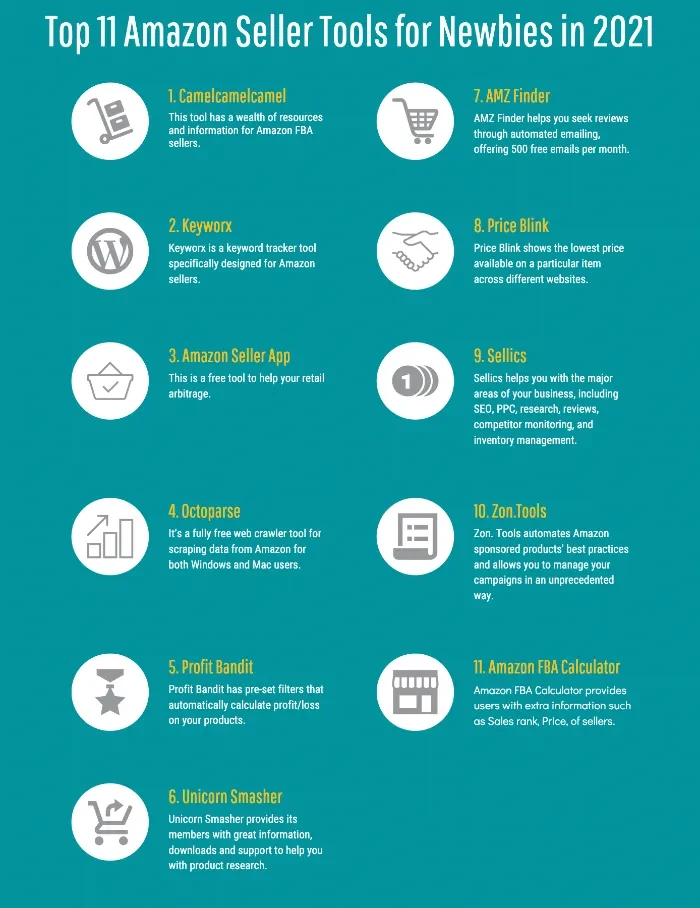 Final Words
Now, you have a general idea about the useful tools to help you start your Amazon business. As we all know, data analysis is important for business grows, so you can also read about the top 7 Amazon data scraping tools to get more ideas to improve your ability on Amazon marketing.