Nowadays, people review and compare products and services online before they make a purchase. It is obvious that how user experience is crucial for companies to keep existing customers over time. However, price is the driving factor, especially for first-time buyers. That being said, price monitoring is critical for your business. In the following parts, we'll introduce the top 10 price monitor tools.
What Is Price Monitoring
Price monitoring, also called price intelligence or competitive price monitoring, is the analysis of internal and external (the historical and real-time competitor's prices) variables of prices in order to optimize one's pricing strategy.
How does price monitoring help with the business?
Monitoring your pricing history can help to reflect the market strategy. Along with the product rotation and brand value, price monitoring can help to make the best pricing strategy and maximize the profit.
For market competition analysis:
Competitive price monitoring allows you to obtain competitors' information. This is essential in a market report. Based on collected information, like product-price ratio and your target group, you will have an idea about your market positioning.
Web Scraping Tools to Monitor Price
Web scraping is the most cost-efficient way to monitor price for small and middle-size businesses with a limited budget. Compared to price monitoring software, the advantages of a web scraping tool are:
Multi-scenario: Besides price monitoring, a web scraping tool can also be used in lead generation, risk management, academic research, and market analysis
Multi-industry: In addition, a web scraping tool can also be used in many industries including real estate, car industry, hospitality, consultancy, and more. Rather, price monitoring software is more unilateral and can only be used in e-commerce.
Related Reading: How to Track Competitor Price with Web Scraping
Here are the top 3 web scraping tools for price monitoring, let's learn how can they help.
Octoparse is an easy-to-use web scraper tool for both Windows and Mac system. You can scrape data from any website with several clicks. It supports auto-detecting mode and preset templates for easy operation. Also, you can set the scheduling scraping hourly, daily, weekly, monthly, or any other time you want. It would be great help for you to monitor price of your or your competitors' products.
Type: Client | Price: From $0~$249 per month | Free Trial: 14-day free trial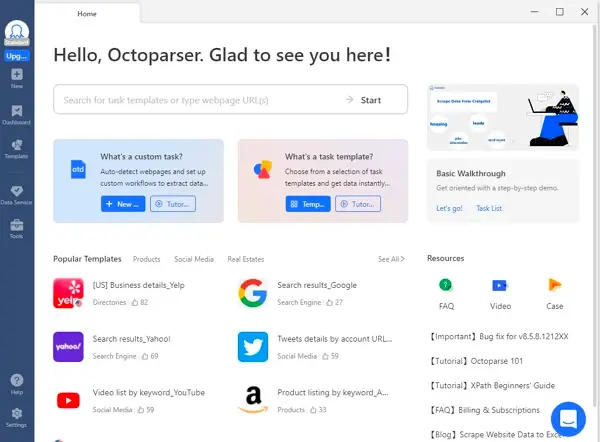 Mozenda is another web scraping tool that can help with price monitoring. It can copy the text and images from any webpage easily so that you can get the price information without yourself.
Type: Client | Price: from $250 per month | Free Trial: Free 30-Day Trial 
Import.io is a powerful web scraping tool that can also extract data from any site. You can enjoy it with its multiple functions and don't need to worry about your price monitoring. However, it seems it no longer provides personal downloading services, you need to apply for a data service that may cost you much more money.
Type: Client | Price: Customized($299~$9999) | Free Trial: N/A 
Other Price Monitoring Platforms
Price monitoring platform/software, as its name indicates, is concentrated on contributing to the e-commerce industry by monitoring and tracking prices. That says it's a professional pay-as-you-go software when compared with the web scraping tools.
Introduction: Established in 2004, Aruhat Technologies is an India certified software company with a vision of offering technology for continuous business improvements and innovations backed by core competence.
Fee: Customized | Free trial: N/A
√ Data Crop cover from business intelligence to Pricing & Repricing tools.
√ Easy-to-use interface 
× Limited data extraction
× Fail to extract data sometimes
Feature:
· Disparate data collection
· Image extraction
· Document extraction
· Email alert
Introduction: Prisync is a SaaS company that focus on pricing optimization and dynamic pricing for e-Commerce businesses. It provides clients with a price-tracking system for people to monitor competitor price.
Fee: From $59 per month | Free trial: 14-day Free trial
√ Omnidirectional services from helping define product assortment to settle pricing strategies. 
√ Real-time price tracking and updating.
√ Email alter.
× Not easy to set up a stable and efficient model.
× Some aspects of customization require fairly technical skills.
Feature:
· Repricing Engine
· Comprehensive report
· Frequent Updates
· Unlimited Competitors
· Advanced Analytics
Introduction: Omnia provides a full suite of automation tools to help with taking control of product assortment, building pricing and marketing strategies.
Fee: Customized | Free trial: Get Free trial after contact sales
√ Flexible to set up a monitoring model in the software.
√ Easy to use as it explains how the software algorithm works and recommend a proper
√ Comprehensive training system
× Too expensive for a small-size company
× Only provide online support in business hours
Feature:
· Customized pricing rules
· Price elasticity calculations
· End-to-end automation
· Total transparency
Introduction: Price2Spy is an online monitoring tool for eCommerce professionals.
Fee: From $19.95 per month | Free trial: N/A
√ The app is available on both iOS and Android devices. Also has web-app version.
√ Widely cover most product assortment and provide in-time suggestions.
× The price information is not updated in time. Doesn't update price information in a timely manner(Synchronization issue)
× The dashboard is not friendly for users is not user-friendly
Feature:
· Price Comparison
· Price Change Alters
· Reporting & Price analytics
· Smart spidering
· API
Introduction: Skuuudle is an intelligent monitor platform which can is a clever little platform that compares your prices automatically with that of competitors'. Through a close understanding of prices in a certain marketplace, Skuuudle helps to generate price and product insights on a daily basis.
Fee: From $89 per month | Free trial: Get Free trial after contact sales
√ End-to-end visualization pricing monitoring platform.
√ Get data on time with perfect accuracy
√ Provide monthly report
× Only provide online support in business hours
Feature:
· Data collection
· Product matching
· Quality control
· Easy-to-use Analytics
· Cloud-based
· First-class support
Introduction: Repricer is a pricing monitoring tool that focuses on Amazon repricing.
Fee: From $69 per month | Free trial: 14-day free trial
√ Supports 18 international Amazon marketplaces
√ Buy box strategy optimization on Amazon
√ User-friendly navigation
× Only provides software and service to Amazon sellers
× The price information is not updated in time. (Synchronization issue)
Feature:
· Repricing
· Competitor analysis(Amazon sellers only)
· Flexible rules set up
· Safe & secure
Introduction: Minderest is a pioneering company in the price and assortment intelligence sector for both retailers and manufacturers.
Fee: Customized | Free trial: N/A
√ Not only provide monitoring service for retailing, but also for brand.
√ Mobile APP is supported.
√ API extraction is available
√ Client support: via telephone, in-application chat interface or email.
× Limitation to capture prices for sellers requiring an account
× Information is slowly updated sometimes.
Feature:
· In-Store mobile APP
· Brand relative monitoring services
Final Thoughts
Price Monitoring could be a tough job without tools. While this is not a complete list of price monitoring tools, it's a great start. Just choose the most suitable one for your specific marketing challenges. Though it could be a relatively long learning curve to make use of a new tool within your work, your business growth will thank you in the long term. 
If the tool is not your thing, and you're finding a data service for your project, Octoparse data service is a good choice. We work closely with you to understand your data requirement and make sure we deliver what you desire. Talk to Octoparse data expert now to discuss how web scraping services can help you maximize efforts.