Amazon is one of the most well-known online shopping platforms in the world for both sellers and consumers. It would be very helpful if you could scrape data like product information, customer reviews, and more to help you improve your store.
This article gives you an idea of the best 7 Amazon scrapers to scrape data from Amazon easily and quickly.
The list includes multi-functional web scraping and small-scale extension tools, and they are compared in three dimensions: the automation degree, how friendly the user interface is, and how much they cost.
Top 3 Amazon Data Scraper for Windows/Mac
If you often need to scrape data from Amazon, you can run across certain annoyances that keep you from getting to the data, such as IP bans, CAPTCHAs, login walls, pagination, data in various formats, etc. In order to solve these problems, you need more powerful tools like what we list below.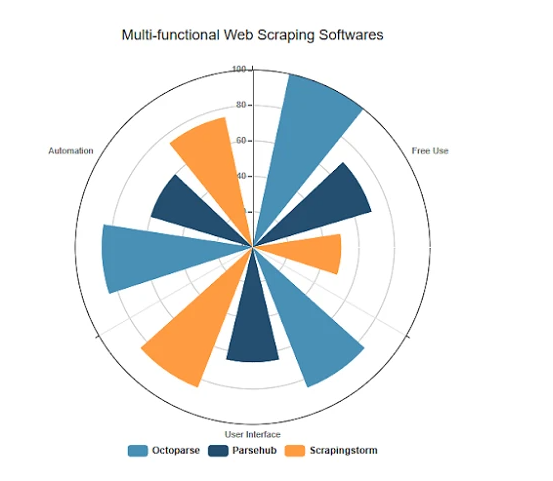 Octoparse is the best web scraping tool that can scrape Amazon price data, product lists, user reviews, etc. It helps users quickly scrape web data without coding. Compared with others, the highlight of this product is its graphic, intuitive UI design. It is desktop software, you can download and install it for free. Even if you are a free user, you can apply its powerful features to grab the Amazon data you need.
Worth mentioning, its auto-detection function can save your efforts of perplexedly clicking around with messed-up data results. Besides auto-detection, Amazon templates are even more convenient. Using templates, you can obtain product list information as well as detailed page information on Amazon. Also, you can create a customized crawler yourself based on your particular needs under the advanced mode, besides using templates.
There is no limit to the amount of data scraped even with a free plan as long as you keep your data within 10,000 rows per task. If you upgrade to any paid plans, you can enjoy more powerful functions such as cloud servers, scheduled automatic scraping, IP rotation (to prevent IP ban), CAPTCHA solving, etc. These features are definitely helpful when you need to monitor stock numbers, prices, and other information about an array of shops/products on a regular basis.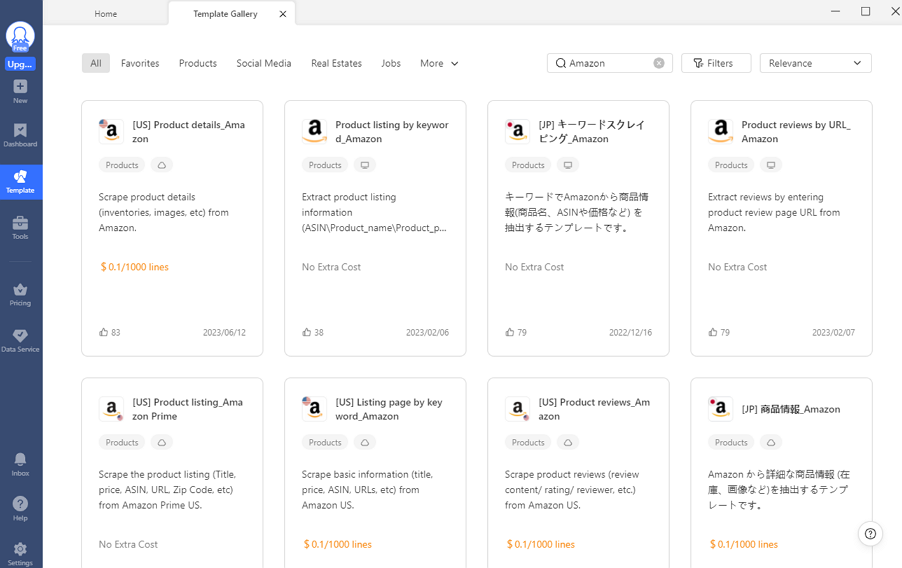 How to Scrape Amazon Data Using Octoparse
After getting to know a little bit about Octoparse, you may wonder how it actually works. Let me walk you through it in detail by using the template Product Listing by keyword_Amazon as an example.
Step 1: Find the Amazon scraper
It is easy to see many popular templates that are listed on the homepage of the APP. You can find the template named "Product listing by keyword_Amazon" under Popular Templates on the homepage — that is the one we will use here.
If you can not find it, please click "Template" on the sidebar to go to the Template Gallery and search for the template there.
Step 2: Enter the parameters into your scraper
After clicking on the template, you will see a short description explaining how to use it and what data you can get. For the template Product listing by keywords_Amazon, you need to select the location of the site and confirm your site, then enter the products you need to scrape in the Keyword blank.
Step 3: Run Amazon scraper and export scraped data
After you have entered all the keywords you want, click on the "Start" bottom to launch the scraper. This template can only be run on your local device (available for free and paid plans). When the run is completed, you can export the extracted data to diverse kinds of formats like Excel, CSV, JSON, or even databases like Google Sheets for further use.
Along with this template, there are many types of templates on Octoparse for diverse needs. For instance, you can get more detailed information like products, including style, color, inventory, weight, size, etc., by using the template Product details_Amazon with ASINs. If you are ready to get such data and hope it can boost your business, you can join our 14-day trial free of charge. In this case, you can explore all the 100+ template scrapers and easily get data from not only Amazon but also Google Maps, Yelp, Twitter, eBay, etc.
If you want to scrap data from Amazon for free, you can build a scraping workflow with Octoparse by auto-detecting. Reading the user guide on how to scrape Amazon data easily.
ScrapeStorm is an AI-powered visual web scraping tool. Generally speaking, the UI design of the app is like a browser and comfortable to use. Its smart mode works similarly to the auto-detection in Octoparse, intelligently identifying the data with little manual operation required. So you just need to click and enter the URL of the Amazon page you want to scrape from. Meanwhile, its Pre Login function helps you scrape URLs that require login to view content.
ScrapeStorm offers a free quota of 100 rows of data per day and one concurrent run is allowed for free users. The value of data comes as you have enough of them for analysis, so you should think of upgrading your service if you choose this tool. Upgrade to the professional so that you can get 10,000 rows per day.
3. Parsehub
ParseHub is another free web scraper available for direct download. As with most of the scraping tools above, it supports crawler building in a click-and-select way and the export of data into structured spreadsheets.
For Amazon scrapers, Parsehub doesn't support auto-detection or offer any Amazon templates, however, if you have prior experience using a scraping tool to build customized crawlers, you can take a shot at this.
You can save images and files to DropBox or Amazon S3, and run with IP rotation and scheduling if you start from a standard plan. Free plan users will get 200 pages per run. Don't forget to back up your data (14-day data retention).
Octoparse v.s. ScrapeStorm v.s. Parsehub
| | | | |
| --- | --- | --- | --- |
| Features | Octoparse | ScrapeStorm | Parsehub |
| Page limit per run | Unlimited | Unlimited | 200 pages/run for free |
| Data limit to export | Up to 10K rows/run for free | 100 rows/day for free | / |
| Data auto-detection | Yes | Yes | No |
| IP Rotation | Yes | Yes | Yes |
| CAPTCHA solving | Yes | No | No |
| Task scheduling | Yes | Yes | Yes |
| Image & file download | Yes | Yes | Yes |
| Preset task templates | 100+ | No | No |
Best 4 Browser Extensions to Scrape Amazon
The key to an extension is easy to reach. You can get the idea of web scraping rapidly. With rather basic functions, these options are fit for casual scraping or small businesses in need of information in simple structure and small amounts.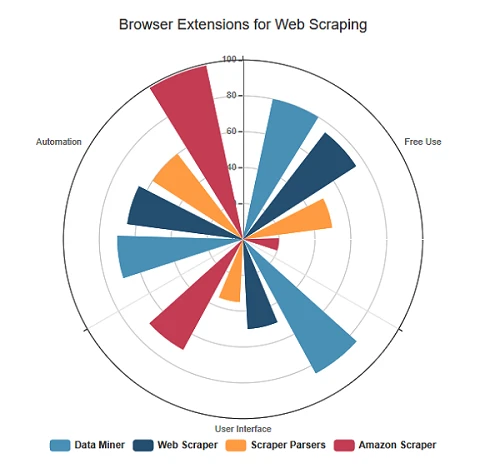 Data Miner is an extension tool that works on Google Chrome and Microsoft Edge. It helps you scrape data from web pages into a CSV file or Excel spreadsheet. A number of custom recipes are available for scraping Amazon data. If those offered are exactly what you need, this could be a handy tool for you to scrape from Amazon within a few clicks.
Data Miner has a step-by-step friendly interface and basic functions for web scraping. It's more recommendable for small businesses or casual use. There is a page limit (500/month) for the free plan with Data Miner. If you need to scrape more, professional and other paid plans are available.
Web Scraper is an extension tool with a point-and-click interface integrated into the developer tool. Without certain templates for e-commerce or Amazon scraping, you have to build your own crawler by selecting the listing information you want on the web page.
Web scraper is equipped with functions (available for a paid plan) such as cloud extraction, scheduled scraping, IP rotation, and API access. In this way, more information can be scraped more frequently.
Scraper Parsers is a browser extension tool to extract unstructured data and visualize it without code. Data extracted can be viewed on the site or downloaded in various forms (XLSX, XLS, XML, CSV). Numbers can then be displayed in charts according to the extracted data.
The UI of Parsers is a panel you can drag around and select by clicking on the browser, and it also supports scheduled scraping. However, it seems not stable enough and easily gets stuck. For free users, everyone will have 1000 free page-scrape credits per month with a limit of 720,000 in total.
Amazon scraper is approachable on Chrome's extension store. It can help scrape price, shipping cost, product header, product information, product images, and ASIN from the Amazon search page.
Go to the Amazon website and search. When you are on the search page with results you want to scrape from, right-click and choose the "Scrap Asin From This Page" option. Information will be extracted and saved as a CSV file.
This trial version can only download 2 pages of any search query. You need to buy the full version to download unlimited pages and get 1-year free support.
Desktop Scraper VS Browser Extension
As mentioned above, using browser extensions to scrape Amazon data is more convenient. Users can add one to their browsers and launch the scraper directly rather than downloading and installing software on their devices. However, extensions are dependent on the browser for networking and JavaScript execution, which might reduce performance and stability.
Desktop scrapers, on the other hand, show strengths in processing complicated tasks. This kind of Amazon scraping tool can log into websites, navigate pages, and scrape data without requiring a web browser. Because they do not need to deal with variables in a browser, desktop scrapers are faster and more reliable.
Python is one of the most popular programming languages for web scraping, you can also learn about How to Scrape Amazon Data with Python if you're familiar with coding.
Amazon Data Scraping Service
Tools are created for convenience use. They make complicated operations possible through a few clicks on a bunch of buttons. However, it is also common for users to counter unexpected errors because the situation is ever-changing on different sites. You can step a little bit deeper to rescue yourself from such a dilemma – learn a bit about HTML and Xpath. Not so far to become a coder, just a few steps to know the tool better.
If the tool is not your thing, and you're finding a data service for your project, Octoparse data service is a good choice. We work closely with you to understand your data requirements and make sure we deliver what you desire. Talk to an Octoparse data expert now to discuss how web scraping services can help you maximize efforts.
Wrap-up
There are a lot of Amazon scrapers available now. If you are running a small business online, starting with a browser extension might be a good idea. By contrast, if you are looking for a more professional experience in web scraping to meet your needs, go for free desktop Amazon scrapers like Octoparse with no regret. These tools can help you grab Amazon data regardless of coding skills, and templates can make you a web scraping export in seconds! Try Octoparse now, and make your business data-driven!