Imagine your company has just developed a new type of shampoo. Wouldn't it be great to have a list of all the beauty salon shops near you, as well as those across the entire nation? Wouldn't it be even better if you could conveniently locate their contact details, addresses, email addresses, phone numbers, and Facebook page?
This is what lead generation does. In this article, we are going to talk about lead generation and how to extract email address from websites for sales leads.
What is lead generation
Any person who expresses interest in a company's product or service in any way, shape, or form is considered a lead. Gathering sales leads or sales lead generation is a process of attracting, nurturing, and converting potential customers into existing customers. It is one of the most important yet challenging marketing practices because it is not easy to find the right people and businesses interested in your products or services. Generating qualified leads is critical for B2B businesses. Essentially, it is an engine that ensures you won't run out of customers.
How to collect sales leads in minutes
Every company needs leads that hopefully would turn into paying customers. When it comes to developing new clients, many individuals, organizations, and enterprises nowadays use email marketing. For effective emailing, such organizations must build a huge email list. If you search without the aid of any application, finding these emails might be a nightmare. This is when email extractors come in handy.
There are different types of email extractors. We are going to introduce three ways of scraping email addresses within minutes.
1. Use a web scraping tool – Octoparse
Octoparse is a very powerful and easy-to-use tool that can capture web data without coding. Literally anyone can use it to get data directly within clicks.
It provides lots of preset templates to scrape lead data from popular directory websites, for example, yellowpages.com, yelp, and so on. You can also search the universal scraping template named as Contact details scraper to get leads into Excel easily.
You just need to input some search keywords or locations (fill in the required parameters), click a run button, and then wait for the data to be collected. The scraped data can easily be downloaded to an Excel or CSV file, or even directly to your databases. It is not a problem to scrape data by using Octoparse pre-defined templates.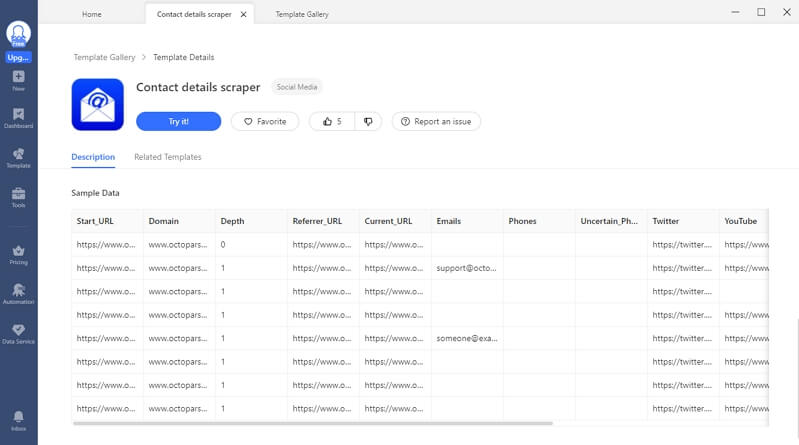 When there is not a ready-to-use template for your target websites, don't worry, you can easily create your own crawlers to gather sales leads from any website. Here are the simple steps to create a web crawler within 3 steps: 
Step 1. Go to the web page you want to scrape
Copy and paste the URL page you want to scrape in the URL bar on the homepage and click "Start".
Step 2. Create the workflow
Click "Auto-detect web page data", wait until you see "Auto-detect completed". Then check the data preview to see if there's any unnecessary data field you would like to delete. Click on "Create workflow" after checking.
Step 3. Start a run
Click "Save" and "Run". Select "Run task on your device" to run the task on your PC, or select "Run task in the Cloud" to run the task in the cloud. You can also schedule the task to run at any time you'd like.
You can also explore more easy-to-use email scraping tools like Octoparse for sales prospecting.
2. Write your own email scraping script using Python
Writing an email extractor using python or other coding languages is a top option for a business owner or an employee who knows some basic codings. Python, one of the most popular coding languages, is regarded as the simplest computer language as it employs English grammar in writing a script. 
Requests, Selenium, and Beautiful Soup are a few of the many free Python programs available for web scraping, crawling, and parsing. If you wish, look into a few of them and see which one best suits your needs. You can also easily find many ready-to-use scripts that scrape email addresses in python from Github.

3. Use Email Extractor (Chrome Extension)
Email Extractor is a useful Chrome add-on for extracting emails. The extension extracts valid email IDs from a web page and allows you to copy and paste specific email IDs or export all of them to a text or CSV file. It's very convenient for everyone to add it in the Chrome browser and use it to capture data.
The automated tool can find all email accounts associated with a given domain name. For instance, if you want to find out who works at Email Hunter, you can use the tool to look for any email address that ends in hunter.io or emailhunter.io. This can be done for any website.
How to use sales leads effectively
So, you have generated new leads based on email scraping from websites, how do you manage those new leads? We have mentioned that most businesses use email marketing to attract leads. It is not easy to do it well, but it is well worth the effort. In this part, we'll introduce some tips on email marketing which, hopefully, could inspire you a little bit in making full use of the email addresses captured.
1. Use Email Marketing tools
One of the most difficult aspects of email marketing is the time it takes to construct a professional-looking email from scratch. Marketers may waste a lot of time generating and sending out emails that don't look great if they don't have the right tools. This reduces productivity and lowers your email marketing ROI.
An automation email tool, like MailChimp, can save you a lot of time connecting with tons of potential clients, creating great-looking email templates easily and keeping track of your email data. Many businesses refuse to use email marketing tools because they are unwilling to invest in a solution to streamline the process. Email marketing tools, on the other hand, do not have to be costly. There are numerous free email marketing solutions available that can help you save time and money.
2. Well design the email content
We all receive tons of emails every day and how can you make sure your email won't be just deleted after your client takes a quick glance? A well-designed email can not only attract the target person but also push him to reply to you. Here are some key points that you need to pay attention to when writing your emails.
To incorporate personal touches into your emails, you can address your subscribers by their first and last names whenever possible. Moreover, you can create a message that goes deep into their interests and requirements. 
Having one clear and focused call to action (CTA) in the email message, you can drive more people to visit your landing page.
To open the door for meaningful conversations with your potential customers, you can use enticing email subject lines and a distinctive and entertaining voice to encourage the clients to reply back-and-forth.