Although we've gotten used to Google and the opportunity to find any information with its help, some data, e.g. personal emails, may still be quite difficult to retrieve. This, in particular, is a problem for hiring managers, who are usually in a rush to close the job posting fast and with qualified candidates.
For HR managers who've manually skimmed through LinkedIn and Facebook profiles and looked for contacts to no avail, an email finder may become a true salvage. This is a software set to automatically search for email addresses on certain criteria: name, job position, company, personal or corporate website, and others.
Not only do email searching tools parse contacts from the Web – they do it quickly and securely. Moreover, they may include extras, like email validators and drip campaign launchers. A hiring manager can, thus, get a list of candidates' emails and schedule outreach in a few minutes, instead of spending hours on copying & pasting contacts from the browser into a database. The below guide teaches how to use email searching tools, and not only. After reading it, any contact will be just a click away from you.
How to find someone's email address?
To get the fullest list of prospects' emails, it's better to combine a software toolkit with manual research. Below are some tactics you can try.
Use an email lookup tool 
There are many affordable tools that you can utilize for email searches, e.g. Snov.io, Hunter.io, Aeroleads, Prospect.io, and others. They all work pretty much the same: a user specifies lookup parameters, and the program parses web pages, including websites' URLs and public profiles on social networks. The algorithm extracts certain pieces of data from the page's HTML and saves outputs. Ultimately, a user gets a neat table with email addresses. 
Some tools enhance contacts with extra information. You'll see the person's first name, last name, country or location, social media profiles, phone numbers, photos, and any other type of public information. 
Another advantage that email lookup tools offer is email verification. This protects the sender's domain from spam complaints and prevents message delivery errors. For example, Snov.io automatically cleans scraped contacts from gibberish-looking, catch-all, temporary, freemail, unexisting, and other questionable email addresses. You can also use Snov.io to clean up existing contact databases.
Use Twitter
If you follow someone on Twitter and want to have their personal email, you can start by checking their profile, reading their bio, trying to reach them through DMs, or simply checking tweet information for links to external sources.
Many people add links to websites, e.g. personal blogs or online stores,  to their Twitter profiles, so you can follow these and search for emails in the footer section, "Contact Us," or "About" pages. You can also flip through the user's feed to look for any email or phone number mentions.
Subscribe to your prospects' email lists
Subscription forms are common practice on the majority of websites, so use them to your advantage. Create several Gmail accounts and sign up and/or subscribe for newsletters. You'll start receiving mailings and, so, will see prospects' email addresses in your Inbox.
This method has a flip side, however. Most companies use dedicated email addresses for regular mailings. These usually contain "support," "learn," "messages-no-reply," or similar words, and can be handled by several users. As such, the chances that your response will reach an interested person are quite low.
Contact leads via the generic email address or contact form 
You can submit requests via an on-site contact form or try to reach out via generic, rather than domain-based, email addresses. Typically, forms are put on the homepage or "Contact Us" page. If there's an option to choose what department to write to from a drop-down list, select "Sales" or "Marketing." Also, don't add attachments or include links to your messages, because these are spam "triggers" for mailing systems.
Check Out the Contact & About Us Pages
Some webmasters put contacts in text, e.g. on the "About" page. You can use the Command-F operator and search for "@" to find email addresses. Please note that, sometimes, owners may replace special characters with words to prevent auto data-scraping. So, for example, the "example@gmail.com" can appear as "example [at] gmail [dot] com".
Do a WHOIS Lookup 
The WHOIS domain database is a listing of all registered domains. It's commonly used to check domain name availability, keep domain name registrants accountable, and identify trademark infringement. 
To use this email searching tool you only have to go to http://whois.icann.org, enter the domain name, and click "Lookup."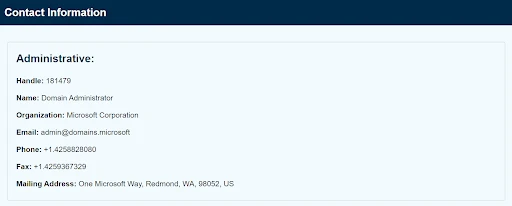 Results of the WHOIS Lookup for www.microsoft.com
The system will show you registrant information, including administrative contact emails, phones, and fax.
Use Google (and search operators)
You can try to get anybody's email by doing simple Google research or using advanced search operators. These are special commands that modify searches and may require some specific parameters. This tool is normally used to get specific results on a search, you can go deeper using this tool.
Below are a few examples of searches on Google. We've used "microsoft.com" as an example:
"Microsoft" -site:microsoft.com – to search for "Microsoft", excluding pages from microsoft.com

"microsoft.com" -site:microsoft.com – to search for "microsoft.com", excluding pages from microsoft.com

microsoft.com intext:"@microsoft.com" – to search for pages on microsoft.com that contain corporate email addresses

"microsoft.com" reviews -site:microsoft.com – to search for reviews of "microsoft.com" that exclude pages on microsoft.com.
Export your LinkedIn connections
LinkedIn has a convenient option to retrieve contact data from your connections. To do so, click on "Settings & Privacy".
Navigate to: "Data privacy" → "How LinkedIn uses your data" section → "Get a copy of your data" → "Change".
And then: "Want something in particular? Select the data files.." → 
"Connections" → "Request archive" → "Done".
The list, however, will only include contacts from users who gave their permission to see and download personal email addresses.
Take an educated guess
If you know your prospect's first name, surname, and sender's domain, you can try to guess their emails. Say, you assume that someone called Ann Hamer uses a Gmail account. Consequently, the following email combinations are possible:
ann.h@gmail.com

a.h@gmail.com
You can write a simple template and use merge operators in Google Spreadsheets to generate emails for countless numbers of recipients. Or – use an email permutator that will create a list of email options for you. However, because many of these will be invalid, don't test them straight away. Instead, upload on Facebook or LinkedIn and see if there are people with such emails.
For example, to do so on Facebook – prepare your email list in CSV or TXT, open your ads account, navigate to "Audiences", and create a new audience from a "Customer File". Specify that you'll upload a file that doesn't include LTV and attach it to the form opened.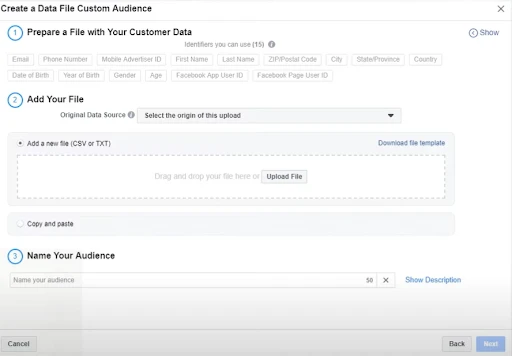 Creating a custom audience with email lists on Facebook Ads
 A few more settings – and your custom audience is ready. Because Facebook matches emails with users' profiles, the system will notify you about unmapped emails.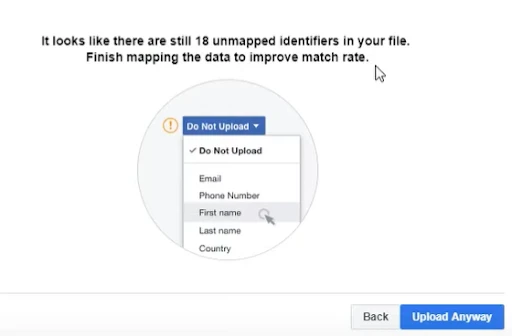 Click "Upload Anyway" and see what emails have passed the identification on Facebook, and what haven't
You can then check emails that failed to pass the uploading process and remove them from your contact list. Also, use email verifiers to get rid of unexisting contacts.
Сonclusion
Finding anybody's email will be easygoing if you approach the process smartly and with the right tools. What's more important is how you reach out to your leads or job candidates. 
After you've collected email addresses, take time to verify them. Also, choose the right time for mailing. For example, it is considered that, for recruiters, the best time to send out job proposals is mid-morning or mid-afternoon. To increase the open ratio, personalize subject lines and messages. You can Google "email templates for recruiters," pick up some good-looking options, and go ahead with sending out inquiries to candidates.