95% of B2B buyers are considering vendor-related content as trustworthy when they make purchasing decisions, based on the report of Demand Generation. And American Content Marketing Institute also found out that 88% of B2B Enterprise Marketers are using content marketing, and the most used technique they used to generate the right content is data scraping tools.
Internet technology is leading a technological revolution in Content Marketing, which greatly changes the way an enterprise from knowing its clients to the overall marketing strategy establishing.
This shall be the most explicit guideline for non-tech marketers, without any prior programming knowledge, to leverage data scraping to drive their Content Marketing. In this article, we are going to talk about two things: Content Marketing & Data Scraping.
What is Content Marketing?
Content marketing is "a strategic marketing approach focused on creating and distributing valuable, relevant and consistent content to attract and retain a clearly defined audience, and, ultimately, to drive profitable customer action." It should be operated as an ongoing business process, instead of simply a marketing campaign.
The keyword in the definition of Content Marketing is "valuable", which makes it distinguished from conventional marketing. That is to say, Content Marketing should be beyond promotional, instead, it should be informative and educational.
Nevertheless, the goal of content marketing is to drive traffic to the website, or draw attention to the product, and improve the conversion rate, ultimately generate profit. To put it more specifically, it helps enterprises growing by improving brand awareness, Lead generation and nurturing, customer engagement, retention, and loyalty.
What is the "content" in Content Marketing?
The content in Content Marketing mainly refers to digital content. From the format of content, it can be divided into: common content like articles, image, infographic, audio, video, and event; premium content assets includes interactive tools, ebooks/white papers, or webinars.
From the way it is delivered, Content Marketing is composed of blogs, social media posts, webpages, emails, podcasts, videos, and even live broadcasting. CMI found out that enterprises use 10 kinds of content tactics on average, which is as follows: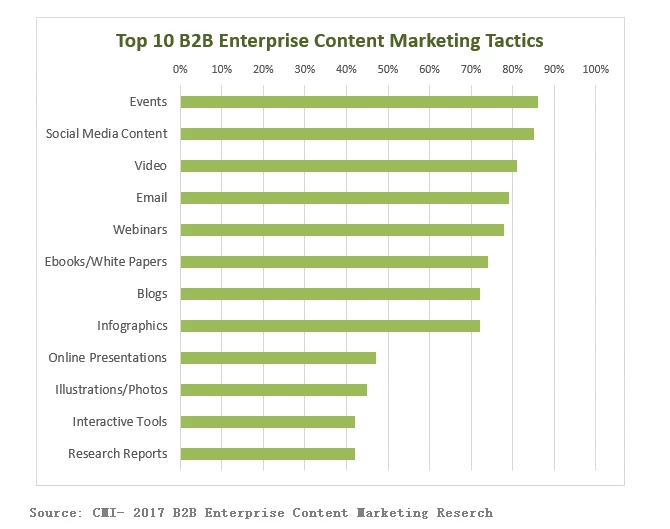 From another aspect – content generation, Content Creation could break down into:
Brand-generated Content (BGC): based on the in-house content team, BGC provides the audience with valuable information related to products and brands, establishing the brand as the authority on a topic.
Professionally-generated Content (PGC): enterprises cooperated with professional content agencies or Key Opinion Leaders, to convey product/brand information to a much extensive audience.
User-generated Content (UGC): UGC is a target of every enterprise, turning the best customers into brand advocates. And 93% of consumers find UGC helpful when making purchasing decisions.
So far we have already got a comprehensive understanding of Content Marketing, now the challenge is to achieve the success of content marketing. Following I will tell you how data scraping contributes to the success of content marketing.
What is Data Scraping?
Data scraping is a way of automating or scaling the process of aggregating information from different websites on the Internet. With the explosion of internet data, data scraping has become an important method to build up the database of a company.
There are many methods to scrape data from websites, for example, we can scrape web data with Google Sheets. For non-tech marketers, the most efficient way is to choose an easy-to-use web data scraping tool.
Why Do We Need Data Scraping?
We will answer this question by addressing the 3 difficulties most marketers facing when it comes to Content Marketing.
Data-based Content stands out of the crowd easily
On average, every second, around 6,000 tweets are tweeted on Twitter and 854 photos uploaded in Instagram; 300 hours of videos are uploaded to YouTube every minute. The biggest challenge for an enterprise becoming an expertise on a topic is that we have to make our content outstanding in the content stream, as the digital world is flooded with content today.
Data-driven content is the most effective way to be distinguished from others. 84% B2B marketers attribute their organization's increased success with Content Marketing to higher quality content creation. And I will elaborate on how we could generate higher quality content with data scraping below.
No technological background required
Over 1/3 marketers consider their organization's stagnancy in content marketing resulting from the lack of content marketing technologies/tools, or the new systems requires a long learning curve. In the big data era, it is almost impossible to skip the tools to generate data-based content. Most of the tools are quite complicated to command for non-tech marketers.
A good data scraping tool should be easy to use, even non-tech markets can build up a scraper to extract the web data they want easily. That's why data scraping, as an important resource for aggregating big data, and the premise for data analysis, will not improve the learning burden of non-tech marketers.
Cost efficient
Only 22% of total marketing budget is spent on content marketing from a research of Content Marketing Institute. Many businesses have very limited budget to invest in complex and expensive tools that can feed in streams of data to their database. Besides, seldom of data analytic tools provide a free version, or the free version could not even meet the essential demand of an enterprise. 
Octoparse has analyzed the Top 5 data scraping tools in the market, there are free data scraping tools with generic functions provided for non-tech marketers. That's to say, we don't always have to invest in expensive tools to gather valuable intelligence.
How Can We Leverage Data Scraping to Create Content?
Only when our content map with the most caring things of our target audience, will they be interested in spending time on the content we post. Therefore, I will talk about how data scraping helps marketers generate customer-intelligence content. 
Know your audience
The content is invaluable if it is not developed with the appropriate audience in mind. We need to understand our audience and know what they really care, which topics will resonate with them.
For instance, we can retrieve our product reviews from Amazon, or extract people's discussion about our products/the relevant topics from Twitter. Thus, we can find out the content mapping with the interest of our target audience.
Follow the new trends / existing popular content in the field.
This is the essential skill for a marketer to generate content. Of course, we can rely on tools, like Buzzsumo, to tell us the most popular contents, but its free version can only search data in the past year. This is not enough.
A more efficient way is to build up the customized scrapers for the websites which have the information we need, and feed the data extracted into our systems automatically and consistently. This is a once and for all solution, we could be informative of the new trends and popular topics in real time.
Generate creative insights to lead the market trends
If we can release a report or infographic that offers new or definitive market trends or issues and highlights the company's expertise, we can establish our brand as the authority on a topic, which will bring earned media mentions and interview requests.
This is the advanced skill for content marketers, which requires marketing instinct in the past. But with the assistance of data scraping, we can easily achieve the target by analyzing a large quantity of data in a long period. If we want to see in-depth intelligence others haven't discovered, we need to have our data samples differentiated from others in volume and variety.
Enrich the content with data visualization
Undoubtedly, data is the strongest proof for a viewpoint. Showing out the data analytics results or compose your content with infographics will enhance the persuasiveness and credibility greatly.
The value in our content should be regarded as the top priority of content generation. And it will be paid off, as statistics finds out that white paper is the most likely sharing content among buyers, because of its comprehensiveness and authoritativeness.
For instance, we extracted the most popular BI tools reviews and information for the TOP 20 Business Intelligence Tools. Likewise, we can extract the job description on Indeed or Glassdoor, to find out that "Content Marketing" related jobs has increased over 25% from the past three years. Also, we had scraped the Youtube comments and visualized the comments by WordARTs of the 2018 FIFA World Cup. 
How can we drive content distribution with data scraping?
To achieve the success of content marketing, it not only requires the high quality of the content, but also an effective distribution solution to covey the right content to the right audience at the right time and channels. Forbes has described the Content Distribution as Winning The Last Mile In Content Marketing. 
Content distribution opportunities typically fall into three platform categories:
Owned Media: including our websites, email, newsletters and social media accounts;
Shared Media: public social media channels for marketers to post original contents; and
Paid Media: Ads. Now many channels support content promotion directly when we post.
On average, enterprises apply 6 channels to distribute their contents.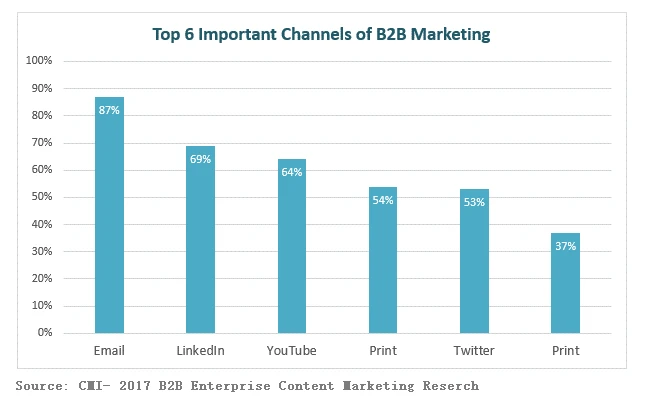 Following are Google+, SlideShare, Instagram, Pinterest, Snapchat, iTunes, Medium, and Tumblr.
Map the channels with the right content
Some marketers will mistakenly assume they need to post their content anywhere and everywhere to increase their chances of achieving the desired results. But the real problem of distributing content is whether the content reaching the right audience.
Based on the channels we have developed, or our competitors did, we can scrape the content and the audience engagement to find out what kind of content could draw the attention of our audience. For example, we scrape all the video information and reviews from Youtube under the topic of "World Cup 2018", to find out the popular videos and their common points.
Release your content at the right time/place
Many marketers may never care about the releasing time in different channels, but statistic has shown that the publishing time plays an important role in the content influence.
Based on a study conducted by marketers of HubSpot and Search Engine Land, they found out some fascinating things about the best time to publish a blog post.
If you want to get the most traffic, the best time to publish a blog post is Monday, 11 am EST;

If you want to receive more comments, the best time to publish a blog is Saturday, 9 am EST;

If you want more inbound links, the best publishing days are Monday and Thursday, and the best hour is 7 am EST;
With the assistance of data scraping tool, we can find out the best time to publish the content on different channels in our own situation. Like scraping all our past contents on different platforms, to analyze if the time or title affects the opening rate.
 Conclusion
Technology development brings both chance and challenge for enterprises and marketers in today's digital world. Enterprises should establish an ongoing strategy of their content marketing, while marketers need to leverage data scraping tools to improve their effectiveness in content generation and content distribution.