The digital world we live in is constantly creating an ever-increasing stream of data. Utilizing dynamic big data has become the key to data analytics for businesses.
In this article, we are going to talk about why is capturing dynamic data important and how dynamic data promote business growth effectively. Also, you can learn the easy method to scrape dynamic data from websites without any coding skills.
Why Is Capturing Dynamic Data Important
Generally speaking, you can see better and act faster by consistently monitoring dynamic data streams. To put it more specifically, getting dynamic data can help from the following aspects:
Make data-driven decision faster 
Capturing dynamic data equips you with real-time information about new trends in the market and your competitors. With all the updated information handy, you can significantly reduce the time lag between cause and effect. In another word, you can gain data-based insights and make data-driven decisions faster and easier.
Just as Jeff Bezos, CEO of Amazon, put it in a shareholder letter, "Speed matters in business". The "high-velocity decision making" is of great importance to business development.
Build a more powerful database
As the volume of data keeps growing in today's digital world, the value tied to every single piece of data has decreased dramatically. To improve the quality of the data analytics and the validity of decisions, companies need to build a comprehensive and high-volume database by extracting dynamic data continuously.
Data is a time-sensitive asset. The older the information is, the more difficult it is to collect it. As the number of information grows every year in size and speed, it becomes unprecedented crucial to keep track of changing data for further analysis. 
Generally speaking, short-term data collection helps pick up recent issues and make small decisions, while long-term data collection can help you identify trends and patterns in order to set long-term business objectives.
Establish an adaptive and analytic system
The ultimate objective of data analytics is to build up an adaptive and autonomous data analytic system, to analyze problems on a continuous basis. There is no doubt that an adaptive analytic system is based on collecting dynamic data automatically. In this case, it saves time on building analytic models every time and eliminates human factors in the loop. Autonomous car driving is a great example of an adaptive analytic solution.
How Dynamic Data Promote Business Growth
Product monitoring
Product information, like pricing, description, customer reviews, image, are all available on online marketplaces and updated from time to time. For example, pre-release market research can be conducted easily by retrieving product information on Amazon or scraping pricing from eBay.
Extracting dynamic information also allows you to evaluate the competitive position of products and develop strategies for pricing and stocking effectively. It can be a reliable and effective method for monitoring competitor actions in the market.
Customer experience management
Companies are becoming more attentive to customer experience management than ever before. From Gartner's definition, it is "the practice of designing and reacting to customer interactions to meet or exceed customer expectations, thus, increasing customer satisfaction, loyalty and advocacy." 
For instance, extracting all reviews of a product on Amazon can help decipher how customers are feeling about the product by analyzing the positive and negative feedback. This is helpful in understanding customers' needs, as well as getting to know about a customer's satisfaction level in real-time. 
Marketing strategies
Dynamic data analytics lets you know which strategy worked best in the past is the current marketing strategy working well, and what improvements can be done. Extracting dynamic data enables you to evaluate the success of a marketing strategy in real-time, and make precise adjustments accordingly. 
Steps to Scrape Dynamic Data Easily
To collect dynamic data timely and continuously, manually copying & pasting is no longer practical. An easy-to-use web scraping tool like Octoparse will be in great help. It can scrape data from most website and export the data in Excel, CVS, or any other file formats. You can also explore the advanced features like scheduling scraping, IP rotation, cloud extraction, etc. Just download and install it on your Windows or Mac system and follow the simple steps to start scraping dynamic data.
How to Extract Dynamic Data from Website Without Coding
Step 1: Sign in Octoparse with a free account. Copy the link you need to scrape and paste it on the main panel of Octoparse.
Step 2: You will enter the auto-detecting mode by default. Create a workflow and you can make modification to make sure you get the desired data field. Learning more details from the user guide page.
Step 3: Click the Run button after you have checked all data in the Preview mode. The dynamic data extraction process will be finished soon, download the file to your local devices in Excel.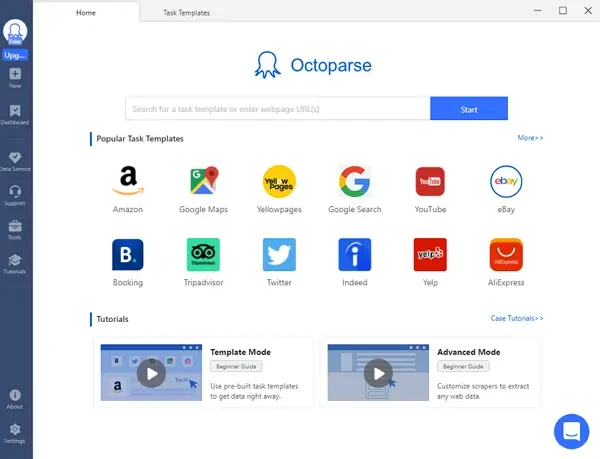 Why Choose Octoparse Real Time Data Scraper
Choosing the right tool to scrape data is important. Here list the main features which tell you why choose Octoparse.
Coding free
With a web scraping tool, you don't need to have prior programming knowledge. Scraping dynamic data from the web is easy to achieve for anyone and any business.
Works for all kinds of websites
Different websites have different structures, so even an experienced programmer needs to study the structure of a website first before writing the scripts. But a powerful web scraping tool can be used to extract from different websites fast and easy, saving you tons of time from studying the different websites.
Scheduled extractions
This requires the web scraping tool to support cloud operation, instead of running on a local machine only. This way, the scraper can run to extract data according to your preferred schedule automatically. Octoparse cloud extraction supports scraping web data at any time and any frequency based on your needs.
Faster speed for data collection
With multiple cloud servers working simultaneously, the same set of data can speed up to 6-20 times faster than running on a local machine.
Cost efficiency
Octoparse cloud extraction supports operating the scraper and storing dynamic data in the cloud, without worrying about high hardware maintenance costs or network interruption. Besides, 50% lower cost compared with similar services in the market, Octoparse dedicates to improving the value of data analytics, equipping everyone with affordable access to Big Data.
API, customize your data feeds
Though the cloud data could be exported to our database automatically, with API, it can much improve the flexibility of the data exported to your own system.