I'll cut to the chase. I would love to introduce an email scraper built by Octoparse, with which you can get emails and social media profile links accordingly from any website easily. 
I guess most people are seeking emails to reach out to their sales prospects. So I am going to babble about cold emailing. You can skip to the Email Extractor part if this is not what you care about.
Cold Email Marketing
Cold calling, cold emailing…It seems like cold things are not that welcome. While they are not born to be hated. They are just a way to do things and you can do it brilliantly, or badly.
I am a marketer. Sometimes I send cold emails myself. Well, you will still get pissed off when you receive an email from a stranger bragging about their services and call for your actions in a seemingly subtle way but you can feel that they are just trying hard not to scream at you – "HEY LOOK AT ME. HEY, WHAT ABOUT USING OUR SERVICES!" Do you know what's even worse? They keep sending it if you don't shut them up.
Back to the subject. 
Cold emails are all about building relations with prospects. They know nothing about you. This is the first time you show up in their life. So the key is you have to know something about the people you are reaching and make a connection first.
With Google, you will never be short of cold email templates. After reading some, I love this sum-up from Harvard Business Review:
Tailor the message to the recipient

Validate yourself

Alleviate your audience's pain

Keep it short and easy
And at the end, the author reminded us: don't use a template. 
What Does the Email Extractor Do
Octoparse is a no-code web scraping tool. 
Generally speaking, Octoparse helps users build web scrapers without using programming languages. We also offer pre-built scrapers. One of them is this Email Extractor.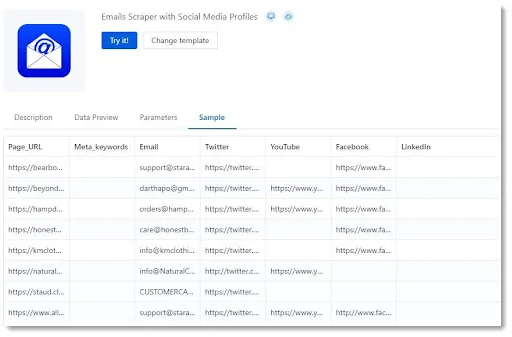 The table shown above is some sample data scraped by the email scraper. 
Entering a bunch of URLs, the scraper will help you pull down the email addresses and social media profile links related to it. 
This scraper is built through Regex. 
That's a set of rules to match and single out certain strings from the text, in this case, the HTML source code. Once there is an email address or any social media profile link on the web page, the scraper will recognize and get it for you.
There is one limit. You may get a string like "bundle@2.3" and it is not an email. It looks like one. Well, Regex has done its best. The bright side is you won't miss one.   
Here to take advantage of the email scraper right away
Download Octoparse

here. 

Sign up for an account.

Open the client and search "Email scraper" on the search bar.

Enter the email scraper and click "Try it".

Paste the list of URLs you want to get emails & social profiles from.

Run the task and download the data into a spreadsheet for further use.
Any problems using the scraper, please contact support@octoparse.com
How to Leverage the Email Extractor
Have you heard of the Law of Hammer? 
"If all you have is a hammer, everything looks like a nail." Finding a way to make good use of a tool is essential. If you already found the good nail and what you want to pin, congrats! Just go work with Octoparse.
If you wanna try something new and don't have a clear target yet, see if these questions help you figure something out. 
The aim is to get yourself a list of URLs to put into the email scraper and get access to the group of people who are important to your business.
Question One

: Are you using it to explore sales prospects or look for a business partnership?

Question Two

: Who are the people you want to talk to then?

Question Three

: Are there any websites that put these people or businesses together?

Question Four

: Are there any roundup articles on Google that already put everything you want on one page?
This can be boiled down to one point: use Google search and directory or aggregator websites.
Let's take an example.
As a content marketer, I am looking to cooperate with tech websites. I find this list by Google search – 70 Tech Websites to Follow in 2021. I think well, I want to reach out to the editors and see if we can do a guest post or something. So I enter this link to Octoparse and it will help me pull down all 70 URLs.
Now I get my list of target URLs and put it into the email scraper, I get a contact list to start my reaching out.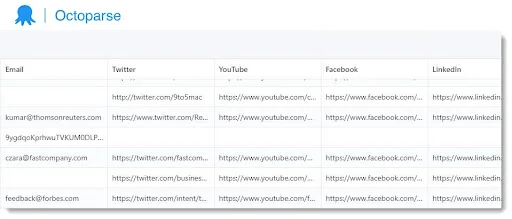 There are places to find your business partners or sales prospects. Websites like Yelp, Deldure, Craiglist, Yellow Pages, Google Maps are popular. You will find these scrapers on Octoparse as well. Try with the search bar.
Hey, Do It in an Ethical Way
What we have discussed is very much like email harvesting. It's ok to build up your email list. The thing is how you shall use it.
Caution one: Email address is personal information. The use of personal information by web scraping is sometimes sensitive. Make sure your email scraping and your following gestures comply with the GDPR rules.
Caution two: Sending marketing emails to people not on your subscription list can be illegal (CAN-SPAM Act). That's why you shall tailor your email to each recipient. Cold emailing to build person-to-person relations, instead of making it a bulk marketing gesture.
Caution three: Cold emailing in a wrong way can harm your business. Although I am offering a shortcut for email harvesting, I like this article discussing how email harvesting is wrong and can harm your business.
Do this legally and ethically. 
More Than Emails
Web scraping is widely used in many industries. It helps integrate web data into spreadsheets for further use and analysis.
Besides emails, professionals use web scraping to get product data from eCommerce marketplaces, social media data from multiple platforms, news, and content from the press.
They are put into use in many different ways:
Market research

Product research

Competitor research
Email harvesting with Octoparse may be your first step to getting data in an automated way. As you get familiar with this powerful tool, you will find yourself equipped with access to more data.