You probably have been dipping your toes in e-Commerce, or you are ready to roll up your sleeves working for a start-up company with an ingenious idea. The need for scaling up the business is at stake. So, how can you grow your business with web scraping? In this article, I will walk you through how web scraping (web crawling, data extraction, screen scraping) can benefit your business and drive your profit with real-life examples. 
5 Benefits of Web Scraping
1. Competitor Monitoring
The e-Commerce market made a giant leap in the last decade. Yet, this digital retail landscape will continue to grow as digital devices integrate into our lives and changed purchasing behaviors. 
The prosperous market is easy to enter, but the competition among retailers will only get tougher and leave very little room for newcomers to make headway.  How does your retail business survive? You need to study your competitors. Sun Tzu, the ancient Chinese general, once said that "If you know the enemies and yourself, you will never be defeated." This applies to business as well.
You can obtain the latest changes on your competitors with web scraping:
a. Scrape product information from competitors' websites, make a timely response to a new product launch and discover a new market strategy. 
b. Scrape product/service ads. Make insights into their budgets.
c. Scrape social media channels. Analyze their audience and discover potential customers.
d. Predict the fashion trend and stay competitive.
2. Pricing Optimization
If you have difficulties to set up a price, you will find web scraping is extremely helpful for such purpose. The problem with optimization is that we can't balance the point where we increase the profit while not losing customers.
Keep in mind that customers are willing to pay more for a product with more value. As for retail business, it is important to improve your service where your competitors are missing. Here is how web scraping comes into play:
a. Scrape customer information, and find out how you can bring up their satisfaction by fine-tuning your market strategies. 
b. Next, make a dynamic pricing strategy. The market is not static, and your pricing should keep up with the changes to maximize the profit. Web scraping enables you to keep tabs on changes in market price and promotion events in a timely manner.
3. Lead Generation
I bet you get tiresome when you are asked to get more leads. Of course, you can purchase as many name lists as possible. Warning! They are not quality leads. You probably opt for lead generation tools that allow you to search for companies and emails. In spite of the accuracy concerns, they are quite expensive with limited quotes. After all, it is not a sustainable solution to acquire quality leads in the long run. Here is the trick! You can extract leads' contact information online from millions of websites within a short time span for free.
a. Set your target persona: education, company, job title, etc.
b. Find relevant websites on your niche: physicians on health care providers; restaurants from Yellowbook.com; key opinion leaders from reputable open-source medical websites. 
Check out this article. Learn how to get thousands of leads within 15 mins step by step.
Contact lists are some valuable assets. With the names in hand, you can gain customers by sending campaigns and newsletters in bulk. However, please make sure to send relevant information and don't go spammy.  
4. Investment Decisions
Web scraping isn't a foreign idea to the investment world. In fact, from time to time, hedge funds leverage the web scraping technique to extract alternative data to avoid the risk of flops. It helps to detect unforeseen risks and potential investment opportunities.
Investment decisions are complex, as it usually involves a series of process before a sound decision can be made from setting up a hypothetical thesis, experimenting, to researching. The most effective way to test an investment thesis is through historical data analysis. It allows you to gain insights into the root cause of past failures or successes, pitfalls you should have avoided, and future investment returns you might gain. 
As a means, web scraping extracts historical data more effectively, of which you can feed such data into some machine learning database for model training. As a result, investment firms, using big data, improves the accuracy of the analysis result for better decision-making.
Check out this article about stock market analysis using web scraping.
5. Product Optimization
It is common sense for us to search for online reviews before making a purchase. Reviews can deterministically impact customers' buying decisions. Therefore, we can analyze what they think about us in order to keep up with their expectations. 
Let's say your product team is about to launch a new product. You are so anxious, wondering if it can make a breakthrough. It is important to collect customers' feedback to cross-examine your product and make improvements. The sentiment analysis technique is widely used to analyze customers' attitudes, whether it is positive, neutral or negative. However, the analysis needs a considerable amount of data, in text, from many websites to function. Web scraping can automate the extraction process faster which saves tons of time and effort for such mundane work.
Alright, the above are only a fraction of what web scraping can achieve. You can build a web crawler to extract the data we described above. Or you might have more innovative ideas regarding its application than I do. Don't underestimate the power of web scraping. It is the best solution for businesses to obtain a large volume of the necessary information in a routine fashion. You deserve to focus all the energy on important business operations.
Recommend Web Scraper Without Coding
After learning about the advantages of web scraping and why it is important for your business, you may want to know how web scraping can be done. There are a few ways to implement web scraping, here we will introduce one of them which is using a web scraping tool. Octoparse is a powerful web scraping tool we want to recommend because it can be used even for people who don't know coding language at all.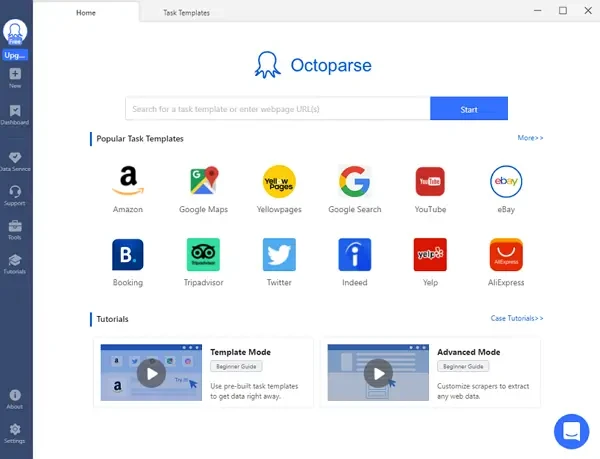 Octoparse is a modern web scraping software good for both Windows and macOS systems. It offers powerful features and a cloud platform to scrape web data from any website without coding. With its fast extraction speed, robust compatibility, flexible workflow and refreshing design, it stands out as a nice web scraping solution. In addition, no matter if you are an experienced or an inexperienced user, you will find it easy to extract unstructured or semi-structured information from different websites and then transform the data into a structured one. The unique Smart mode will extract the data in web pages automatically within a very short time. And it's easier and faster for a newbie to get data from almost any website by using the point-&-click interface. It allows you to get real-time data through Octoparse API. The cloud service they provide would be a good choice for big data extraction because of the IP rotation and abundant cloud servers.
Therefore, no more waiting, just download Octoparse and follow the user guide to start your web scraping. Start your trip on web scraping with Octoparse now as needed and happy data hunting.