Content aggregator websites are certainly something that you have run into at least a few times in your life on the web. These websites don't produce their own original content. Instead, they collect content from other websites around the Internet and "aggregate" it into one easy-to-find location.
On average, Google processes over 40,000 search queries per second. High-ranking content is a powerful engine of attracting traffic, increasing retention rate and conversion for a website. However, for most websites, it is not an easy task to produce high-quality content regularly due to different kinds of limits.
In this article, we will introduce what content aggregation tools are and why they are important, and showcase the 10 best recommendations for your content aggregation project.
Why Are Content Aggregation Tools Important 
Let's get straight to the point. This is why content aggregation tools have become very important to every website these days: With a content aggregation tool, you can gather a lot of content in one day without putting too much manpower into it.
Back in the day, big companies had an edge over small ones. Today the internet has given opportunities for companies of all sizes to compete for head-to-head. It has become the great equalizer. If you want to be heard by countless industry experts, you have to be online. Unless you give a reason to trust your product or service, people won't care. Just updating news won't help, you must also be able to pass it on to others.
If you haven't used any content aggregation tool or do not know the benefits of it, think about these questions:
Without high-quality updates, how can people find your website using Google?

If you're not sharing new or trending content on your website or social media, why will people follow your page?

If you're not providing useful content to help your target audience to solve their problem, why will they buy from you?
The difference between content aggregation and content plagiarism

 
A big neon sign saying "COPYRIGHT THEFT" might have lit up in your mind. A lot of people may think that using content aggregation tools to gather content for their websites is a kind of content plagiarism. While don't rush to a conclusion. Content aggregation is a process of compiling information on any topic for one or more related keywords and publishing them on your websites, platforms, social media pages, or blogs. While content plagiarism is an act of taking someone's work, and claiming it to be yours.
Publishing the content (citing the source when necessary) you gather with a content aggregation tool won't take away the credits of the original writers. Click this content aggregation site to test away. You'll know how content aggregation can benefit both platform visitors and original content creators. Visitors are happy because they get to view a huge variety of content in one spot. The concept behind content aggregation is to provide users with rich information that would have been hard to find. And content creators are happy because, as long as the aggregator website is being respectful and linking to the original source, content creators get to expose their content to a whole new audience. 
What is a content aggregation tool?
A content aggregation tool is an application or website that can help you collect content from a wide range of platforms and then republish all the content in one place. There are many types of content aggregation tools specializing in collecting different kinds of content(sports news, finance news, game news, etc.) or content formats (video, blogs, podcasts, pictures, and so on.).
It is obvious that you can't use one content aggregation tool to fit all your content needs. Selecting your content aggregation toolkit depends on which sources you plan to pull content from and whether the tool supports those platforms. We will cover more information on different types of aggregators and content sources in the upcoming session.
Content sources and content aggregation tools
There are many sources of high-quality content and content aggregation tools in the market to help you with content curation and aggregation on your website. We have picked 10 top-rated recommendations for your aggregation project. Some span huge categories of topics, others are neat one-page designs, and still, more take a niche-specific approach to content curation.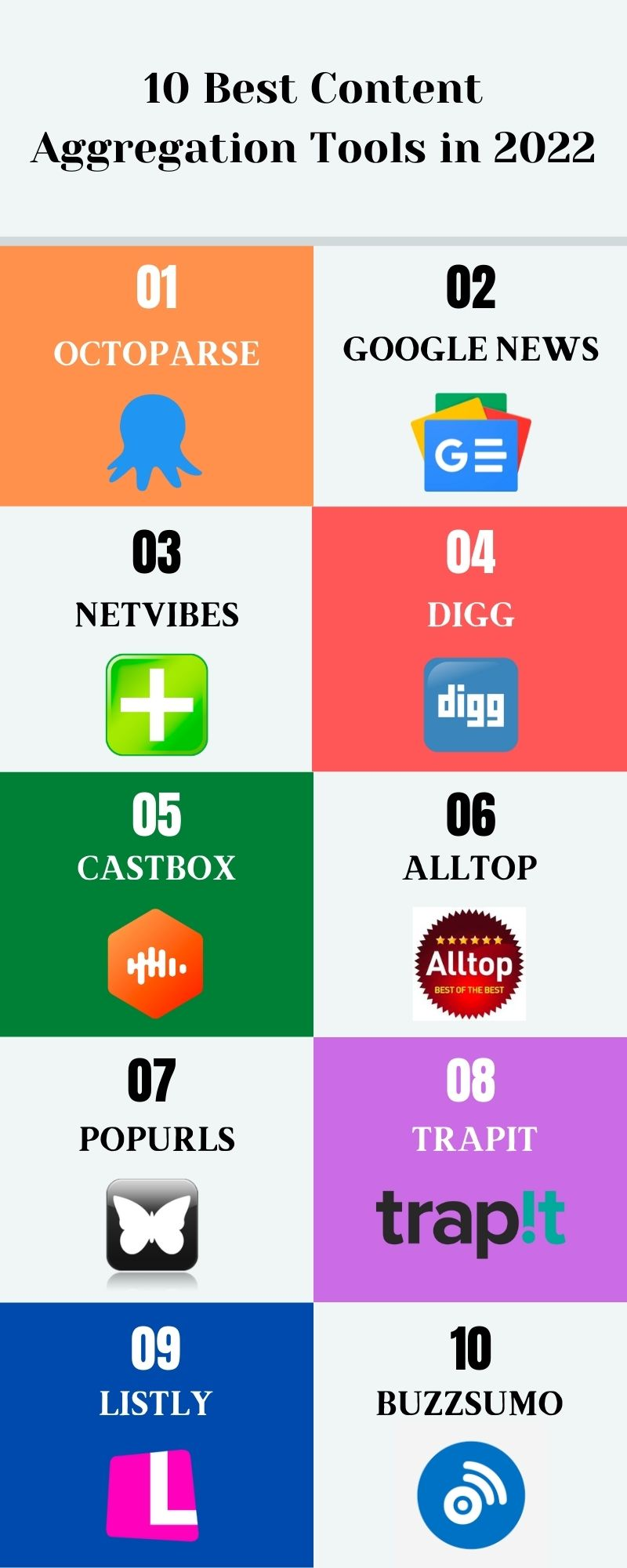 #1. Octoparse
Octoparse is a unique type of content aggregation tool. It's a free web crawler. Instead of providing content, it helps people who have a need for massive content sources to collect content from any website. You can extract any data with the web scraping tool without worrying about coding. 
You can use it to scrape a great deal of content from Reddit, Medium, and The New Yorker, just to name a few. Then you can upload the scraped content to your CMS as your content repository for use when you need new content. Besides, it can also help you gather information from social media to help you monitor trending topics and people's interests.
#2. Google News
Google News is a news aggregator service developed by Google. It presents a continuous and customizable flow of links to articles organized by thousands of publishers and magazines. It is one of the easiest sources to set up as a content aggregation tool to collect feed around a specific topic. 
A pull-down menu at the top of search results enables users to specify the time period in which they wish to search for articles. This menu includes options such as past day, past week, past month, or a custom range. Users can request e-mail "alerts" on various keyword topics by subscribing to Google News Alerts. E-mails are sent to subscribers whenever news articles matching their requests come online. Alerts are also available via RSS and Atom feeds. To use Google News as your content aggregation tool, you need an API to connect your CMS to Google News.
#3. Netvibes
Netvibes is a dashboard of everything, delivering social media and brand monitoring, news aggregation, drag-and-drop analytics, and data visualization—all in one easy-to-use and fully customizable platform. Netvibes' personalized dashboards enable users to listen, learn and act on everything that matters to them online.
The software is a multi-lingual Ajax-based web portal. It is organized into tabs, with each tab containing user-defined modules. Built-in Netvibes modules include an RSS/Atom feed reader, local weather forecasts, a calendar supporting iCal, bookmarks, notes, to-do lists, multiple searches, etc. A page can be personalized further through the use of existing themes or by creating a personal theme. Customized tabs, feeds, and modules can be shared with others individually or via the Netvibes Ecosystem.
#4. Digg
Digg is a social network and news aggregating site with a curated front page, aiming to select stories specifically for the Internet audience such as science, trending political issues, and viral Internet issues. This website is great for content inspiration.
If you can't find anything interesting to write, take a moment to read some of its articles. It will inspire you. It doesn't support API connection at the moment. If you want content from them, you need to take some time to contact for content citing permission.
#5. Castbox
Castbox is a rich podcast database and is also a great source for content aggregation you can't miss. It offers access to over 95 million audio content including podcasts, audiobooks, FM radio, and more in 27 different countries on your devices. In addition to its library of podcasts from other distributors, Castbox also produces its own shows.
You can use it to discover popular podcasts on various topics including News, Music, Business, Games, etc. If you're searching for podcast sources for your target audience, Castbox is definitely a good choice.
#6. Alltop
Alltop is one of the biggest names in content aggregation and deservedly sits in first place on this list. Alltop pulls in the latest posts from websites on a variety of topics. It provides a very simple way to scan through the articles listed on popular websites. What's neat about Alltop is that you can search for specific topics and then view aggregated content from some of the top blogs for that specific topic.
You can also submit your own site to be listed on Alltop, though Alltop is known for being fairly picky about the sites that it accepts.
#7. Popurls
Popurls is the site from which Alltop drew its inspiration. It encapsulates headlines from the most popular websites on a single page and is also known as the mother of all news aggregators. Popurls pulls in content from various sources on social media, blogs, and news organizations, enabling you to see, on one page, what much of the Internet is buzzing about. It's quite eclectic in curating its content.
Unlike Alltop, you can't submit your own website to Popurls, and the curated content is drawn only from news sources that Populrs have decided constitute "quality content".
#8. Trapit
Trap.it is a comprehensive content curation service for businesses that offers content discovery, curation, and publishing to web, iPad, and social channels through its web application. It pulls third-party content that is relevant from all over the web. It includes industry insights, research, and trends which can be organized as per your reference. You can also easily distribute the aggregated content across social media platforms.
Trap.it is dedicated to helping brands connect their employees, customers, and prospects with authentic conversations inspired by high-quality, relevant content. Its customers, including Everbank, HD Vest, and Microsoft, rely on its technology to power innovative campaigns that consistently deliver ROI.
#9. Listly
List.ly is all about creating and curating lists. It contains top content that is authorized by a community of bloggers and publishers and helps engage readers with continuously evolving viral lists. You can make a cool list of articles and share them on social media and also embed them on your website.
The challenge for normal blog post lists is that you have to identify and write about each list item. And, sometimes as soon as you publish the list, it begins to become stale and outdated. List.ly addresses those issues head-on by allowing you to start a list on their site, embed it within your blog, and then let other people continue to add to and update your list.
#10. BuzzSumo
BuzzSumo is a social media analytics and content inspiration and curation tool for marketers. It searches the web for content based on search queries and reports back on its success, based on its social engagement, evergreen score, and backlinks. Since BuzzSumo constantly gets updated with brand-new features, you always manage to know what kind of content your audience wants and exactly what they are engaging with online. 
You can search for the topic of your interest and share it across via the dashboard. Also, the "Content Research" section allows you to interact with people sharing the content. Besides, the tool enables you to discover new keywords, trending stories, customer questions, and content success, all while monitoring what's most important to your brand.
Conclusion
Submitting your content to aggregators is one of the best ways to promote your content and company. To evaluate a content aggregation tool is to see whether it can gather the information you need intelligently and effortlessly. You may already have your own sources to get the wanted content or you may try the above. The key is to choose the right content aggregation tool and Octoparse, which specialized in web scraping, could be a surprise for you.