If you own a business website, blog, or affiliate marketing website, SEO is imperative for you to boost your outreach and get potential customers. SEO (search engine optimization) is a key to showing your website pages on the top pages of search engines like Google, Bing, Yahoo, etc. Without SEO of a website, it is the same as not having a website on the internet. It is a must to survive and reach a level.
SEO is not as simple as the word indicates but it involves a lot of stuff to cover at a time without any mistakes. It includes On page (keywords research, links building, WordPress issues), Off-page SEO (backlinks, etc), and technical SEO. So, it needs a group of team members to cover the whole case of a single website. No one can afford team members for this all. SEO crawler tools are best to combat this issue. In this article, we will introduce the top 10 SEO crawling tools and the easy tool to extract content from any website.
What Is SEO Crawler
If you are aware and have a bit of knowledge about how search engines (Google, Yahoo, and Bing) work, it is easy for you to understand what an SEO crawler tool is and how it works. It works like a Google search engine. Search Engine has bots to scout for content and present it to users that are searching for a keyword. This process is called crawling and after that indexing and ranking steps occur.
SEO crawling tool works like the same but skips indexing and ranking steps. It has bots to scout for content and see content like a search engine. It presents content to you with its technical analysis and keywords etc. An SEO crawler tool helps you to analyze your website in many aspects and reports issues like
Duplicate Content

Technical SEO

On-page and Off-page SEO

Improper indexing

Insecure redirects

Improper linking and many more.
Top 10 SEO Crawler Tools to Improve Your Site
SEO Spider tool or Screaming Frog SEO Spider is an amazing and powerful SEO crawler tool with bundles of unique features. It crawls almost all aspects of SEO including On and Off pages, technical SEO analysis, and many other things without any blockage. It comes with bundles of custom filters. It is created by a UK- based SEO agency. Let's have a look at the pros and cons.
Pros
A lot of custom filters and JavaScript Crawling.

Best and easy to integrate with Google Search Console and Google Analytics.

Cheapest website audit SEO tool in the market.

Friendly user and easy-to-get command line interface.

Best for analyzing canonicals, headers, tiles and status codes, etc.
Cons
The only drawback is the limitation of data visualization.
It is a free SEO crawling tool that comes with a lot of features including keyword research options for your business. It is created by a Boston-based company Semrush Inc. It comes with a free and premium version to afford at any cost.
Pros
Considered as the best and ideal keywords specialist.

Easy to use and understand single dashboard.

Best for technical SEO analysis.

Easy to create accounts and set projects.

Best for social media SEO.
Cons
It provides data only for the Google search engine and ignores others.

The free version only allows Semrush one user account but buying additional seats costs you.

Poor filtering
Website Auditor is one of the SEO spider and best SEO crawling tools having a lot of features to crawl your website for technical SEO analysis, click depth, status code, faulty redirects, 404-page errors, and canonicals. It is best to give you a seamless website framework free from any difficulty and blockage.
Pros
It allows you to audit the SEO of every page of your website for HTML code errors and structure.

Easy to integrate with Google Search Console and Google Analytics.

Allows you to generate an XML site map without any hesitation.

Has inbuilt SEO techniques for fast audit.

Has a feature to check internal linking for site structure visualization.
Cons
It has a lot of options and features, so it is hard to understand for a non-technical person or a newbie. It's a good problem though.
Moz is a broader and up to some limits free audit SEO tool with a lot of features. It was created by Gillian Muessig and Rand Fishkin in 2004. Its former name was SEOmoz and was created for the purpose to help bloggers and digital marketing experts to rank their websites and blogs. It was also founded as a platform where SEO experts shared their ideas and research.
Pros
It comes with a lot of features like technical SEO analysis, domain analysis, backlinks, etc.

It also incorporates checking the DA and PA of the website.

It is available for free as well as Moz Pro Suite.

Better for issue tagging as fixed.
Cons
One of the highlighted downsides of this platform is its price. It costs too much and is not good for a newbie or person with out of Money. It is good for entrepreneurs and business owners.

You need technical SEO skills to understand its functionality.
Ahrefs comes as both a paid and free version. There's no need to worry about its installation as it is cloud-based. Ahrefs was created by Dmitry Gerasimenko in 2010. It is considered the world's biggest commercial website crawler. The bot (Ahrefsbot) of Ahrefs constantly adds billions of links to its link database.
Pros
Beautifully designed to resolve multiple SEO issues at one click.

Best for technical SEO analysis.

Easy to create an on-page report.

Has the ability to compare HTML extraction and crawls.

User-friendly interface for a better experience.
Cons
Absence of free trials.

Ungenerous reports limits.

Single account creation allowed.

Limited link indexing.

No customer service.
DeepCrawl SEO tool is best in regards to giving a detailed and comprehensive SEO audit for the whole age of a website. Deep crawl pricing is a bit low and good to combat budget issues. It improves user experience and ranking by inflicting seamless website migration. It was created by Craig Dunham.
Pros
Easy to add crawl over crawl with the scheduling feature.

Xenu SEO crawler having Sleuth or stealth mode.

Gives you a deep analysis of websites for better performance and ranking.

Checks webpage speed, data analytics, backlinks, and internal, and external links.

It checks all features while migrating the website.
Cons
Limited functions.

Not better for technical SEO analysis.
It has free trails and web-based data-driven crawling tools for SEO. It is best for analyzing logs for daily monitoring purposes and enterprise audits. It provides a comprehensive image of the SEO impact on multiple attributes and aspects of the website. Its UI is amazing and attractive and provides a great experience.
Pros
Amazing google search console URL crawler.

Easy to integrate with Google Search Console and Google Analytics.

Best to monitor and boost organic traffic.

Allows you to check broken links and pages.

Helps to eliminate any duplicate content.

Free trials can be used without adding a credit card.
Cons
Not comprehensive like Ahrefs and Moz Website auditing tools.

Not good for technical SEO analysis.
Sitebulb is an amazing website SEO audit tool with multiple catchy features and a blend of data visualization and superlative analysis. It's an amazing SEO Crawler tool for desktops, windows, and Mac. It has an inbuilt feature of formatting data in spreadsheets.
Pros
Better to improve site structure and function.

Visualization for every kind of data, including Minor and Major.

Analyze every page of a website.

Powerful SEO crawling tool.

14 days trial period.
Cons
It is bulky software and needs a spec computer and mac for better working. It uses a lot of CPU and RAM. If you are using a low-spec computer, avoid sitebulb.
It is an amazing SEO crawling tool for just $89 per month with a 100k limit of pages. It is best for technical SEO analysis, backlinks, internal and external links, duplicate content, HTML code analysis, indexing, sitemap, and many other SEO aspects. It was founded by Julia Nesterets who is CEO of JetOctopus these days.
Pros
Eye-catching data visualizations.

Custom segmentation.

Internal and external links explorer.

Amazing log file analysis feature.

Shows directories to the web pages.
Cons
Limited functions as compared to other tools.

No JavaScript Crawling.
Audisto is a good webpage SEO auditing tool and is popular in German-speaking countries. It is cheaper and costs you 90€ per month with a 100k limit of pages. Audisto monitoring is an amazing service of this tool with an extra price.
Pros
Easy to split the list of issues into categories like indexing, linking, ranking, and more.

URL cluster flitters feature.

Straightforward crawling comparison.

Comprehensive PageRank analysis and reporting.
Cons
No custom extraction.

Not allow integration with Google Search Console and Google Analytics.

URL filtering is basic.
Easy Tool to Scrape Webpage Data to Excel Without Coding
If you are looking for the best and most free webpage scraper, Octoparse is here to assist you with its free and best features. It is a python based website scraping software and comes with a lot of scraping features of your choice. Here are some main functions of Octoparse:
Octoparse comes with a free and premium version and an automated web page scraper.

It is the best and easiest tool to scrape data without any coding and technical knowledge.

It provides point-and-click format extraction patterns for a better experience for scrapers and can apply to structured websites.

Octoparse can handle a lot of websites without being restricted and blocked.

It allows you to run extraction projects either in the cloud (Cloud Extraction) or on your local machine (Local Extraction).

Easy to download data into Excel formats, CSV HTML, JSON, and databases (SQL Server, MySQL, and Oracle).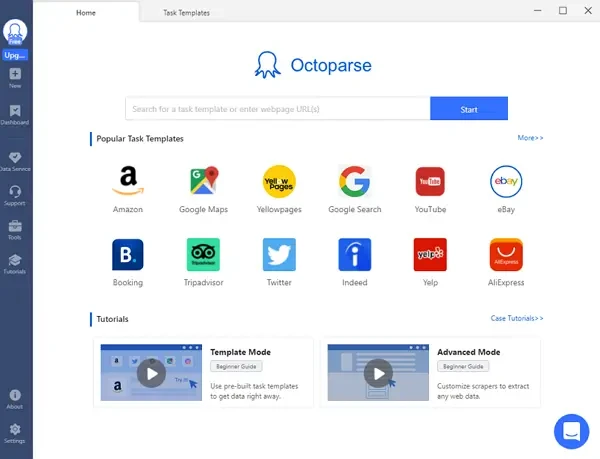 SEO is a must to rank a website on search engine pages. So, it might need an SEO crawler tool for the whole and proper crawling. We have discussed the 10 best SEO crawler tools for 2022. SEO crawling is best to get data about how your website is working and what changes are needed and so on.