Currently, Upwork is the biggest marketplace for freelancing and remote work around the world. More than 150,000 employers have spent over $3 billion in the last year paying freelancers (professionals) across many fields on Upwork.
With this lucrative activity going on, collecting Upwork data is gaining popularity among many Upwork users. Many freelancers use this approach to keep track of the competition or identify new opportunities, while employers, on the other hand, use it in collecting data on potential talents (freelancers), and finding competent freelancers.
In this article, we will talk about what kinds of data you can extract from Upwork, how it benefits your business, and the step-by-step guide on Upwork web scraping.
Can I Scrape Upwork
Is it legal to scrape Upwork
It is legal to extract data from websites for your own use, but you must be careful to follow ethical guidelines to ensure that your purpose is just and fair and that you are not harming the website in any way.
When using software for web scraping, the following three things would determine if it is legal or not.
How and where you are planning to use the data?

The type of data you are scraping.

How you have extracted the data from the website.
If you aim to achieve a positive or harmless purpose with the information you get, it is not illegal. But as soon as it is being used for online fraud, account hijacking, data theft, etc., then it becomes illegal. More so, If you scrape files from a website using illegal software, it is also illegal.
What kinds of data can you get from Upwork
You can extract information relating to freelancers, clients, and agencies from Upwork in a relatively easy way without logging in to Upwork. While scraping, you should know that your results may include personal data, which is protected by the local laws in many countries, like Global Digital Format registry in the EU. So you should be careful when scraping these kinds of privacy data.
The Data you can extract from Upwork include:
Names of freelancers and clients

Locations of freelancers and clients

Freelancers' portfolio

Freelancers and clients' work history

Amount earned and spent by freelancers and clients

Freelancers' project catalog

Freelancers' Education and Employment History

Client's job posts
The data you have scrapped can be downloaded in one of the following formats:
HTML Table

JSON

CSV

XML

Excel
Benefits of web scraping to your business
Trying to get data manually from a website can be a mind-boggling process that would take so much of your time and energy. When you use a web scraper, the following are the benefits you would get.
Optimizing your pricing strategy
Web scraping enables you to monitor the prices of your business competitors to gain a competitive edge. You can use web scraping to collect and examine the pricing data for several millions of products similar to yours across the web. The results can help you to optimize your existing prices and offers, so you can overtop your competitors' offers.
Monitoring your brand
It is the desire of every business owner to have positive reviews and great online sentiment about their products. With web scraping, you can improve the chances of customers choosing your products instead of your competitors by collecting their opinions and reviews to improve your services or products. A web scraper can collect information (mentions and reviews) from online forums, social media channels, etc about your product. This will enable you to fully grasp your customers' wants and the ways your company can meet them to keep your customers happy. Happy customers they say equals more sales.
Recruiting your workers
Data extracted from the web by scraping gives you an insight into the salary markets and wages. This will enable you to make an informed decision when recruiting top talents for your business in comparison to your competitors. Web scraping also enables you to have in-depth knowledge about the current skill market, thus enabling you to hire marketers who are possibly the best in the field.
Analysis of market demand
It is integral for the success of your business to have a good understanding of the present and future demand for your product. You can easily identify consumer trends, market trends, and needs of your consumers from the data collected with a web scraper. With this data, you can stay ahead of the market trend and continuously modify your product to adapt to the changing needs of your consumers.
Researching your competitors
Web scraping is a veritable tool for researching your business competitors. You can collect reviews and comments about your competitors' products from their websites/blogs. This data can be very useful for your company in modifying your products to better satisfy your customers and stay ahead of the competition.
Steps to Scrape Data from Upwork for Free
Getting data from Upwork by manually going through peoples' profiles is mind-boggling. Fortunately, there is a web scraping tool, Octoparse, that can do this faster with greater efficiency.
Octoparse can help you extract public data from Upwork without any coding. It provides auto-detecting mode and preset templates, so what you need to do is clicking, dragging, dropping, or enter some parameters. You can also find the advanced functions like scheduling, cloud extraction, IP rotation, etc.
How to Scrape Upwork Data with Octoparse
In this guide, we will show how to scrape freelancers' project catalogs from Upwork as an example. It's similar if you want to scrape other data from Upwork.
Step 1: Enter the target Upwork URL
Launch Octoparse on your device, paste the Upwork URL you want to scrape in the search bar. Click on the Start button to start auto-detecting.
Step 2: Customize data fields you want
Octoparse will auto-select every project catalog on the page, as seen in the screenshot below, then click on "create workflow" under the tips menu. You can customize the data fields with the tips on the Tip window, and check the data from the Data Preview section.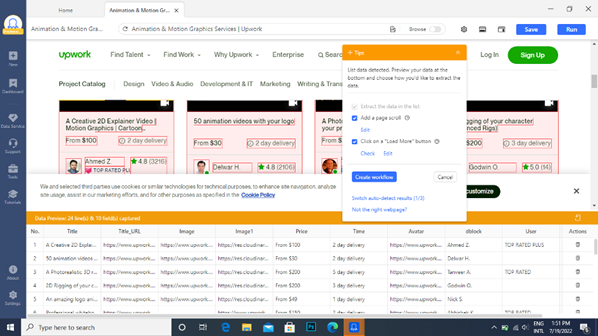 Step 3: Start extracting data from Upwork
After all data fields have been checked, click "Run the task" under the tips menu or "Run" in the top right corner of your screen. Choose "Run on your device" option to scraping for free or the "Run in the cloud" if you're premium users. The scraped data can be downloaded in Excel, CVS, and other formats.
Final Words
Upwork is a huge marketplace for both service buyers and sellers. To get a large quantity of data with ease and within a short period of time, Octoparse is the way forward. Not only is it easy to use but also cost-effective.
Whether you intend to use web scraping tools or not, it is advisable to educate yourself on how to use them, as web scraping is fast becoming mainstream among businesses. Octoparse has made web scraping easier through its unique functions.