You are correct in assuming that search engines function as a doorway to the web for thousands of online users. If you would like your enterprise, product, organization, program, branding, or lifestyle to be readily found on the web, you must first understand where your page stands in the search ranking. To figure that out, SEO ranking information must be gathered regularly and delivered accurately, which a web scraper can achieve in a few minutes.
Plenty of people utilize web crawlers to surf the internet instead of using search engines. Except Google, Bing is one of the most famous web crawlers, developed by Microsoft and used by thousands of users to crawl the web. Today, we will show you how to scrape Bing search results without utilizing Python scraper, using a no-code web scraper.
Why Scraping Bing
Microsoft's new web crawler, Bing, replaces its earlier Live Search, Windows Live Search, and MSN Search offerings. Microsoft Bing is an online search engine owned and run by Microsoft. It was previously referred to simply as Bing. The service was inspired by Microsoft's previous web search applications, including MSN Search, Windows Live Search, and subsequently Live Search. Bing offers a range of search services, including web, video, picture, and map-based search options. It was developed using ASP.NET.
What is the need for scraping Bing
Scraping search engine results or surfing results from crawlers such as Bing may be quite useful. Because these outcomes are data-filled treasure chests. There are several reasons why you should scrape Bing, some of them are as follows:
Online ratings and feedback have a significant influence on the online profiles of local firms.
Advertising companies, particularly those with a big number of customers from diverse sectors, place a high value on acquiring dependable SEO tools. They are a way of not only efficiently executing many jobs but also of successfully managing and analyzing results.
You might examine how top-ranking pages write their titles and descriptions, the keywords they target, how they arrange their content, or go a step further and conduct some deeper link research.
Types of data that can be scraped from Bing
The following information may be gathered from a Bing search result:
Frequent searches

Related queries

See results for

Recommended Searches

People Also Ask

Wiki results

News, Image, and Video results
Benefits of scraping Bing
Some of the benefits of scraping Bing search results are as follows:
Monitor how your website ranks in Bing SERPs for specific keywords regularly.

Automatically monitor competition: including organic results and the Ads section.

Analyze marketing campaigns to improve the keyword optimization of your Bing Ads.

Enhance the efficiency of your website's content by using the SEO insights required to rank first on Bing.

In your SEO strategy, make data-driven judgments.
Steps to Scrape Search Results from Bing.com
If you have ever needed to scrape Bing search results, you know how difficult it is since Bing will obstruct your requests and you will have to constantly change your setup and framework to continue receiving the information without encountering Bing captchas and barriers. Using a solid web scraper, services the majority of this difficulty eliminates so that you can relax and focus on the most important problem, creating and developing your service and business to bring in new customers. It scrapes Bing search results massively and safely, and it is a very simple-to-use application for Bing with quick validation. You may also start crawling Bing SERP sites for advertisements with some scrapers.
Scraping search results from Bing does not require any coding skills, owing to ready-made web scrapers that can be used without creating a single word of code. In this part, we will demonstrate how to simply scrape Bing search results with the help of Octoparse.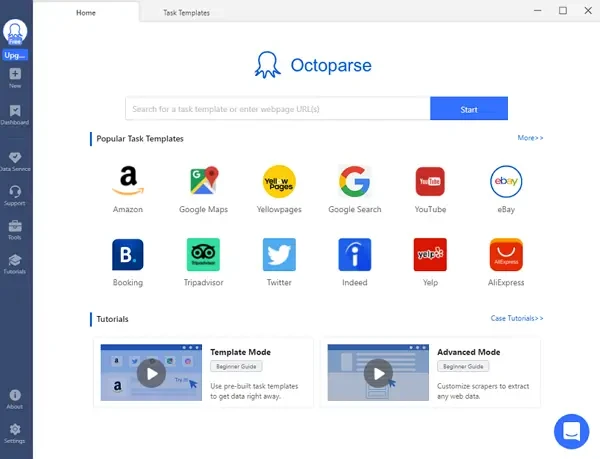 Octoparse enables anybody to rapidly create a crawler. This software has not only improved the responsibilities of experienced developers by providing a one-stop platform to handle all mining chores, but it has also made web data available to people who want web page data but may not have coding talents. Furthermore, it includes pre-set Templates for the majority of the sites, making the scraping process faster and easier to begin.
Octoparse can easily convert search data from Bing into organized spreadsheets with a few clicks. This web scraper is a powerful web scraper that could be considered among the finest web scrapers for scraping Bing since it supports advanced features such as avoiding detection when you install proxies, scheduling scraping, cloud scraping, and the option to download results in CSV, Excel, API, or store data into databases.
How to scrape Bing with Octoparse
Step 1: Enter the Bing search results link to Octoparse
Download and install Octoparse on your device. If you already search some keywords in Bing, then copy the results link and paste it into Octoparse search bar. You can put enter the keywords step in Octoparse too.
Step 2: Build a scraping workflow for Bing search results
Click on the Start button to begin auto-detecting, and create a workflow after the process. You can check the data fields and make changes from the Preview section.
Step 3: Scrape the search results from Bing
Finally, click on the Run button to start scraping. You can download the data in an Excel file, or save it to your database.
Here is a detailed guide on how to Scrape list information from Bing, you can read it to learn more details.
The above steps can be used similarly to scrape search results from other search engines like Google, DuckDuckGo, Baidu, etc. Also, you can read the details about scraping DuckDuckGo search results.
Final Thoughts
You may retrieve any site content by using web scraping technologies such as Octoparse. Having this installed on your devices makes it easy to do an analysis and gain a thorough understanding of the headings, tags, details, and links. This information allows you to develop high-quality content for both your website and blog to earn organic search engine traffic. Taking the very first move can be an excellent starting point for this.
This implies that after obtaining and evaluating the necessary data, you will most likely need to improve your marketing plan, modify certain keywords and phrases, as well as keep a close eye on daily changes. This is the most secure path to the top search results page, which will ultimately offer you more clients and revenue.