If you are looking for product data, there are several e-commerce companies accessible on the market. Some e-commerce sites, such as Amazon and AliExpress, sell items across all market segments. Others are narrowly focused because they only sell items in certain market segments.
The Newegg e-commerce marketplace is well-known for retailing computer equipment and consumer goods, and it could be a good source of information for such market areas. Unfortunately, Newegg does not offer an API that would allow interested consumers to get the data they require. If you want to extract that data, then you have to do that on your own which could be quite troublesome.
Web scrapers allow you to do these tasks swiftly and efficiently without losing time or quality. This guide will show you how to scrape Newegg to collect product data from several Newegg product categories without any coding knowledge.
Can You Scrape Newegg
Newegg does not support the usage of third-party site scrapers. You might not use any automated methods to obtain information from this site unless the software you are using is capable of remaining undiscovered. This is due to its robust anti-spam system, which can screen out low-quality web scrapers with no anti-detection capabilities. Hence, using a good web scraper is recommended as it can easily pass all the defense mechanisms that a website uses to keep scrapers out. 
Before we show you how to scrape Newegg, let's discuss the type of data that you can scrape from it and the benefits of scraping Newegg.
Newegg Introduction
Newegg is the world's biggest e-commerce solution, providing retail marketing and a digital commerce system specializing in IT computer parts, consumer tech devices, multimedia, smart home appliances, and gaming items, as well as third-party logistical services.
Types of data that can be scraped from Newegg
You can scrape a variety of information from Newegg like product name, product description, pricing, supplier details, reviews & ratings left by consumers, and offers and discounts running on the products during certain seasons or sales which can be used by other businesses to create their marketing strategies, etc.
Benefits of scraping Newegg
Using data scraping, we can extract information from the Newegg website and convert it into significant data structures and analytics. These strategies provide firms with a competitive advantage in critical enterprise developments that they must evaluate.
Using Newegg product and price data extraction, it is easy to scrape the most used patterns as well as observe competitors' apps and websites. Companies can employ any of these scraping approaches to study their competitors' strategies, allowing them to foresee future trends.
Retail data may be used to promote transparency among buyers, markets, and rivals, as well as to regulate demand through bit changes. Product listings from Newegg may be scraped to mirror those from online retailers.
Web Scraping Newegg Without Coding
Scraping product and review data from Newegg does not require any coding skills, owing to ready-made web scrapers that can be used without creating a single word of code. In this part, we will demonstrate how to simply scrape Newegg with a few mouse clicks. What you need is a no-code web scraper, Octoparse.
Octoparse enables anybody to rapidly create a crawler. This software has not only improved the responsibilities of experienced developers by providing a one-stop platform to handle all mining chores, but it has also made web data available to people who want web page data but may not have coding talents. Furthermore, it includes pre-set Templates for the majority of the sites, making the scraping process faster and easier to begin.
Octoparse can easily convert product data from several Newegg product pages into organized spreadsheets with a few clicks. This web scraper is a powerful web scraper that could be considered among the finest web scrapers for scraping Newegg since it supports advanced features such as avoiding detection when you install proxies, scheduling scraping, cloud scraping, and the option to download results in CSV, Excel, API, or store data into databases.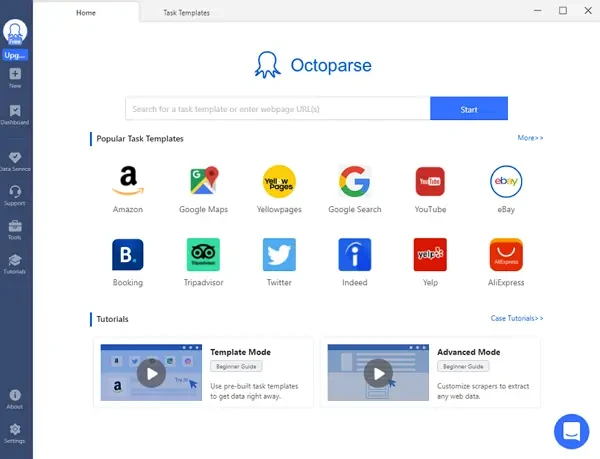 Steps to scrape data from Newegg without coding
Step 1: Launch Octoparse and paste your targeted Newegg URL
Simply download, install, and create an account in Octoparse. Then, copy and paste your targeted Newegg URL into the home screen of Octoparse. Click on the Start button to use the auto-detection feature to automatically scrape data or you can manually select which data you want to scrape.
Step 2: Review and modify data fields
With the auto-detection feature, you might get many data fields that might be of no use to you. You can delete the unwanted fields from the data preview tab and rename the fields as you want.
Step 3: Scrape and export data from Newegg
After modifying your data fields and rechecking them all you need to do is to save the task and run it either on your device or in cloud mode. After the task is completed, you can then export the data in Excel, CSV, or any other format.
Wrap-up
In the end, I hope this post helps you understand the benefits of web scraping Newegg and how to use no-code software like Octoparse to scrape Newegg data in just a few clicks. There might be plenty of reasons for which you might want to scrape Newegg whether you want to know your competition in the market, you just want to analyze the prices of a variety of products in less time, or you want different manufacturers to provide you with details of products with images which could be quite a time-consuming if they start providing you with physical catalogs. All these scenarios and even plenty more web scrapers can help you achieve the required results more rapidly and efficiently.