LinkedIn job postings are a treasure trove of information and are among the most effective ways to build your network and attract new connections. The big social media site has tens of millions of potential candidates, and it's also one of the best places to find open job positions. But finding these postings can really be time-consuming if you're doing it manually. This article shows you how to scrape LinkedIn job postings, including a list of all current job posts as well as a way to search for specific jobs.
Why Scrape LinkedIn Job Postings
LinkedIn has more than 840 million members worldwide and more than 350 million monthly active users. These are huge numbers that make LinkedIn one of the most popular social networking sites in the world.
With this much exposure, it's easy to get lost in the noise and miss out on top opportunities that may be right under your nose. That's why Octoparse web scraper is here to help users Scrape LinkedIn Job Postings. This tool helps you search through thousands of job postings across hundreds of industries and locations worldwide with just a few clicks. Once all jobs have been extracted, it becomes much easier to filter great opportunities and the most recently posted jobs on LinkedIn.
Why should I use a web scraper
Web scraping can be useful for collecting data from a website that's difficult to navigate or a site that contains so many pages. For example, you may want to find out what posts have been published recently on your favorite blog, or which videos have been added to YouTube in the last week or two. Web scraping is also useful if you want to build an application that interacts with the site in question — for example, if you want to scrape data and display it in another app.
Is it legal to scrape LinkedIn job postings
Yes, it is legal to scrape website public data. It is also legal to post the scraped data on the internet. However, it is not legal to use the scraped data for commercial purposes without permission from the owner of the original data.
In many cases, scraping is not considered copyright infringement because it does not copy enough information from a website to be considered a reproduction. However, some sites may have policies that prohibit scraping their content. To check whether using an online web scraper tool is allowed for a particular site, check the website's page terms of use.
Easy Steps to Scrape LinkedIn Job Postings
Octoparse is a powerful and reliable LinkedIn scraper that can help you to scrape data from LinkedIn and any other websites. With it, you can get the job postings information quickly so that you can find new job offers without having to manually scroll through the website directly. It has an intuitive interface that allows you to use it without any training or coding experience. You can also find preset templates with the data sample, and what you need to do is finish the simple parameters. Octoparse is free to use all basic functions, you can also pay for the advanced features such as cloud service, IP rotation, scheduled scraping, etc.
How to scrape job posting data from LinkedIn
Step 1: Open the software from your computer, and enter the target URL containing the LinkedIn job posts that you want to scrape. After that, click on the Start button.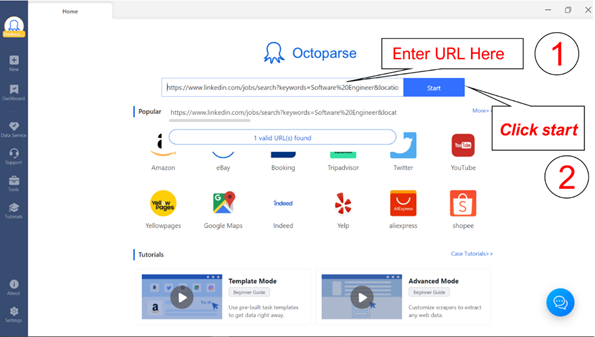 Step 2: Octoparse will open the link in a new tab and initiate the process of 'web page data detection". Wait for the program to complete the "detecting web page data" process. If web page data detection doesn't run automatically, click on the "Auto detect web page" option.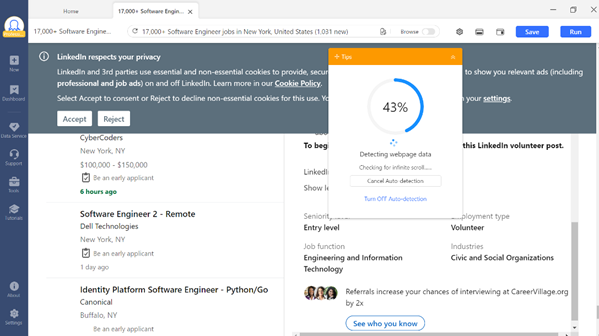 Step 3: Create a workflow and preview the data field. If you want to make any changes, just follow the tips on the pop-up window. You can "Add a scroll page", "Set AJAX timeout", and more other options.
Step 4: Confirm that the jobs displayed on the preview mode are the ones that you want to scrape. Click on the "Save" button located on the upper right side of your screen, and then click on "Run" button to start running the data extraction process.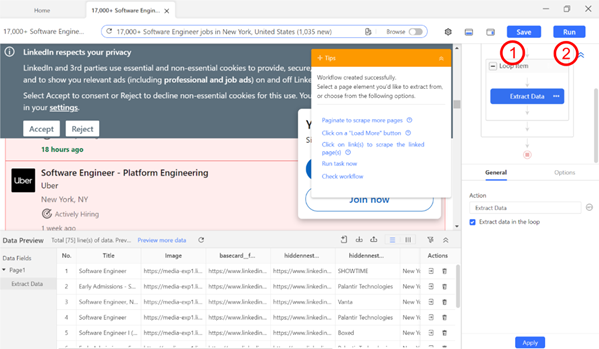 Step 5: A new window will pop with two options: "Run on Device" and "Run on the Cloud". Choose one option and click on the "standard mode" button to start the data scraping and extraction process. Once you're done, export the data into one of the file format provided.
If you still have any questions, you can move to the Scrape jobs from Linkedin Tutorial or watch the video guide below.