Yelp Scraper to Get Business Data, Reviews and More
Thursday, February 17, 2022
This article will offer a solution to scrape Yelp data easily without any coding skills required. If you want to bulk download datasets from Yelp (including business data, contact numbers, websites, reviews data, etc.), this is a good one.
Table of Contents
Introduction
Talking about Yelp scraping, you might be interested in this - among the list of most scraped websites 2021, Yelp ranked as the top 4 most scraped by Octoparse users. Most of them try to gather local business data such as the business name, contact number, address, timetable. Many are also collecting reviews from the customers.
As a local business aggregator and customer review platform, Yelp is helpful if you want to:
Generate a list of local business leads for various industries

Learn how your competitors are doing and what they are offering

Do research on a specific industry
Whatever Yelp data you are looking for, as long as it is visible on the web page, it is available for web scraping. So let's cut to the chase, how to scrape Yelp data?
How to Scrape Yelp data?
Here I am gonna introduce Octoparse, the web scraping tool designed for non-coders. I will show you how to get your own Yelp scraper (maybe your first web scraper) in just 5 minutes.
We'll introduct two pre-built Yelp scrapers below. By "pre-built scrapers", I mean the template scrapers that are built by our developers, uploaded to our software, and ready-to-use right away. 
A Yelp scraper to get business data by location & category

A Yelp scraper to get business data by keyword search
#Prerequisites
So you may need to download and install Octoparse before we get started - Download Octoparse here (for Mac and Windows).
Now you are ready. Let's get started!
Tips: If you have any problems in the web scraping process, don't forget that we have your back. Talk to us at support@octoparse.com for any questions or concerns.
#Scrape business data by location & category
Though I kinda have already revealed that Octoparse offers pre-built scrapers for Yelp, yet even for any other websites, you can always try searching the website name in the software and it will tell you right away if any templates are available.
Step One: Find the Yelp scraper (Yelp Keyword Search)
Search "Yelp" in Octoparse and we will see a template named "Yelp Keyword Search" - that is the one we are going to use. 
When you click into the template scraper, you will see a short guideline explaining what this specific template does, how to use it (description), what kind of parameters you shall enter (parameters) and what data you can get (data preview & sample).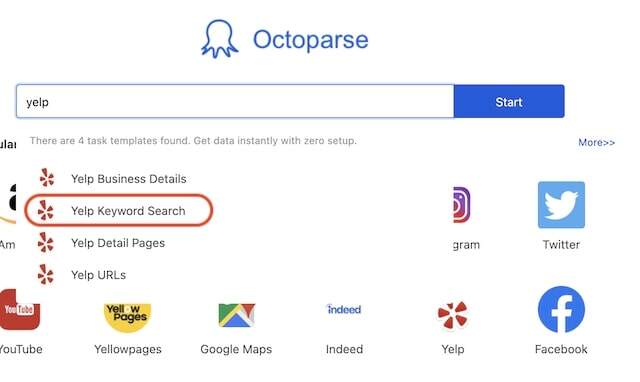 It's ok if you don't want to read it all. Just click the little blue "Try it" button above to start setting up the scraper. 
Step Two: Enter the parameters into your scraper
Now you are the commander to tell what your Yelp scraper shall do for you. There are three blanks you need to fill here:
Business type - What type of business data do you want to scrape, ie. restaurants

Location keyword - The location want like to search nearby, ie. New York

Number of pages - How many pages of data do you need to scrape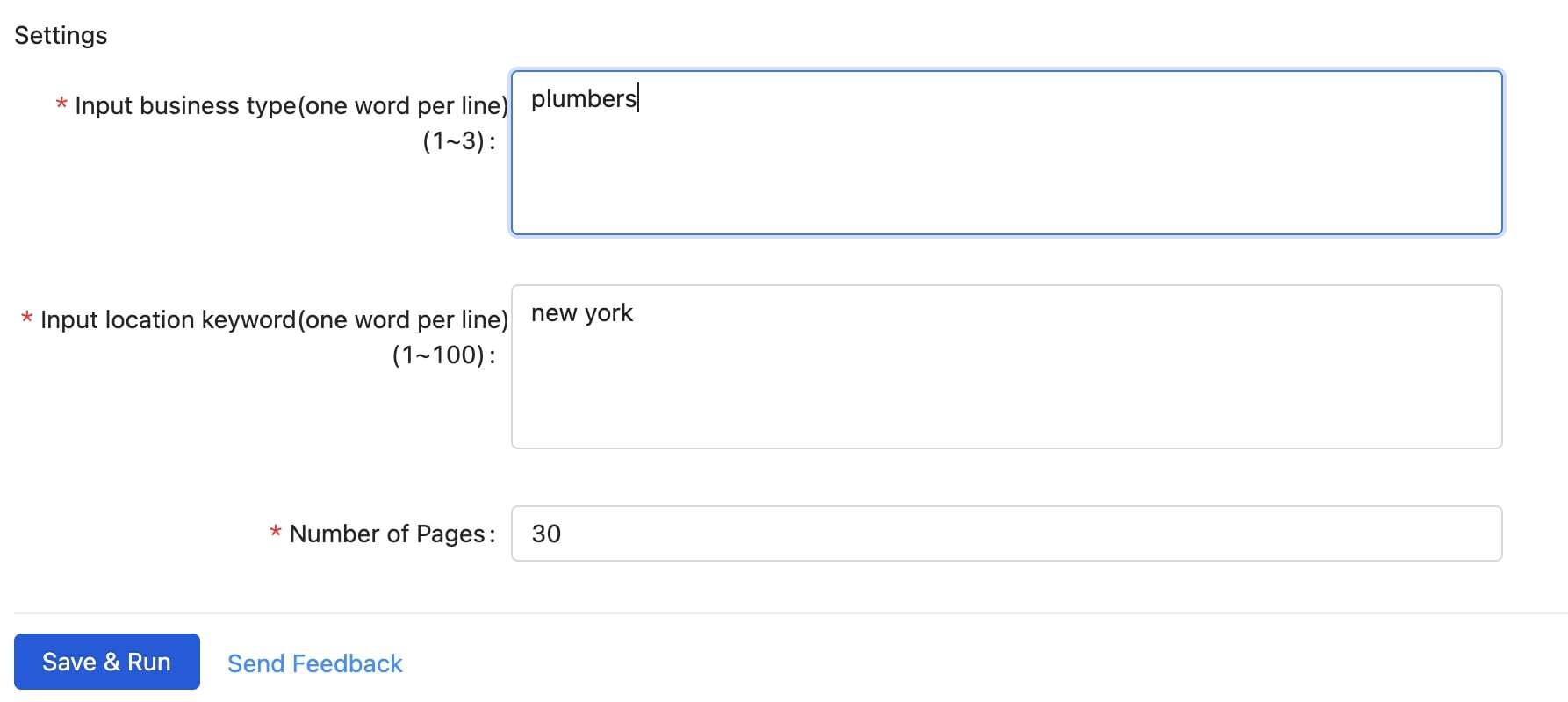 While you are filling in the blanks, here are a few things to watch out for:
Enter

business types

 one word per line. You can enter up to 3 keywords. Don't keep an empty line in the textbox or it will be counted as a parameter too.

Enter

location keywords 

one word per line. You can enter up to 100 keywords.

Enter the n

umber of pages

you want to scrape. Keep in mind that the maximum number of pages Yelp shows publicly is 24. 
Once you are done entering the parameters, click the "Save & Run" button to launch your scraper. Yes, that's it! Easy-peasy. You just made your own yelp scraper.
Step Three: Run the scraper and export the data when it is completed
This particular Yelp template can only be run in the Cloud (so that the scraper can manage to scrape with IP rotation to avoid blocking), you need to subscribe to Octoparse and unlock the Cloud services.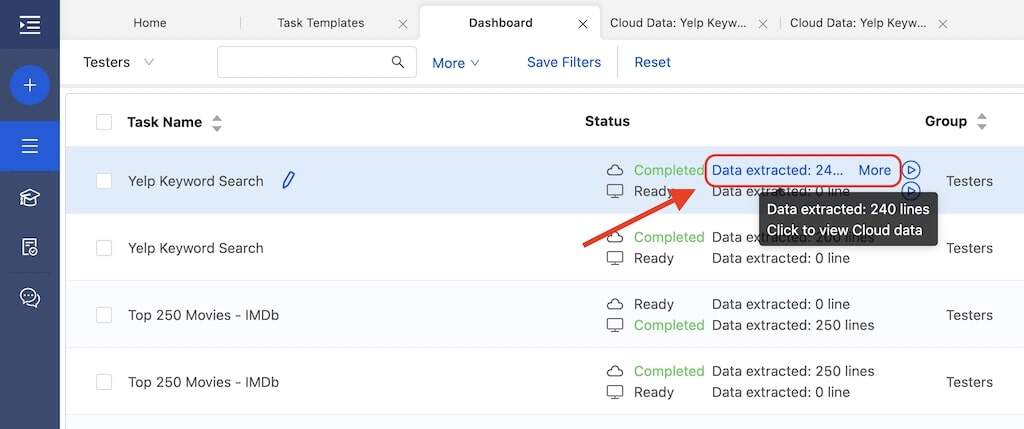 If you haven't done so already, click the "Save & Run" button to run the scraper in the Cloud, and the scraper will work diligently for you to get the yelp data downloaded.
On the "Dashboard" you will find all the scrapers (tasks) you have built and see if the task's been completed. The task we built should be named "Yelp Keyword Search" (same as the name of the template) by default.
Click to view the data, and this is what it looks like: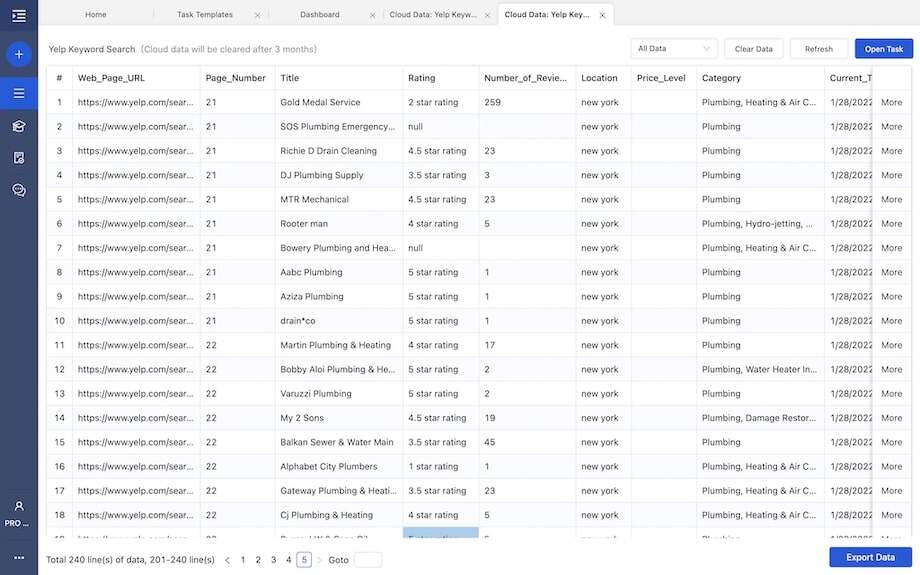 You will be able to export the extracted data to all kinds of formats like Excel, CSV, JSON, and HTML. Alternatively, you can also export the data to your database or data visualization tools via Octoparse APIs. 
Tips: The website may secretly change its structure from time to time which may affect the data results obtained by the scraper. Send us feedback if you find the template is not making you happy. We are happy to help update it as soon as possible.
#Scrape business data by keyword search
The process is very much like what we have gone through above. The steps are almost the same, only we are gonna use a different template. So I won't go into as much detail as the above. Don't sweat. The below guideline is more than enough to walk you through.
Step One:

Find the Yelp scraper (the template named "

Yelp URLs"

)

Step Two: Enter the parameters into your scraper

Step Three: Run the scraper and export the data when it is completed
The only difference here is the parameter you'll enter into the blanks. This time, enter the URLs of the actual search results you wanna scrape data from. You can enter one or more URL's depending on your specific requirements. For example, https://www.yelp.com/search?find_desc=plumbing&find_loc=San+Francisco%2C+CA is the URL of the search results page I get when I search for plumbing services in San Francisco. 
Then you should get the similar structured data like before. If you haven't got your feet wet and built yourself a Yelp scraper, try it out!
Scraping Food Delivery Apps
Food delivery services have grown fast (with cut-throat competition) especially since the 2020 pandemic. The lockdown or social distancing somewhat had changed a part of people's lifestyle. Food delivery app data is also hot in recent days. When you get a hang of Octoparse, you will be able to scrape data from such websites as Grubhub, Doordash, and Uber Eats.
As they are not available in the templates yet, you can try the auto-detection feature to build the scraper or learn to build a more customized one using advanced mode (where you'll get to extract the exact data you want).
Web scraping is amazing in grabbing web data. Just give it a shot. We have this webinar video that introduces Octoparse from zero. Check it out if you are interested! 
Final Words
Learning a new thing from scratch always requires a leap of faith - to convince ourselves that we can do it and it is not as difficult as expected. Well, isn't this what life is all about - keep trying new things and not get defeated.
That's why we've been working hard to create a no-code web scraping tool for everyone who wants to make the most out of web data. Gone are days when web scraping was strictly for programers. We hope you'll have fun!
When you get stuck, you can check out our web scraping tutorials or shoot us an email at support@octoparse.com. We are so ready to help! 
Author: Cici
Updated in 2022
GDPR Compliance in Web Scraping
2 Coding-free Ways to Extract Content From Websites to Boost Web Traffic
3 Actionable SEO Hacks through Content Scraping
How Web Scraping for Content Curation Works
Price Comparison Website: How To Build It And Source The Data