According to World Tourism Organization (UNWTO), the total number of global tourist arrivals was nearly 1,322 million in 2017, growing by a remarkable 7% from the year before. Though affected by COVID-19, travel and tourism have led to a collapse around the whole world. It remains one of the most competitive industries dominated by accommodation and transportation services for the living ones.
So, it becomes more important to get data on your competitors and the whole industry so that you can have better marketing research and analysis. In this article, we will introduce how to scrape hotel data, especially scraping hotel prices.
Why Scraping Hotel Data
Why do we need to collect hotel and travel data
First, there are not enough booking partners for hotels and travel agencies to display information, and we need to create such a place for them. Besides, hotels need to monitor customer reviews to enhance their services. Also, customers are short of comparable sources. Web scraping comes in handy from the perspective of data collection.
What kinds of hotel data you can scrape
In short, you can extract almost any useful information you see on a webpage. You can get data sources from hotel booking sites including TripAdvisor.com, Booking.com, Expedia.com, Trivago.com, Travelocity.com, Hotwire.com, etc. Or the official website of some branding hotels. Here are some most scraped data types for hotel information:
Hotel names

Room prices

Ratings

Addresses (e.g. street, city, state, country, and postal code)

Hotel facilities

Descriptions

Websites


Phone/Fax numbers

Occupancies

Room types

Pictures
It's okay to scrape the public data, but you should still pay attention to the usage of data according to your local law and rules.
Benefits to scrape hotel data
Monitor hotel prices or the rating of hotels
Knowing what your competitors offer can help you stay on top of the game, especially when the competition is fierce as accommodation services. Having room prices adjusted and updated in a timely manner is critical to the final sales figure. 
Predicting when the hotel has the highest and lowest occupancy rate is vital for an effective pricing strategy, especially during holiday times. 
Brand management: what are customers saying about you or your competitors
Having reviews and comments scrapped and analyzed can help you keep an eye on how customers are feeling towards the hotel and the services offered. 
And some other benefits like snagging the best hotel deals, developing effective marketing strategies, creating customer personas, etc.
How to Scrape Hotel Prices Without Coding
Automatic web scrapers, like Octoparse, can be a smart option if you are a non-technical user but want to scrape data at a low cost. Octoparse is free to use for its basic functions, which can meet your basic needs. It also provides higher plans with advanced functions like preset scraping templates, IP rotation, cloud extraction, tasks scheduling, etc. Both plans ask for no-coding skills and completing the whole process almost automatically. Let's follow the simple steps below to have a try.
Steps to scrape hotel data using Octoparse
Step 1: Paste the hotel page link into Octoparse
Download and install Octoparse on your device, and enter the target page link to Octoparse main panel no matter it's a third party site or hotel official page.
Step 2: Select the hotel data you need for extraction
You'll enter the auto-detecting mode by default. Create a workflow and customize the data fields by clicking, dragging, and dropping. You can set loop, pagination, Xpath, Ajax time, and more others to get the precious data like price, name, rating, address, etc.
Step 3: Download scraped hotel data
Check all data you'll scrape and click on the Run button to start scraping. You can download the scraped hotel data in an Excel file once the scraping is finished.
To learn more details about how to scrape hotel data, you can check from Octoparse tutorial by searching the hotel keyword.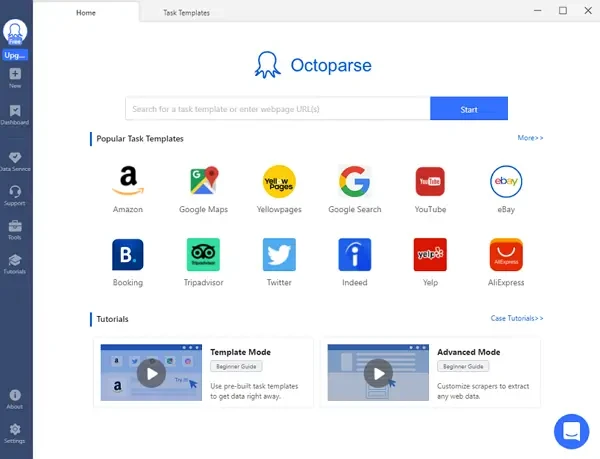 Now, you have a general idea of scraping hotel data, just have a trail and improve your business from now on.