Apple App Store is a well-known platform with more than two million apps to offer exclusively for apple users. These apps are known to have high-security features. In today's scenario, people heavily depend on gadgets and their functionalities to perform important day-to-day services. App store contains apps for a multitude of functions to cater to the needs of people around the globe.
Information management seems to be a cause for concern. Web scrapers are used to obtain reviews and details of apps in the app store. In this article, we shall discuss an easy way to scrape Apple App Store to get information related to the apps. The extraction process can be done without the help of coding and the extracted data can be exported to a text file, .csv, and .xlsx format.
Why Scraping App Store
The app store has several apps of different categories like books & magazines, TV, streaming & movie, travel & food, lifestyle, and social networking, etc. These apps also contain information like reviews, ratings, number of downloads, etc. Customer feedback is vastly important for developers to improve the app. Manually reading thousands of feedback and inferring from it seems like an unrealistic approach. Hence, we need to automate the extraction and the inferring process to extract any kind of useful information in a realistic timeframe.
The data can be extracted using a scraper. Once we obtain the data, various machine learning algorithms and techniques can be used to analyze this data. For example, Sentiment analysis performed over the reviews collected for an app could reveal the topics mentioned the most in positive and negative reviews.
Benefits of scraping App store
The first and foremost reason is understanding the customer's needs. Scraping reviews and understanding them gives a better insight into the customer's satisfaction and dissatisfaction. To scrape and analyze reviews of higher magnitude, we require a scraping solution.

One other reason is to identify what's trending. Scraping helps us to analyze trends and release updates and pick out trending keywords that boost the app's reach.

The next reason is to investigate the popularity of apps. Information extracted about popular and trending apps can help developers increase the popularity of their apps.

Different segments of customers possess different sets of requirements and demands. Scraping and analysis of the relevant data can increase the rate of success of marketing strategies by helping app owners fine-tune targeted ads.
How to Scrape App Store Reviews Without Coding
Data-related information related to any field is the heart of any business as it is the most important criterion for evaluating any business growth and strategies. Scraping data from Apple App Store can also help you learn about your product and competitors better. However, it's not an easy thing to extract data from App store for those who don't know about coding. Here, we will introduce a no-coding web scraping tool – Octoparse.
It can scrape data from any online website or platform using the URL and export it to excel, .csv, or even xlsx format. With its auto-detection and preset templates, you can finish the data scraping process within a few clicks. It also has advanced features like scheduling cloud runs, IP rotation, etc.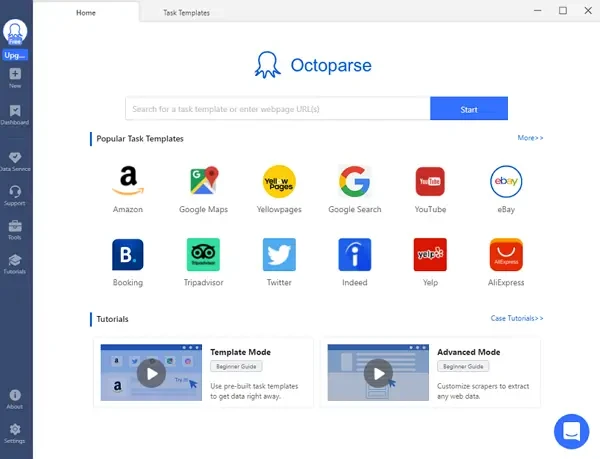 Steps to scrape App Store data using Octoparse
Step 1: Enter App Store Link into Octoparse
Launch Octoparse on your device after download and installation. Copy the App Store link you want to scrape, and paste it into Octoparse search bar. Click on the Start button to enter the auto-detecting mode.
Step 2: Choose the target data fields and create a workflow
Create a workflow and make customization if you want to get the information related to it like reviews, downloads, related apps, etc. Check all the data fields in the preview mode.
Step 3: Start scraping data from App Store
Click on the Run button in the right-top corner to start scraping. You can export the scraped data in Excel or any other format.
Final Words
The digital world is ever-changing and generates a plethora of data. There are more than two million apps hosted on the App Store that have a massive reach in the market. Companies require data like reviews and ratings of users to modify and maintain the apps. It also helps companies to release app updates and fine tune their marketing strategies. Web scraping helps these companies to understand user feedback and use the data to extract useful information from it. Now that you have an idea of how to start with scraping the app store, try out different applications of the extracted data. This will help you come up with creative ways to extract data and analyze it.