Big data has changed many industries including sports. If you ever encountered with sports betting, you probably knew the power of web scraping. Talking of scraping sports data from websites, many people will think of using R, Python or API of the websites. But all of them are difficult for people with no prior programming background. So, we'll introduce an easy-to-use web scraper for you to scrape sports data without any coding skills.
Why Scraping Sports Stats
You may have your own answers if you're a sports fan. However, we still want to talk about why and how scraping data from sports forums or sites from the following aspects.
Where could you scrape the sports data?
To address this question, we need to understand what sports stats are for? The purpose of sports statistics could break down into two parts: Performance Analytics & Market Value Analytics. Somehow, the latter will be affected by the former.
Sports performance analytics will require information including tables, results, fixtures, and standings. Mainly this information could be found on the relevant official sites, like NBA.com, FIFA.com, NFL.com; or some third-party websites providing the congregated information, like sportstats.com. Regarding the market value analytics, apart from the above-mentioned information, it requires information from social media or portal sites, to evaluate their social influence.
What kinds of data can you scrape?
Instead of a step-by-step tutorial on a specific website, I prefer to show you a roadmap for web-scraping sports data from different kinds of platforms, helping you find out the right path for web-scraping sports data.
Scraping Table Information
Most sports data are shown in a table, so with the same scraping workflow, you can extract the information from the sports official sites or any third-party websites. NFL and WhoScored are such kinds of sites that you can find the Player stats and Team stats in a table. You can learn the detailed tutorial on how to scrape table data using Octoparse.
Scraping data from Social Media
Social media platforms are also important to learn what fans are talking about the sports stars or the game. You can get how they reacted the first time on Twitter or other social media platforms. Here is the guide on how to scrape tweets from Twitter easily.
Is it legal to scrape sports stats?
It is not illegal to scrape public data on a website. Most of the web scrapers only help you copy and paste the data you can see automatically to save your time. But it also depends on your local laws and how you use the data, and personal information generally is protected by laws. Some sites also provide API access for information. It would be better if your web scraping tool supports IP Rotating and Proxy Server functions.
Easy Steps to Extract Sports Stats Without Coding
In this part, we'll introduce an easy-to-use web scraping tool without coding skills asked. Octoparse is such a sports stats scraper that support both Windows and Mac systems. It offers API access, IP rotation, IP proxies, auto-detect mode, preset templates, etc. You can simply extract the data you want with Octoparse even if you have nothing known about coding. Let's follow the simple steps below to scrape football statistics from WhoScored as an example.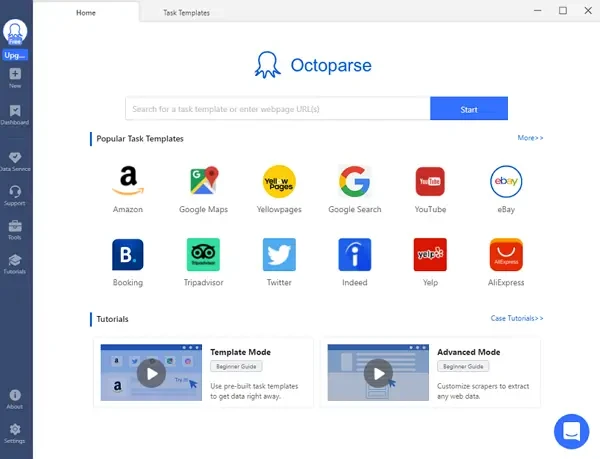 Step 1: Download and Free Sign Up Octoparse
Download, install, and sign up for an account for free. After that, open the WhoScored page you need to scrape and copy the URL.
Step 2: Set Workflow to Scrape Sports Stats
Paste the copied URL to the main interface of Octoparse, and it will start the auto-detect mode by itself. You can customize the data field by clicking and dropping, or you can customize the workflow if you need more data.
Step 3: Download Sports Stats in Excel
Run the task after you have checked all data filed in the preview mode, and then click on the Run button to start scraping. The process will be soon finished within a few minutes and you can download it to your local devices in Excel or any other format.
Still have questions about the process? Check the detailed user guide to scrape detailed football statistics from WhoScored.
Now, you have learned how to scrape data from sports sites. Follow the methods above to enjoy your journey of sports.