TikTok is the fastest-growing video-sharing platform that has a collection of videos in different genres. If you are a vlogger or branding marketer, you may have the needs of TikTok data analysis. For example, collecting information including video links, hashtags, views, shares, comments, etc. It can be of great use to learn about the latest video trending or your competitors' movements.
So, in this article, we will recommend the 6 best TikTok scrapers to help you extract data from TikTok easily and quickly, even without any coding skills asked.
Best TikTok Scraper to Extract Video Details from TikTok
Scraping data from TikTok or any other site can be quite complicated if you are going the coding way. But if you are not good at coding, there are ready-made tools available such as Octoparse, the best web scraping tool.
It provides preset TikTok scraping templates that you can get data with only a few clicks. Or you can use the auto-detect mode to create a scraping workflow and customize the data field with simple Xpath, Ajax, pagination, etc. It also supports advanced functions like IP rotation, cloud extraction, schedule scraping, and others.
Steps to scrape TikTok data without coding
Download Octoparse on your Windows or Mac device and follow the simple steps below to scrape data from TikTok.
Step 1: Launch Octoparse and paste TikTok link
After installing Octoparse, open it and search TikTok on the search bar if you want to use a preset template. Otherwise, enter the TikTok link you want to scrape in the search box and then click on the Start button.
Step 2: Start auto-detecting and customize the workflow
Next, you'll enter the auto-detecting by default, which will help you to create a workflow. When the process is complete, check the data which is selected using Data Preview. Here you can also remove the data fields which are not required, and add or revise any data field you want.
Step 3: Extract data from TikTok in Excel
Once you have checked all data, click the Run button to start the scraping process. You can finally download the TikTok data in Excel, CSV, or any other format. Read Octoparse TikTok Scraping Guide to learn more details.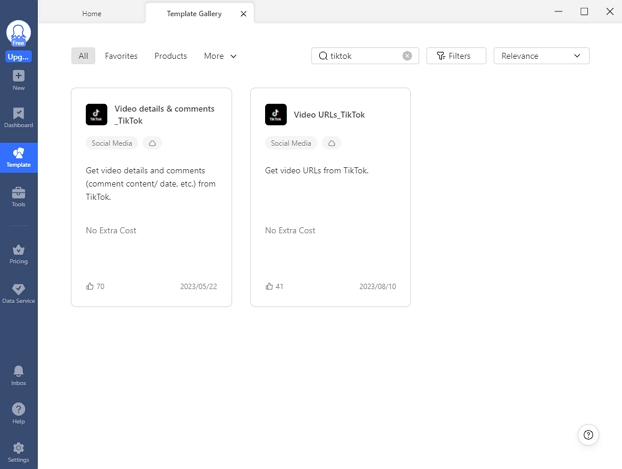 Other 5 TikTok Scraping Tools
There are several other readymade as well as coding-based methods and tools available to scrape TikTok data. Below we have shortlisted the 5 popular ones.
Using this software, data from TikTok videos can be easily collected to any CRM. The site comes with more than 100 ready-made automation that can let you do the task quickly. A wide range of data from the site can be collected using the software so that you can analyze, study, as well as compare the TikTok data from its competitors. The program works on the cloud, which prevents you from the hassle of downloading any tool.
Key features
Cloud-based tool for collecting data from TikTok and other sites.
Comes with over 100 ready-made automation.
Allows importing the data to any CRM.
No coding is needed.
Simple and quick process of extracting TikTok and other site data.
With this scraping tool, you simply need to send the URL for which data needs to be extracted to the site and the HTML response will be returned. The program uses retargeting JS rendering and residential proxies for data scraping.
Key features
Allows scraping TikTok data along with proxy service for keeping your activities anonymous.
Comes with a free trial version to check out the features and functioning of the tool.
Offers 40M IPs across the globe along with 50 relocations.
Offers unlimited bandwidth.
The tool never gets blocked as it features anti-bot detection.
Allows scraping a huge amount of data quickly and easily.
3. Python
Python is a programming language that lets you do multiple tasks by coding as needed. So, data scraping can be done using Python along with the Selenium platform if have knowledge about the coding and it's working.
Key features
Create coding using Python language for TikTok data scraping.
Works by automating Google Chrome to have access to the data required.
Customized codes as needed can be created using Python.
This is a powerful web scraping tool that helps in automating the tasks using the number of bots and actors. Using the program, a number of popular sites can be scraped and the list also includes TikTok.
Key Features
Allows extracting ide range of TikTok data including hashtags, users, profiles, posts, comments, shares, etc.
The extracted data can be downloaded in Excel, HTML XML, JSON, CSV, and Excel.
This proxy service provider is free to use, but proxies need to be added to browse.
Allows freemiums tools.
For the non-coders, this is one of the most widely used data scraping tools that allow data extraction using the embedded visual click operations. Allows scraping array of data from TikTok as well as other sites.
Key features
Intuitive interface for scraping data using the visual click operations that are embedded.
The program supports desktop as well as cloud-based operations.
The extracted data can be saved to TXT, CSV, MySQL, JAON, Excel, Google Sheets, etc.
Comes with a free trial version (though with limitations).
Support Windows, Mac, and Linux.
Why TikTok Scraping
According to the studies, more than 2 billion downloads across the globe and more than 100 million monthly active users combined on iOS and Android have been reported as of February 2021. This increasing huge number is enough to catch the attention of the personnel for data as well as marketing research and opportunities. Around 50 types of details can be collected by TikTok from a user through different means like views, followers, engagement rate, and more.
TikTok features a single HTTP endpoint and the same is also provided to its developers that are used for getting the embedded code for different videos. TikTok features an integrated system that makes data scraping and extraction difficult. Moreover, the site also tracks the cookies and the IPs and also has the user's fingerprint.
Final Thoughts
So, while selecting a TikTok data scraping tool, you need to be quite cautious so that your software is not blocked in just a few attempts. If you are confident with your coding skills, you can create customized codes using Python to scrape TikTok data. But on the other hand, if you do not have any prior experience with coding and language, using a ready-made tool like Octoparse works as the best solution.