Our brand new version – OP 8 just came out a few weeks ago. To help you get a better understanding of what the differences between OP 8 and 7 are, I have concluded all the updates in this article.
1. Faster Scraping Speed
We all know how valuable time is, and scraping speed is a core feature to deliver a high-quality extraction experience. In version 8.1, local run speed has improved significantly, which is 10 times faster than in the previous version. It took 21mins 41 seconds to extract 100 records of data in OP 7. But now in OP 8, it only takes 2 mins to get the same amount of data from the same web pages!
We also strive hard to provide a stable and smooth scraping experience. OP 8.1 solved tech issues in OP 7 like stuttering, flashback, and software crash. All common UI interactions with OP 8.1 such as app launch, task configuration and data export can be completed within 0.5s on average. 
2. Robust Compatibility 
1. Mac OS Compatible
The great news is that besides the Windows systems, OP 8.1 is available for Mac OS as well! Mac users have developed a strong voice in demand on the Mac version. We listened to you speak!
2. Advanced Browser Compatibility
We switched the browser engine from Firefox 7.0 to Google Chrome 8.0. You'll notice the websites that failed to load with OP 7 can now be loaded with OP 8.1 right away.
3. Hands-Free Workflow is now available
1. Auto-detect data fields
Another essential feature that we upgraded is automation. Once you enter a webpage URL in OP 8, you will notice Octoparse detects the website and guesses data fields automatically. For users who are exhausted with writing XPath in OP 7, this brings huge convenience as there's no need to build the crawlers from scratch.
2. Switch detection results to find the best fit
If the default detection results don't suit the users' needs, they can switch the results to capture other layers of data. Octoparse 8 auto-detects multiple layers of web data, which takes hands-free data extraction to another level.
3. Trigger Nested Web Pages Extraction in one click
"Nested web page" means the detail page that follows certain links on the list page. In OP 7, if you need to capture the nested web page data, you need to create pagination to click through each listing and then scrape detail page content. With OP 8, this process is greatly simplified. Users can trigger pagination simply by checking one button on the Tips Panel, and it will work on its own by getting the details page to you.
4. A broader and clearer view of the sample data
With the OP 7 version, you have to go back and forth between the browser and control panel to view the data, whereas, with OP 8, there is a data preview section that gives you a broader view of all the data columns before executing the task. What's more, by pointing and clicking on the specific data, Octoparse 8 will highlight the data in the built-in browser, which helps you easily check its location.
4. Refreshing Design to have more control
The OP 8 whole design is very different from OP 7. In OP 7, the built-in browser sits below the workflow and the customized area. The OP 8 interface is super clean with an upgraded menu bar and workflow on the left-hand side of the browser.  
1. Sidebar is smarter
The "Quick Filter" and "Recent Tasks" filters on the sidebar are ready to access your recent project with a simple click. Compared to OP 7, the new release now allows you to access your project quickly without having to go back to the dashboard and search through the entire list of scraping tasks. You can cut in quickly even if the sidebar collapses. 
2. Manage silos of tasks at your fingertips
As your project involves multiple scrapers in Octoparse, you are likely to feel encompassed by a number of tasks – some need more attention to prioritize, while others are buried away for later access. In OP 7, we provided multiple filter options for you to sort them, such as cloud status, local status, task type, schedule status, task group, and so on.
OP 8 version, it takes the filter to a more fine-grained level. To view all tasks that have been completed during a specific period of time, or tasks with certain records of data extracted, simply define your filters at the top. Next time, you can also name and save your filters so you can access your desired tasks immediately next time.
5. Upcoming Features
What we expect to have in the next release:
XPath Tool

Data export to JSON format

Workflow auto-debug
6. Final Notes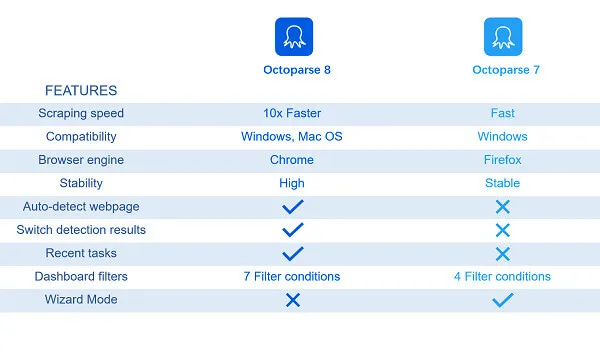 You can install both versions on your device. OP 7 supports Windows XP, 7, 8, 10. OP 8.1 supports all the above systems and Mac OS except Windows XP (only supports x64 bit systems). 
Before its Full Official Release, we need to make sure the new version can hit the quality bar in the next two weeks. And we can't make it without your feedback and suggestions. If you haven't got hands on the 8.1 Beta, take the latest release for a spin. If you encounter any unknown issues please reach out via bug reports or email us directly at support@octoparse.com