When it comes to price comparison, you might think of a consumer checking prices across various eCommerce stores just to find out which one has the best deal. Fair enough. Well, interestedly, while consumers like to compare prices, a growing number of retailers are checking product prices on a daily basis and doing all kinds of interesting stuff with them. In a nutshell, price comparison is not solely for individuals but can create great value for businesses as well. 
What is the price comparison and how is it done? This is what we will discuss in this article.
What Is Price Comparison
Sure we know people like to compare prices before making a purchase. And there are tons of aggregator websites that offer price information across various platforms (known as price comparison websites or apps). Yet, what does price comparison do for businesses?  
To gain an upper hand in the sale, a brand or a retailer would build a system to track and monitor product prices: 
A business may be collecting price information across multiple platforms from different stores online to inspect a certain product. 

Normally, the data will be updated at a certain frequency so as to get fresh price information, always keeping pace with the competitors or the ups and downs of the market.
Why Price Comparison Matters
Price information can be useful for businesses in many different ways. Here are some examples.
On the market-level
Understand the product value:

this is important when you are planning to sell new products. Understanding the market value and seasonal price changes of the product can help you choose a more profitable product to sell and improve your profitability.
Discover market trends over time:

Understand how the price of an item has gone up and down over time and this might help you decide when to buy in and sell out.
Monitor

MAP

breaches:

for brands, this is a way to keep an eye on how your distributors and dealers price your products and if there is any market player who is undermining your brand.
On the competition-level
Keep an eye on their marketing gestures

: through price comparison, you will learn from your competitors, always be informed of their promotional activities and new products, and adjust your pricing strategies.
Give a clue on how you shall price

: this is also known as

price intelligence

, to react to the market dynamically.
Price Comparison Software
Nobody would like to go back to manual work when they have enjoyed the efficiency of automation. That's the core behind price comparison software. Instead of going over websites and copying that data down to a file manually, there is a more efficient way to get price data – web scraping. 
A price comparison software uses web scraping techniques to harvest prices and other information so that you can compare them with your own products.
Octoparse
Whether your competitors are on Amazon, eBay, or other online eCommerce stores or any B2C (Business-to-consumer) websites, Octoparse allows you to scrape all the data you want from them, including prices and product information.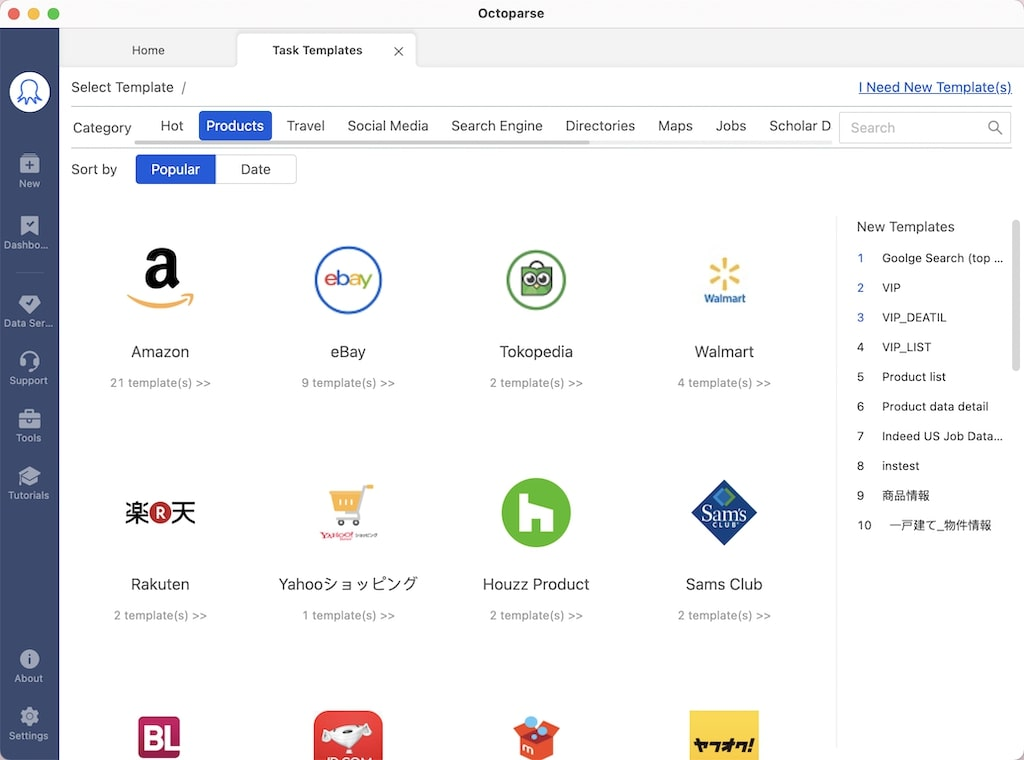 Task templates to scrape product data from the web 
Scraping prices (from multiple platforms) for tracking and putting them into analysis would be much easier with Octoparse's template scrapers. 
Speed, scalability, and timeliness
Octoparse Cloud Collection makes high-speed data scraping possible, as well as scalable. Want to monitor a few products at a certain frequency? With scheduled scraping, the scrapers will always get you fresh data on autopilot. 
If you want to keep an eye on your competitors' products, while they have 10,000 products or even more, then Octoparse will meet your requirement. If they have hundreds of thousands of products, and you want up-to-minute data, you may need to use the professional version.
Tips: For more information about Octoparse, please click here. Here to Sign up today!