You know the value of Search Engine Optimization (SEO) in increasing website traffic and improving your online presence since you work in marketing. SEO requires regular research and monitoring in order to keep up with the always-changing search engine algorithms and user behavior. SEO research is useful for web scraping, which is where SEO research comes into play. We'll explain how to utilize web scraping for SEO research in this blog post and introduce you to the web scraping tool, Octoparse.
Let's address some common SEO questions before we go into SEO research and web scraping.
What are SEO and SEO Research?
SEO is the practice of improving your website in order to rank higher on search engine results pages (SERPs) and bring more organic traffic to it. It includes on-page optimization, off-page optimization, and technical SEO.
SEO research includes investigating search engine algorithms, customer behavior, and other aspects in order to better understand how to optimize your website for search engines. This research assists you in identifying suitable keywords, tracking the success of your rivals, and understanding consumer trends.
Why is SEO important for businesses?
SEO plays a vital role in the success of businesses in the digital landscape.
Connect with your target market
By ensuring that your website displays prominently in search engine results, SEO assists businesses in connecting with your target market. According to Search Engine Journal's research, 93% of internet experience begins with a search engine. You may boost your chances of reaching and attracting your target audience by optimizing your website for relevant keywords.
Increase organic website traffic
Organic search is a significant source of website traffic. When your website ranks higher in search engine results, it receives more visibility, leading to increased organic traffic. A study by Backlinko found that the first result on Google received an average click-through rate of 31.7%. Investing in SEO will increase your website's visibility and attract more qualified traffic.
Read the article about how to get the search results from Google by keywords, so that you can know your search ranking anytime.
Build credibility and trust
High search engine rankings contribute to building credibility and trust among consumers. When your website appears on the first page of search results, it signals to users that search engines consider your website relevant and authoritative. A study by Search Engine Watch showed that 75% of users never scroll past the first page of search results. By appearing on the first page, you instill confidence in potential customers and increase the likelihood of them choosing your business.
Drive targeted and qualified leads
SEO allows you to target specific keywords and phrases that are relevant to your industry or offerings. When users search for these keywords, it indicates their interest or intent related to your products or services. By appearing in search results for these keywords, you can attract highly targeted and qualified leads who are more likely to convert into customers. According to a study by Search Engine People, SEO-generated leads have a close rate of 14.6%, significantly higher than outbound marketing leads (1.7%).
What are the benefits of SEO research?
You may boost your website's search engine performance and keep one step ahead of the competition by conducting SEO research. This study can assist you in finding new prospects, improving your website's optimization for keywords that bring in targeted traffic, and enhancing your entire online presence.
Maintain a competitive edge
You can learn more about the tactics employed by your rivals by doing SEO research, using this knowledge to find weaknesses in your own approach, and developing a strategy to outperform the opposition. For instance, a study by Ahrefs discovered that the pages with the most backlinks also happen to rank highly on Google. When you examine the backlink profiles of your competitors, you will find opportunities to build high-quality backlinks that will boost your website's ranking.
Optimize your website for keywords
SEO research can assist you in determining the most appropriate keywords for your website. You may attract more relevant visitors to your website by optimizing it for certain keywords. According to an article on Hubspot, websites that rank on the first page of Google for a specific term obtain 71% of clicks. You may improve your chances of ranking on Google's first page by optimizing your website for relevant keywords.
Improve your overall online presence
You may find parts of your website that need development by conducting SEO research. For instance, you could find that your website loads slowly, which might harm its position in search results. By fixing these problems, you can improve user experience and raise your search engine ranking. According to Google research, the likelihood that a mobile site user would leave climbs by 90% as page load time grows from one second to five seconds.
SEO Research and Web Scraping
Web scraping is the process of extracting data from websites using automated tools. It's an effective method for swiftly and effectively obtaining vast volumes of data. You can use web scraping to monitor the SEO tactics of your competitors and study the behavior of your customers.
Keyword research: Web scraping is an effective way to collect information on keywords pertinent to your business and give you a fresh perspective on keywords, like finding new keywords that you may not have previously considered.
Competitor analysis: Web scraping can give a hand in acquiring information about your rivals' websites, such as their content, backlinks, and keywords, for competitive analysis. You may use this information to locate new chances to boost your SEO and to fill in any holes in your own plan.
Content analysis: Web scraping can be used to collect information on the material that performs well in search results, which will then be analyzed. You may use this knowledge to produce excellent content that increases website traffic.
How to Conduct SEO Research with Octoparse
To conduct SEO research effectively, you can leverage the power of Octoparse, a user-friendly web scraping tool that doesn't require coding skills. Even if you have zero experience in writing code, Octoparse empowers you to gather data from websites effortlessly. Follow these steps to utilize Octoparse for your SEO research:
Step 1: Download and install Octoparse
If you haven't used Octoparse before, start by downloading and installing the software on your local device. Once installed, launch Octoparse and log in with your account. If you don't have an account, you can sign up for a free one, which grants you access to a range of powerful features.
Step 2: Enter the URL and create a new task
Copy the URL of the webpage you want to scrape data from and paste it into the Octoparse search bar. Click "Start" to create a new task. Octoparse's built-in browser will load the page swiftly. Wait for the page to finish loading before proceeding to the next step.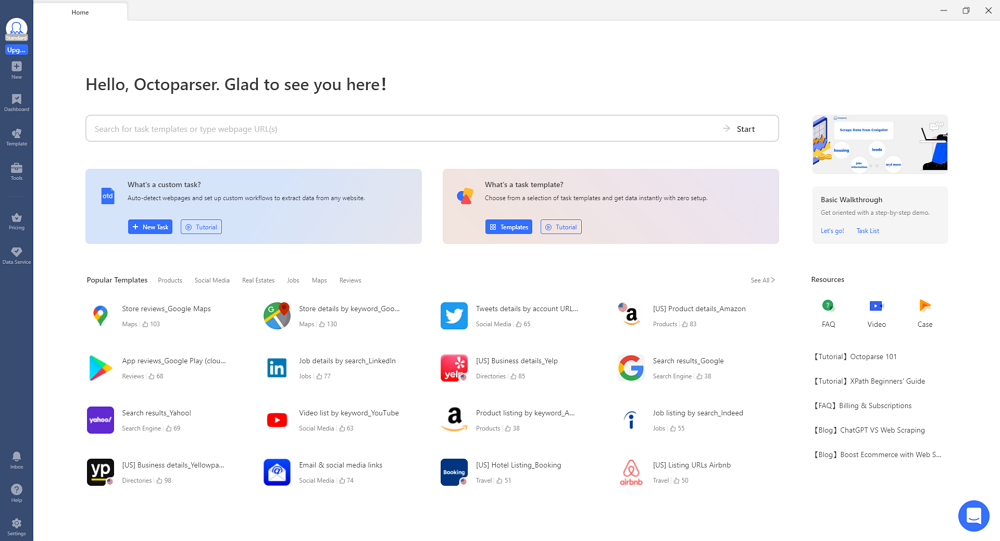 Step 3: Auto-detect page data
Once the page has loaded, click on "Auto-detect webpage data" in the Tips panel. With a single click, Octoparse will scan the entire page and intelligently identify the data you're interested in. The tool will conveniently highlight the detected and extractable data on the built-in browser, allowing you to preview it effortlessly. If there are any unwanted data fields, you can remove them in the Data Preview panel at the bottom. Additionally, you can rename fields as needed.
Step 4: Create a workflow
After selecting all the desired data fields, click "Create workflow." A diagram will appear on the right side, depicting the step-by-step process of your scraper. Take the time to review the workflow from top to bottom, understanding each action and any nested actions. By clicking on each action, you can preview and verify that the scraper functions as expected.
Step 5: Run the task and export scraped data
Click "Run" to launch the scraper once you've verified all the details. Octoparse offers two options for running tasks. If you're working on a small job or need task troubleshooting, running it on your device is convenient. For large tasks or regular data scraping, Octoparse's cloud servers are ideal. Choose the option that suits your needs, and Octoparse will handle the rest.
Once the scraping process is complete, you can export the data as an Excel, CSV, or JSON file, or even directly to a database such as Google Sheets for further use.
By following these steps, you can leverage Octoparse's capabilities to conduct SEO research efficiently and gather valuable data for your marketing strategies. For example, you can analyze and identify insights and opportunities for optimization with the scraped data, and use the data to improve your keyword strategy, identify gaps in your content, and monitor your competitors' performance.
Conclusion
Any marketing plan must include SEO research, and web scraping is useful for carrying out this study. Web scraping allows you to rapidly and effectively collect a lot of data, offering you valuable insights into consumer behavior, competition strategy, and search engine algorithms. An effective web scraping tool called Octoparse makes it simple to do an SEO study. You may save time and effort while receiving insightful information about the functionality of your website by utilizing Octoparse. Check out how web scraping can enhance your SEO approach by trying it out!