With the number of online shoppers on the rise, customers gradually adapt to the eCommerce model and become more discerning. The shift in buying behavior certainly creates more opportunities yet challenges for drop shippers. To most drop-ship business owners, now the question is, how to level up your business to stand out from the competition and continuously get more customers?
You probably sniff the new trend — D2C (Direct-to-customers). Even though the term has been floating around for a couple of years, few people paid attention until the COVID-19 pandemic occurred. With the growing demand for eCommerce eliminating the barrier between the sellers and consumers, now D2C is the new black.
There are certainly some things we can borrow from the D2C business model and use it in the dropship business.
"According to the analysis of eMarketer in February 2021, the D2C eCommerce sales in the US has grown 45.5% in 2020, generating around $111.54 billion and making up 14% of total retail eCommerce sales. It's expected that D2C will maintain relatively steady growth each year through 2023, at which time the D2C eCommerce sales could have reached $174.98 billion."
What is D2C and what makes it so popular?
Under a D2C or Direct-to-Customer model, brand owners can reach out to sell products directly to their customers on their official brand websites, instead of relying on brick-and-mortar stores, eCommerce marketplaces, or any other middlemen platforms.
This has transcended the traditional B2C business model in many ways. Business owners applying a D2C strategy will gain more control over their brands without a retailer stepping in between. As a result, they can build closer relationships with end customers and be more interactive with the market demand.
How does that make D2C different from Dropshipping?
Don't mix up these two concepts. Dropshippers handle the orders from customers directly and then ship the products using a third-party vendor. As you've already noticed, the cost of physical storage makes the margin of opportunity. Dropshippers don't have any upfront investment to hold inventory BUT it's not sustainable in the long run. Whereas, D2C doesn't sound like a lean approach as you not only need to pay for the storage but everything around the operation. However, D2C model supporters know that those who get closer to the customers can stand firm till the end of the competition. 
If you want to build a sustainable Dropshipping business like the D2C model, it's not difficult to realize that you only need a few things to get ahead – reliable suppliers, knowing your customers, and a leveled-up order fulfillment solution. Here's what a drop-ship strategy looks like on a high level:
Starting with the right suppliers
A reliable supplier who sells products that fit the marketing niche might win you more odds in the game. When we think of suppliers, we think of Aliexpress or other local businesses that can provide quality products at a lower cost. 
With so many product ideas to look at and so much information available online, thorough marketing research to find a good fit can be more challenging. This is how web scraping comes to your rescue.
Web scraping is the best practice to retrieve scattered web data into a usable format. It can pick up product information from multiple sources in an organized and structured format. Eventually, data can be synchronized to your online store via an API integration, which connects your online stores and suppliers seamlessly. It can get your basic product information including Pricing, Product name, SKU, Inventory, and image URLs.
Next, gather data to truly understand your customers. 
Every customer action offers valuable insight into customer behavior. To determine how customers react to your products or competitors, you can monitor products across marketplaces. This gives you more insights into where you stand in the market. Tools like Octoparse can gather insights such as reviews, reviewers, ratings, stock levels, etc. 
Show your brand with an online storefront
Rather than relying on a marketplace like Amazon which carries a million product varieties competing with each other on every product line, having a standalone online store allows you to display your unique products. The best part is, you have full control over the traffic and end customers with whom you can build relations, and share a personalized brand experience.
The Razor giant Harry's went for the exact marketing strategy that helped it gain over $1M in sales in the first month and quickly climbed to $100M within 2 years. Andy Katz-Mayfield, the co-founder of Harry's, realized the fact that what consumers need is simple but effective products that feel good to use. This is a breakthrough to start his own Razor business which provides a simple sale model: one great razor delivered straight to your door.
Spot the difference? Harry's tries to deliver a simplified but personalized purchase journey, plus a genuine brand story that resonates with the customers. This makes customers feel more connected to the brand and easily alleviates their worries about a new business. 
Last, level up order fulfillment services and thus the customer experience
As a dropshipper, you probably get used to suppliers taking care of the entire order fulfillment process and not paying much attention to it. But if this "last-mile" work becomes problematic, all of your previous effort in lifting customer experience will be ruined. Transparent order status, quality products as promised in the listings, packages with consistent brand visibility, responsive after-sales service…There're many aspects you need to consider to level up order fulfillment solutions.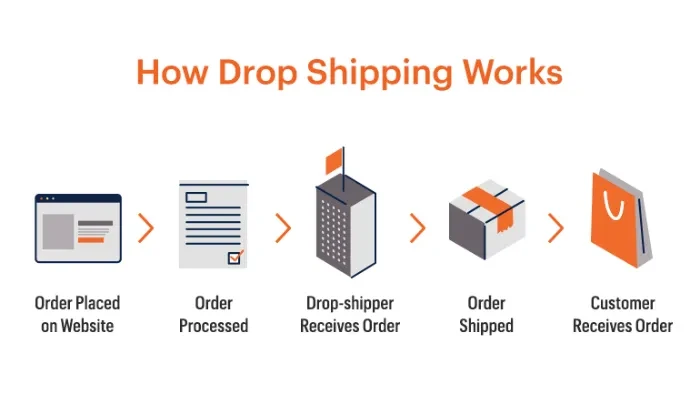 Instead of spending time thinking of running errands, a reliable dropshipping solution provider like BuckyDrop can be very helpful. They provide services including order fulfillment, product sourcing, supply management, after-sales service as well as store branding. The BuckyDrop is the only 1-on-1 private partner, agent, expert & investor you'll need for winning dropshipping. They have a world-class one-stop dropshipping solution that is open to any dropshipping entrepreneur that aspires to build a brand and succeed.
You're very likely to build the next booming brand with the right solution backing you up. We are here to help!