This article gives an overall introduction to aggregator sites, including what they are, how they make money, the top aggregator website examples, and how to build an aggregator website with the easiest way to collect data. If you are building your website or looking for ideas to start a side hustle, you may find new ideas spring to your mind.
What Is An Aggregator Website and Examples
An aggregator website brings relevant data from different sources to one place. It serves as a hub where the audience can get up-to-date information and compare without traveling across a load of pages. If you build it well, it could be a great stepping stone for a startup business.
Aggregators like Indeed and Skyscanner are big names. That doesn't mean small sites are ruled out. Many niche sites are doing fairly well. Let's see the different types of aggregator websites with the following examples.
Examples for different types of aggregator websites
Coupon/deal Aggregation
Groupon: The website curates time-limited coupons for online and offline purchases, covering a wide range of products and services.
LivingSocial: Livingsocial focuses on deals in the Beauty and Food sector.
OverStock: This is an aggregator website that gathers deeply discounted furniture and houseware.
Price Comparison Website
CheapShark: CheapShark helps gamers find the best price for digital games.
Kelkoo: Kelkoo cooperates with big-name brands to bring the best-price deal.
BoardGameOracle: This website compares board game prices of local stores.
News Aggregation
Dealogic: Dealogic is also an Octoparse user. (Read the story) The company built a financial news & deals aggregator platform to offer investors up-to-date news in finance.
Travel Aggregation
Booking.com: The aggregator website gathers prices and offerings on hotels.
Tripadvisor: The website started from a fares aggregator and now is becoming a one-stop shop for everything you need for travel.
Jobs Aggregator
The concept of a job aggregator is self-evident to us. There are job board giants familiar to us, like Indeed, Glassdoor, and LinkedIn. It makes sense when the owner is not operating it in a moral way. While the wrong is not about being an aggregator website, but how you serve the two sides. In this case, a job aggregator shall help connect recruiters and the candidates, in the meantime, protect the privacy of both from misuse.
Potential Niche – Remote Jobs
Undeniably, working from home has been an irreversible trend. The covid pandemic could be a strong impetus. And how industries and employees benefit from this flexibility and offer real value to the business world. 
"Two years ago remote would not have made the top 50 list, so it's an enormous change. This is really the biggest shift in how we work since the invention of the automobile."
——Ladders CEO Marc Cenedella
The momentum for remote jobs will last if not grow further and a good niche shall have much room to dig into.
How Do Aggregator Sites Make Money
What's the aggregator business model? The essence of the website is to act as a two-sided market – "where buyers and sellers interact through an intermediary to fulfill each other's needs" (explained by Tanya in Two-sided Marketplace).
Based on the values you offer to the two sides, you may monetize through ways below.
Affiliate Partnership
When you gain a group audience, brands may come to you for affiliation partnership and in return, offer you a commission for each deal made through your website.
The profits depend on what product or services you are promoting. Take Octoparse, a Saas web scraping tool, as an example, you can make $10 – $300 for each new deal. The number would be smaller for commodities, while it is easier to converse audience to the buyer.
Instead of waiting passively, you can join affiliate networks to find more lucrative partnerships. Affiliate networks give merchants access to a group of affiliates. Vice versa, they also offer opportunities for affiliates to reach more brands.
Featured Content Service
Google Ads on the search results page is a vivid example. Featured content service works just like Google Ads. It gives better exposure to the goods or services by an eye-catching design or a better ranking, etc.
Since you are the website owner, you are the person in charge of how to showcase the products. Offering special tags or layouts can help differentiate the product from others and draw more attention.
Display Advertisement
If you know anything about Google Adsense, you may know how a website owner can make money by placing advertisements on his/her website. As you set aside the space for display, Google Adsense will match the ads that are targeted to your audience and this saves your efforts of searching for the right advertisers.
As your audience grows, a business that shares the same group of the audience will reach you. And the page "Advertise with us" will find its place on your website.
Subscription Membership
This is rather obvious. If you are gathering valuable information and presenting it to them in the best way that conveniences your audience, they would love to pay. Sometimes rummaging through the Internet for a piece of helpful information is tiring.
Of course, you can set a standard to differentiate what services or information you are giving to your sponsors, and what is offered free to the public.
Community
There is one of our clients built a board game price comparison website, and won over a large audience from a public FB group. What's more, he built his own FB page and community as well. That is because he was scraping prices from numerous board game stores with Octoparse, and he knew which product was on sale. He shared the best deal of the day on his FB page and community. 
That's how he offers value to his audience. This is only one small piece I could share. Extend your influence beyond the website to more social media platforms, more paths will be paved for the monetization process.
How to Build An Aggregator Website Without Coding
Data collection is an essential part of an aggregator website. Rich, clean data that updates regularly guarantee the usability of your site. So, how to gather web data easily without coding?
That's where Octoparse comes to help. It is a web scraping software that helps you build a data scraper within clicks. You tell the bot what data you want, and it runs and scrapes the data for you. Octoparse is a free web crawler tool for both Windows and Mac users. It can extract data including but not limited to product details, customer reviews, and profiles. After extracting the data, you can analyze the data in the form of Excel/HTML/CSV to make a more accurate marketing strategy for your business or any other decision.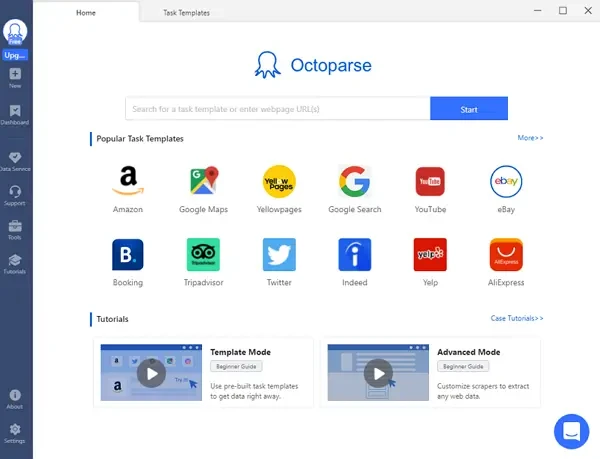 Octoparse has two types of mode for extracting data. One is the built-in templates, you can enjoy the convenience of data scraping without coding or configuration by using it. You only need to fill the parameters to tell the scraper to scrape the required data for you. The built-in templates cover over 30 websites for starters to grow comfortable with the software. Another is advanced mode, it could help you extract Enterprise volume data within minutes. You can finish most of the scraping process for different websites within three steps. Besides, you can set up Scheduled Cloud Extraction which enables you to obtain dynamic data in real-time and keep a tracking record.
Pros
Easy-to-use: get web data without coding; our tech support has you covered.
Scalable: scrape large data from hundreds of websites
Organized: data can be cleaned and organized into spreadsheets; API service is available for building your data pipeline
Cons
Quick steps to scrape any website data
Step 1. Go to the web page you want to scrape
Enter the URL page you want to scrape in the main panel and Click "Start" button after you have downloaded and installation Octoparse on your device.
Step 2. Create a workflow
You'll enter the "Auto-detecting" mode by default. Wait until you see "Auto-detect completed", and then check the data preview to see if there's any unnecessary data field you would like to delete. After that, click on "Create workflow" option.
Step 3. Run the task to start scraping
Click on the "Run" button if everything is prepared. Select "Run task on your device" to run the task on your PC, or select "Run task in the Cloud" to run the task in the cloud. Remember you can also schedule the task to run at any time you'd like. You can download the file in Excel or save to database.
Final Words
Now, you have figured out how to build a data pipeline. Hope Octoparse can be helpful if you want to build an aggregator website and need quality data feeds.