"How can I scrape eCommerce websites?"
Retailers often have the same questions that they want to scrape eCommerce websites to gain insights into what's trending recently. But given a large swath of product information is often trapped inside web pages and things on the web are super dynamic (Information keeps changing more often than you think). Extracting product data from such e-commerce websites is extremely painful if it's to be done at a regular interval.
And thus people often doubt whether they can extract the data they want from such big players (Amazon, Walmart, eBay, etc.). Below are the questions that people often query.
Why do I miss data when extracting eCommerce data?

Why does it often crash when extracting eCommerce data?

How could I crawl data across multiple pages (like eBay)?

What if the location data is not visible?

Can I extract real-time data within a few simple steps?
How to Extract Data from E-commerce Websites
Without powerful techniques or programming skill, extracting data would quite challenge your time, and resources and even creates a mess to be resolved on a daily basis. But such problems could be solved with several tips. Before knowing how to make it, we could learn the hidden rules of websites.
2 Things About Scraping eCommerce Websites
Products sold on the same platform often have similar structures, which have a lot of information in a similar format. Let's take Amazon for example.
1. Ecommerce Data format
You could find that similar products are shown in the same formats and that's how we build templates and implement the auto-detection feature for the convenient use of our users.
2. Ecommerce URL format (query)
You could also find a similar rule on the URL. Such features can be found in many e-commerce websites and it makes you to get the data easily by setting a loop or changing the URL. This is capitalized by Octoparse to build template tasks where our users can input the keywords and get the needed ecommerce data right away.
Scraping An eCommerce Website Without Coding
It's not difficult to scrape data from an eCommerce site if you have such an easy-to-use tool, Octoparse, even if you don't know any coding knowledge. It helps you extract product data like pricing, product name and URL, pictures, comments, delivery date, etc. You can follow the simple steps below or learn the Amazon web scraping as a detailed example guide.
Step 1: Paste the eCommerce Site Link to Scrape
Download, install, and register Octoparse on your device for free. Then, copy and paste the target eCommerce site link to the main interface of Octoparse. You can also use the paid pre-set templates if needed.
Step 2: Create the Workflow with Your Target Data
The auto-detect mode will be started automatically, you can customize the data field or create on your own needs. Click on the "Run" button if you have checked all data in the preview mode.
Step 3: Download the Scraped eCommerce Data in Excel
Your data will be prepared after a few minutes. You can download it in Excel or any other format easily.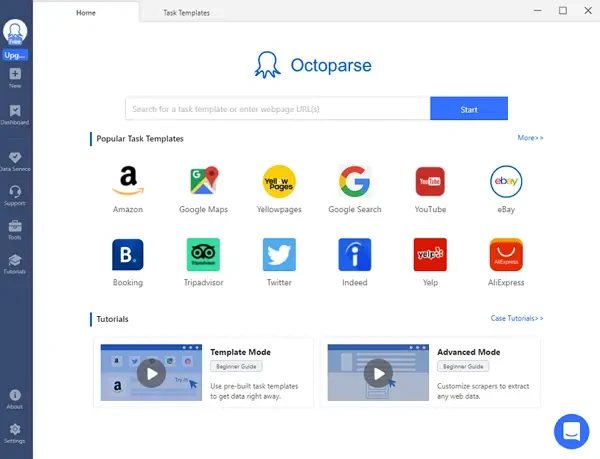 Now, you have learned the simple tool to help you scrape an eCommerce website with just several clicks. Just download and try it for free. Octoparse provides customer service if you need any help.