As a rapidly growing industry for years, e-commerce will only continue to accelerate in the future. There are an estimated 12 million – 24 million e-commerce sites across the world, with more and more being created every single day. For e-commerce startups, the most significant thing is to know well about the marketplace, and price scraping makes it possible for them to do so.
What Is Price Scraping?
In short, price scraping is to extract price information through web scraping using a bot or a web crawler. 
The web scraping tools search, find and copy data from a website to be analyzed later. With these processes, you can gather competitive product data and prices from websites.
Price scraping spiders imitate a real-life web user's behavior of navigating a target competitor's website and extracting the information being specified. As a result, price scraping has become an essential way for online retailers to gain an edge over their competitors by having visibility into their prices and stock availability in near real-time.
Why Do E-Commerce Startups Need to Scrape Prices?

 
For e-commerce startups that are eager to boost their development, being embraced by sufficient information, especially enough helpful information, can be one of the vital premises that lead to further progress.
Among massive information, what should be given priority? Obviously, the price of products. 
When deciding the perfect price, it is crucial for e-commerce startups to factor in the competition. If you manage to have a lower price than your main competitors, then you are likely to jump ahead of them rapidly.
Price scraping helps e-commerce startups set a price that covers their costs without excluding them from the competition. In today's increasingly digital-first world, it can keep e-commerce startups from some serious challenges like losing customers.
What's more, price scraping is an effective way to proceed with market research. Jeroen, one of Octoparse's users, has used price scraping to understand the market, expand the range of the products, and keep making profits.
With a technological background, Jeroen has been working as an IT director in an electronic manufacturing company for years. In 2020, he joined an e-commerce startup and started the online retailing business with the other 4 team members. Unlike some other e-commerce sites, Jeroen and his team did not specify the types of commodities. They focused on things that may appear in all people's daily life and decided which ones would hit the shelves.
Over the past year, the range of products from Jeroen and his team's startup has covered household supplies, kitchen supplies, and gardening supplies. How did they diversify the goods? Well, here is the process:
First, they selected a potential product. For example, a coffee machine.
Second, they visited the e-commerce websites like Amazon and eBay to search for data on coffee machines;
Third, they collected the product data, especially the prices, and analyzed the gained data to calculate the costs, profits, revenues, etc.
Finally, according to the analysis, they made the decision to include the product in the range or not.
With a large number of product prices to deal with, Jeroen and his team had to speed up the collecting process. Therefore, price scraping is there to improve efficiency and free the team members from rote, manual checks that can eat up big chunks of a day.
Use Octoparse to Do Price Scraping
Once you are determined to utilize a price scraper, Octoparse must be your optimal choice. It is a web scraping software that enables you to build your own price scraper within clicks. Even if you know nothing about coding, you can get the price data you need easily through the tool. There are 2 ways to scrape prices from e-commerce websites:
1. Built-In Templates for Price Scraping
A variety of scrapers are built for users to scrape data without coding and they are called "Templates" in Octoparse. When you enter the software, click on "+New" > "Task Templates" to choose the template you need.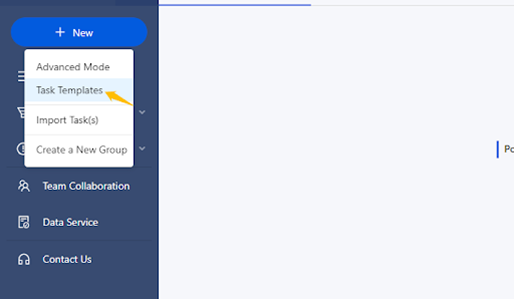 Let's take "US URL Amazon" for example. With this template, you can scrape the web pages of Amazon products, and get basic information including prices, titles, URLs, ASINs, etc. What you need to do is enter the parameters required. Then the data can be extracted after you save and run the template.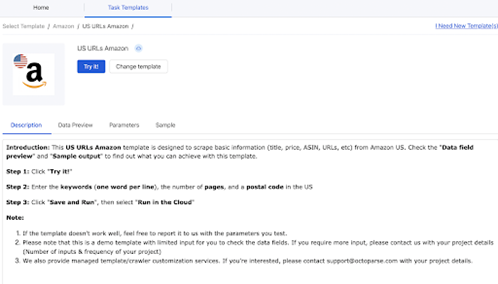 If you find it difficult to do it yourself, check out the links below:
2. Create a workflow
To customize the price scraper according to your own demand, you can create a workflow using the "Advanced Mode". The key to successfully building your price scraper is to locate accurately where the data is and ask the robot to grab it. Octoparse has translated the programming process into a point-and-click user interface that you can work on. You can just copy the URL of the target page, paste it into the search box, and click on "Start":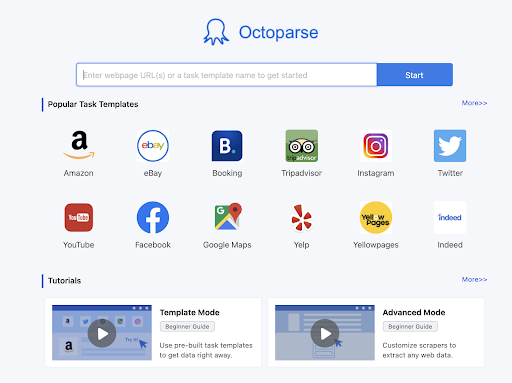 Then, Octoparse will load the webpage in the built-in browser, and the scraping process can be set right away. Here is a video that perfectly shows how the workflow is created.
Already understand how to scrape prices using Octoparse? Well, you are welcome to download the tool and play around. A 14-day free trial is available for new users.
How Do E-Commerce Startups Make Use of Price Scraping?
1. Price Monitoring
User experience is crucial for e-commerce sites to keep existing customers over time, while price is the driving factor, especially for first-time buyers. For sellers with lots of competition, price scraping is essential to finding the perfect price point that will attract customers and earn a profit. Apparently, the perfect price point is not likely to be fixed in the changing market, which sheds light on the importance of price monitoring.​​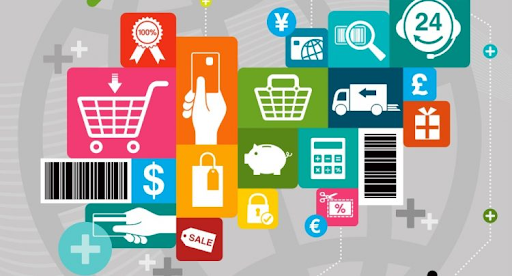 For e-commerce startups, price scraping helps track and monitor prices from retailers, third-party sellers, and competitors. The price monitoring process makes it possible for startups to take measures to keep their brands' prices stable and competitive and avoid price wars. In addition, the scraped prices guide the startups to drive and adjust their pricing strategy at any moment. According to Deloitte, "Data-backed price management initiatives bring significant results in the short term perspective: 2%-7% increase in business margins and a 200-350% average growth in ROI over a 12-month period." 
2. Market Research
Every e-commerce site needs to do market research to survive the fierce competition. Through price scraping, e-commerce startups can create large, customized datasets at a low cost, which lays a foundation for the research afterward.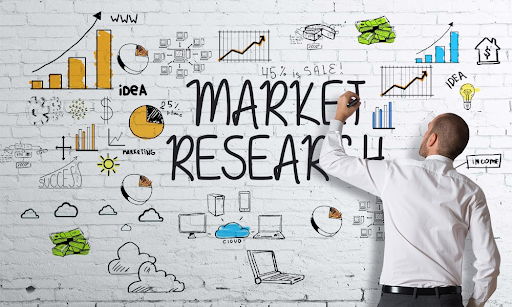 Market research makes e-commerce startups realize what their customers want from the sites. It provides the sellers with both a qualitative and quantitative understanding of why the ideal customers would want to buy the products. One of the major elements which lead to purchasing behavior is the proper price. With price scraping, e-commerce startups are more likely to understand the reasons behind the most acceptable price.
The great thing about market research is that it mixes science with intuition. Your gut might be telling you one thing, but the data is telling you another thing. To make a correct decision, you must synthesize all the latest useful information. When it comes to the decision-making on the product price, as long as the price scraping is ongoing, the sellers can always manage to get first-hand information which can affect the final decision.
3. Demand and Trend Prediction
After the market research, what can the e-commerce startups do to seize the opportunity to outstanding from many a competitor? The answer is predicting the upcoming demands and trends. Price scraping plays an important role in the prediction as well.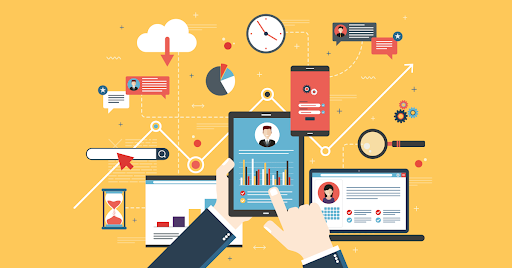 In a survey of consumers by Global Web Index, 48% of consumers said they will shop online more. Euromonitor International, a market research firm estimates that 21% of all retail sales will be online in 2025. What's more, marketplaces are increasingly becoming the customers' preferred channels of purchase. Half of all global eCommerce happens on a marketplace and more than 63% of product searches online in the US start at Amazon. As more and more product searches start on marketplaces and brand loyalty diminishes, retailers have to really personalize their service and provide a human touch to improve brand loyalty. 
For e-commerce startups, after gaining new customers, they also need to retain the customers and increase customer loyalty. To achieve this goal, discounts on subscriptions can be effective. There are already a variety of e-commerce sellers taking this step. For newcomers like startups, scraping the discount prices smooths the way.
Conclusion
Price scraping can be a beneficial way for e-commerce startups to gain insight into how their competitors are marketing their products through price. Acquiring data in this way can take the e-commerce stores next. Also, using an AI-powered price scraping tool backed by human intelligence like Octoparse is a win-win approach to driving efficiency and profitability.
Octoparse has you covered if you would like to build your own automatic price scraper and spend more time on key business areas. Contact us today and start your scraping journey!