Since the business industry has immensely adopted web scraping, it has been proved as a digital innovation to transform the growth curve from horizontal to vertical alignment.
Generally, when the term web scraping comes, it depicts collecting data from online websites and saving it into Excel or Google Spreadsheets. But when it's associated with Real Estate, things become more comprehensible as it can boost the real estate business in one way or another.
Real estate scraping is now a thriving method to analyze potential buyers, consumer needs, optimized prices, and a bulk of other online information. Do you need to retrieve such info to improve your real estate business? Then this article will surely come in handy in this regard. So, let's get to know all the dimensions and most acceptable ways of scraping in real estate.
What Kinds of Data Can You Scrape in Real Estate
Web scraping has been driving business intelligence, investment, marketing, PropTech, and so many big revolutions in the real estate industry for years. But still, there is a need to know the facts behind it. For instance, what kind of data can be sorted out from real estate websites, which sites can assist more in this respect, etc. Let's move to know about them.
Expected Real Estate data
First of all, it's crucial to determine where you have to run a local real estate business. As a marketing rule, it's vital to analyze the competitors to beat and supersede them within that locality. So, for local areas, you have to:
Do Online Surveys

Scrape Real Estate Listings

Get Profiles of Buyers and Sellers

Retrieve Plots & Buildings Descriptions

Collect entire info of Real Estate Brokers

Analyze Online Search Reviews of Local Businesses

Figure out Prices, Locations, and Tax Histories of Properties
When you have such high-quality, accurate, actionable, and comprehensive data, you can make better decisions for your business and move in the right and bright direction. Thus, these things will pave the way to push your real estate business to the sky high.
Some major Real Estate sites to be scraped
For scraping real estate data, there are different online sites on which listings are assumed to be highly accurate and regularly updated. Now, explore some major real estate websites that can be scraped out tremendously.
Realestate.com.au

Propertyguru.com

Craigslist.com

Redfin.com

Truilla.com
Is Real Estate web scraping legal
There is confusion about real estate web scraping, whether is it legal or not. If you have to know the answer to this mystery, you have to inevitably know that there is no issue with scraping publicly available data on the internet. In order to get relevant information about the real estate landscape, nothing can beat web scraping.
But, there are some rules and regulations which have to be followed in this way. Like, some websites have clearly mentioned in their Terms of Services, Nobody can use this site's data without permission, or something like this. Such sites have strict Copyrights and Privacy Policies. If anyone tries to crawl data from such websites, that will count as illegal.
Benefits of web scraping for Real Estate realtors
Being a leading investment plan, real estate enhances the business values manifolds. And web scraping has been proved in the real estate business as icing on the cake. It has huge benefits that assist real estate realtors in improving their businesses strategically. Some key benefits are here:
Rental Proficiency
Tracking Property Value
Forecasting the Real Estate Market
Monitoring the Competition
Product & Service Development
Real Estate Aggregation
Efficient Decision Making for Investment
Using Updated Strategic Data
Using Real Estate Agents' Data
Using cases of Real Estate Web Scraping
These are just a few points that highlight all the positive aspects and data-centric solutions of real estate data scraping. When you keep your eyes on them, your enthusiasm will remain high to see your business grow.
How to Collect Real Estate Data to Excel via Web Scraping
How to collect real estate data has not remained a mystery now. By the way, there are different online tools and websites to collect real estate data with varying modes. But Octoparse has proved as the most popular, reliable, and automated web scraping tool. One of the most important features of Octoparse is that there is no need for any coding skills. It also provide advanced functions like cloud service, IP rotation, scheduled scraping, and customized service for a large amount of data.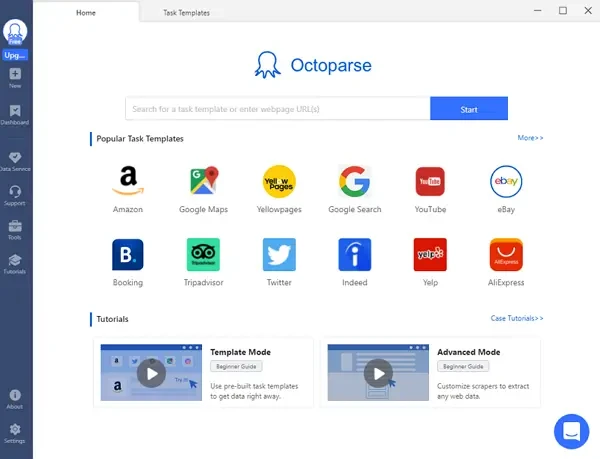 Steps to Scrape Real Estate Data Without Coding
Step 1: Select the Real Estate Data
First of all, choose the real estate site from which data has to be retrieved and inspect the page to get the nested info in tags. Thus, you can select the data to be retrieved and then copy the page URL.
Step 2: Insert & Customize the data in Octoparse
Now open Octoparse and paste the webpage link to Octoparse search box and click on the Start button. It will start auto-detecting data by default, after that, you can create a workflow and customize the scraping data fields as per your will.
Step 3: Extract the real estate data into Excel
When you confirm the exact data and set all the workflow, click on the Run button to start scraping. Within a few minutes, you will export real estate listings to Excel.
Once you follow these easy and simple steps for scraping real estate listings from real estate websites, you will be wondering to see the incredible improvements in your business.
Final Words
Data is Gold in real estate as in other industries as well. It's worth going too high in demands, as it has synched with the web scraping. There are countless advantages of web scraping real estate data.
You will get a wide range of genuine data about the real estate industry that will help as a convenient input for business intelligence and data analytics. Moreover, you can make better and more strategic approaches than your competitors for ideal business predictability. However, you have to remain transparent and lawful in the process.
In a nutshell, web scraping is a highly strong pathway to track real estate business without any hassle. After introducing the web scraping tools in the market, getting real estate business listings are just far on a few clicks now.