Everything is automated in the modern age, including commerce. AliExpress is an enormous internet commerce marketplace. For entrepreneurs and professionals, AliExpress is a treasure trove. On AliExpress, you may find tons of offers across a range of categories, including children's items, people's apparel, smartphones, appliances, surveillance system, footwear, and more. In all seriousness, AliExpress essentially has anything you can think of.
You will need all kinds of skills if you are operating an online marketplace and need information on new products and prices to keep up to date with the most recent modifications to product specifications and pricing. You may overcome any issue encountered when surfing catalogs by utilizing web scrapers. Additionally, it will be possible to scan through catalogs easily, get data more quickly, and feed the data directly into analytics software or website without any delays. Hence, you can consider scraping AliExpress site to obtain the necessary data and upload it straight to a website.
This article will assist you in scraping AliExpress product data easily with the use of no-code software. Additionally, we will discuss the benefits of scraping product data from e-commerce platforms like AliExpress.
Why Scraping AliExpress
Compared to domestic retailers, AliExpress is regarded as a trustworthy location to purchase goods. The Alibaba Group, a sizable, well-established business that concentrates on marketing and eCommerce, contains AliExpress. Men's and women's clothing, toys, gadgets, jewelry, furniture, vehicles, motorbikes, and even household goods are all available on AliExpress.
What types of data can we scrape from AliExpress
AliExpress is a fantastic source of information for the price, description, photos, videos, and customer reviews of products because of its enormous product selection and millions of customer reviews. This data may be utilized for a variety of analyses, including marketing strategy and the recognition of new products as well as cost evaluation and information retrieval of online reviews.
Benefits of scraping data from AliExpress
One of the most important factors that influence customers' desire in making purchases is price monitoring. Price is the primary consideration for online customers accompanied by shipping fees and delivery time. The studies indicate that if your price doesn't meet their expectations, a potential customer won't think twice before leaving your business. Hence, you can evaluate the price of thousands of products by using web scraping software in no time.
Understanding how consumers of your rivals' companies or services feel about them gives you the background you need to assess your marketing and advertising approach. Other than eCommerce data scraping tools, there are no other solutions that may assist you in obtaining such details.
You can get real-time insights about popular items, bestsellers, highly rated products, underperformers, merchandise with the greatest deals, and more by using scraping. You may also use it to compare costs across several websites.
Scrape AliExpress Without Coding
Some internet scraping approaches don't require any coding. These tools allow you to scrape AliExpress without any technological expertise. You may start scraping immediately, either locally or in the cloud, using cutting-edge click and scrape tools powered by AI. You may save a tonne of cash and effort by picking an excellent scraping tool.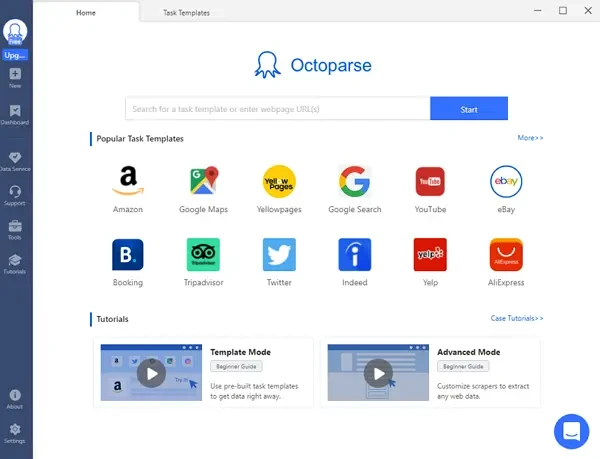 In this part, we are going to use a no-code web scraper known as Octoparse. With this web scraping tool, you can rapidly and without programming retrieve data from any website. It is ideal for firms of all sizes and people from different walks of life. Web information is no longer just a resource for those with tech expertise.
Octoparse allows anybody to quickly design a crawler. By offering a one-stop framework to handle all mining tasks, this software has not only improved the tasks of professional developers but has also made web data available to others who seek web page data but may not have coding abilities. Additionally, it provides preset Templates for most of the sites which makes it quicker and easier to initiate the scraping process.
Steps to scrape AliExpress with Octoparse
You can watch the video below about how to scrape seller info from AliExpress, and try it by yourself with the simple guide steps. Move to the AliExpress Seller Info Scraping Tutorial to learn more details.
Step 1: Enter AliExpress link for scraping
Download and install Octoparse on your device, and sign up a free account. Enter the target URL you want to scrape from AliExpress in the search bar, and press the Start button to begin auto-detecting.
Octoparse also have the preset template for AliExpress, you can find it from the main panel or by searching the keywords. With the template, you can preview the data sample and enter the URL to get data much easier.
Step 2: Create and modify the workflow
Create a workflow after the auto-detecting is done. You can preview the data fields and make changes as your needs. A Tip panel will give you tips about how to improve your workflow.
Step 3: Scrape and export AliExpress data
Click on the Run button after you have checked all details. It will take some time according to your data scale. Once the task is finished, use the Export option to export the data in CSV, Excel, or another format.
Final Words
Now, you understand how to build your business by using eCommerce data scraping technologies. What information you can get from the data is a different matter. You will also need to be able to perform data analysis and analyse the data to identify opportunities. If not, the data is merely a jumble of cold numbers with no use to your company. Hope this article will assist you in scraping AliExpress product data using the no-coding application Octoparse.