Today, we are living in the post-pandemic era, when things have changed to a great extent. Especially the online market to sell the goods and provide the most reliable products to consumers. But in this journey, retailers need to get to know the ideal products to grow their business. For this, scraping data from such sites seems more important than anything else.
Are you struggling to get the best and most market-competitive buy products? You can get such data by scraping e-Commerce sites, and in this regard, Best Buy is also a well-known site that has been running its million-dollar business in the USA and Canada for decades.
But if you are confused about how you can do it. This guide will assist you a lot. Here, you will get all the necessary info on how to scrape Best Buy product data more conveniently. So, let's unveil the secrets in this regard and stand in the first queue of the online market.
Best Buy Web Scraping
Although, there are various sites which offer the best products for buying and selling. But among the largest e-Commerce sites, Best Buy has also proved to be a leading marketplace, apart from Amazon, eBay, Walmart, and others. Here, a question may arise what kind of data can be extracted from Best Buy? So, let's figure it out.
Which Data can be extracted from Best Buy
Mainly, Electronics, Back-to-School deals, gadgets, health & wellness items, and many other products are available on Best Buy, in varying price ranges. However, in order to run your own e-Commerce business, you have to scrape the product details to compete in the e-Commerce world in a better way.
In such a scenario, you can get products' names, images, prices, descriptions, ratings, specs, and other data related to the particular products. But for this, if you have a better web scraper tool, nothing will stop you to build your own leading e-Commerce brand.
Generally, we can extract the following types of data from Best Buy site page.
Product Information

Products by Category

Stores Location

Buying Options

Recommendations
Does Best Buy have API access
The most reliable aspect of Best Buy is that it has built an internal search engine to navigate the store's various pages and product categories, via API access. Though, it's limited to the certain information available on it. But it's a good sign for retailers who are eager to get the whole product data from this site and execute their plans to build and grow their e-Commerce business.
Steps to Scrape Best Buy Product Data Without Coding
Till now, you have cleared all the major ambiguities related to Best Buy site scraping. But it isn't an easy thing for those who know nothing about coding. Luckily, there is a no-coding Best Buy scraper, Octoparse, that can help you scrape product data easily. It has its particular web scraping template that assists you to monitor and scrape products' names, model number, pricing, product URL, image URLs, page URL, page number, product review URL, product review numbers, SKU, open box, extracting time, current list page, and page title.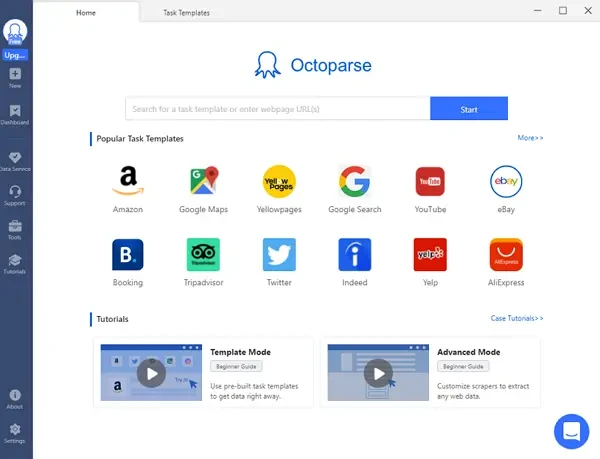 How to scrape product data from Best Buy with Octoparse
Step 1: Open Best Buy and Copy the Targeted Web Page URL into Octoparse
First, go to Best Buy and select the product page you need to extract data and copy the URL. Then open Octoparse and paste the copied URL into the search bar. Click on the Start button to continue.
Step 2: Customize Your Best Buy Scraping Workflow
You'll enter the auto-detecting mode by default. After the process is finished, click on the Create Workflow button and you can see the data in the preview panel. Make changes like loop, pagination, and others displayed on the Tip window.
Step 3: Start Scraping Data from Best Buy Page
After you have saved all changes, click on the Run button to start extracting data from Best Buy. You can finally download the data in Excel/CVS files, or save them to the database.
Final Words
Everyone wants to lead in a competitive market, especially in the E-commerce field. Among different E-commerce stores, Best Buy has proved itself a ninja by running a great e-store in the USA and Canada. Being a new retailer, you must need to extract the strategies of this store. So, if you want to scrape data from Best Buy, Octoparse can assist you a lot.