"Big Data", a term that grows more and more popular among the public, as well as "data mining", a practical example of "Big Data". Though everyone talks about "Big Data" or "Data Mining", do you really know what it is? Here we will briefly introduce 10 data mining examples to help you understand how big data had impacted our lives. 
1. A classic case: Diaper and Beer
Big data is well employed in helping Walmart marketing department with decision making. Walmart's market researcher found that when male customers visit the baby department to pick up diapers for their little ones, it's very likely for them to buy themselves a couple of beers. Thus, Walmart relocated the beers next to diapers, which had led the sales of beers and diapers increased significantly.
2. Car manufacturer improved vehicle models via the social media platform
Big Data brought impacts to Ford's vehicles at the very beginning of car designing. Ford's R&D team once made an analysis on the ways to open up the back truck of their SUV's (such as open manually or automatically). Though their routine surveys do not reflect this as a potential issue as no customer was reporting it, by analyzing the social platforms, Ford's team found that people actually talked over it a lot.
3. Use CCTVs to switch menus
A fast food restaurant was innovative enough to switch between different menus shown in the big screen based on how long the queue is detected through CCTV's. Based on a pre-set algorithm, CCTVs send queue info to the computer which then carries out computation and sends back the results to control over which menu to display on the big screen. For example, if the line is long, then the menu screen will offer more fast food options and when the line is short, the menu screen will offer dishes that are more profitable but may take up more time to prepare.
4. Google successfully forecasted winter flu
In 2009, Google studied 50 million most frequent retrieved words and compare it with CDC's data of 2003-2008 flu seasons to built a statistic model. Eventually, this model successfully forecasted the spread of winter flu, even specific to states.
5. Big Data knows more about your music preference
The music you listen in the car may to some extent reflect your music preference. Gracenote got the technics that use the built-in microphones on smartphones and tablets to recognize songs played on user's TV or stereo, detect reactions such as applause or boos, and even detect if the user has turned up the volume. In this way, Gracenote can study the songs that are liked by the users and the specific time and place when this song is played.
6. Microsoft Big Data successfully predicted 21 Oscar Rewards
In 2013, David Rothschild in Microsoft Institute New York used Big data to successfully predict 19 out of 24 Oscar rewards, and 21 Oscar rewards in the following year.
7. Use Big data to forecast crime scenes
PredPol, working with Los Angeles and Santa Cruz police and a team of researchers, predicts the odds of a crime occurring based on a variation of earthquake prediction algorithms and crime data that can be accurate to within 500 square feet. In Los Angeles, where the algorithm was applied, the distribution of theft and violent crime dropped by 33% and 21% correspondingly.
8. Octoparse used reviews to refine products
Octoparse, a Saas company dedicates to web scraping, always keeps the client's suggestion in mind. Octoparse collected thousands of reviews from clients, and used NLP to study the reviews, and upgraded the product, and the client's experience is greatly improved.
As a simple but powerful web data mining tool that automates web data extraction, Octoparse allows you to create highly accurate extraction rules. (You know I will definitely mention our tool.) Crawlers run in Octoparse are determined by the configured rule. The extraction rule would tell Octoparse which website to go to, where the data you plan to crawl, what kind of data you want, and much more.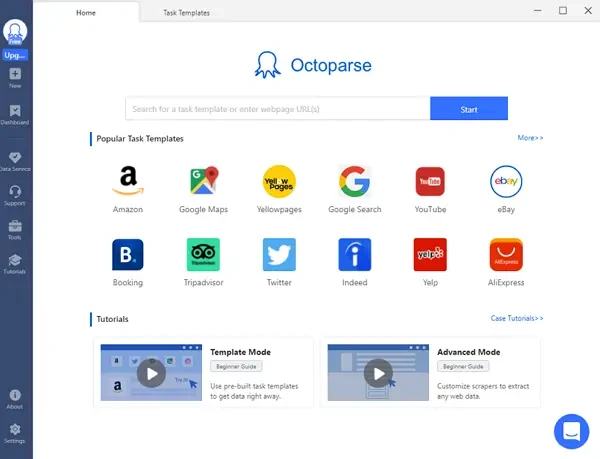 You can extract data by using Octoparse web data miner within 3 easy steps. Or you can follow Octoparse's detailed user guide.
Step 1: Copy and paste the target URL to Octoparse main panel after you have downloaded it on your devices.
Step 2: Extract data by the auto-detect mode and customize the workflow on the right panel. Or you can try the pre-set templates.
Step 3: Run the task after you have a preview. After a few minutes, you can download the data to Excel, CSV, or other formats that are able for further use.
9. Find your date by Big data
Mathematician Chris McKinlay is a Ph.D. student at UCLA. After failing to find the right girl after many blind dates, he thought he should use the dating site like a mathematician. With his talent, McKinlay has created a self-made robot program that uses fake OkCupid accounts to gather a wealth of information about women from the Web. McKinlay spent three weeks collecting 60,000 questions and answers from 20,000 women in the United States. He then classified the women users into seven clusters with different systems based on the improved K-Modes algorithm he had developed. Through the use of a mathematical model to calculate the way to optimize the two groups of women, and then dating. While dating the 88th female netizen, he found his true love.
10. Alibaba implemented anti-counterfeit acts by Big Data
Alibaba recently disclosed a series of counterfeit cases. Ali Security Department claimed that "the most reliable big data, in fact, is the account transaction data, logistics, and shipping information." Alibaba's security staff said they can track offline warehouses through inquiries on shipping addresses, IP addresses, return addresses and more. Account transaction data can be disclosed for each transaction and each sales record. Even if sellers use different IDs and stores, they can find offline fake merchants through big data. 
According to Alibaba's PR department, after years of practices, a big data crackdown model for monitoring, analyzing and cracking down on counterfeit goods systems has been established and is currently in use when cooperating with the police to boycott counterfeit goods.
Final Words
There are so many practical uses of Big data and data mining in our lives. In a few words, something you felt magical, may count on Big data. Explore fun stories about Big data in your lives, and we are happy to speak it out for you.