Which US state is famous for its extra-small soft drinks? Mini-soda! 😉 Jokes aside, the tourism industry was outpacing the global economy till 2019, and then it took a nosedive in 2020. Yes, you know the reason.
But the good news is that travel & tourism are regaining traction. The tourism industry is leveraging tech to accelerate things. One such transformational tech for the travel and tourism sector is Big data. This insight aims to be your guide on "Big Data In Tourism". Post-reading this insight, you'll know: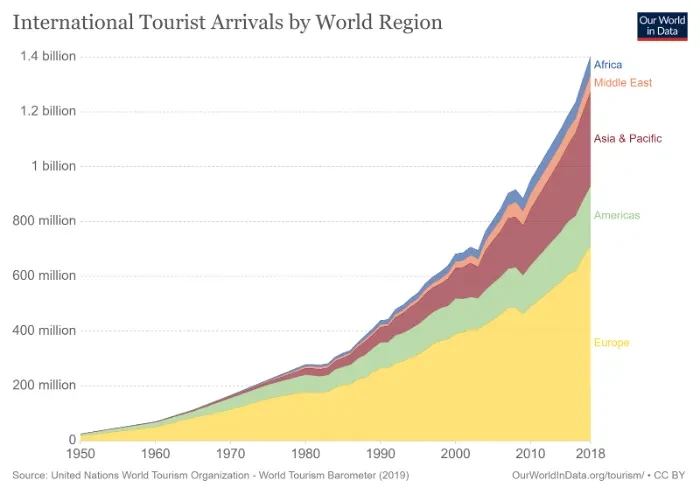 What's Big Data In Tourism?
What is big data? Big data is an approach to systematically extract, process, and visualize large data sets.
What does that mean? Suppose that you've personal details i.e, name, age, gender, country, etcetera of 1000 customers who have visited France in 2020.
Is this big data? Not really.
But if you've data about a million people who hit different corners of the world, the hotel they stayed at, the food they ordered, the places they visited, events that took place in different geographies, different online/offline resources they utilized, etc., then ideally, it should be considered Big data.
In layman's lingo,
Big data is usually larger than several terabytes (TB) and petabytes (PB) of data. 

It's high in volume, variety, and velocity. 

To extract, analyze, and visualize big data, traditional methods are inefficient.
So, you use 
Modern data extraction techniques like web scraping extracts data from the web. 

Sophisticated tools like Hadoop, KNIME, NodeXL, QlikView, FusionCharts, Watson Analytics, etc., to perform big data analytics and visualize trends and patterns.
What sort of big data can be captured in the tourism industry?
Destination Information

– Places to visit, rules & regulations, etc.,

Hotels & Restaurant Data

– Customer Reviews & Ratings, Pricing, Service Details, etc.,

Transportation Data

– Air Tickets, Route Maps, Traffic Data

Events Data

– Sports, Festivals, Summits, etc.,

Government Schemes Data

Tourist Data

– Inflow & Outflow Of Tourists, Place Of Origin, Age, Languages Spoken, etc.,

Social Data

– Travellers'

social media posts with geotags, brand tags, travel-related hashtags,

etc.,

Travel & Hospitality News

Miscellaneous Data:

Web search, website visits, passport & visa application requests, international education, employment, etc.,
How to Extract Travel & Tourism Big Data?
To extract travel & tourism big data, you can prefer:
1. Web-scraping 
Tourism web scraping is an approach to programmatically extract data from travel & tourism-focused websites. You can use web scraping tools or write your scripts to extract data from these websites.
For example, let's say, you need hotel & restaurant data i.e., prices, reviews, services provided, location, etc., from "Booking.com". You can easily scrape hundreds and thousands of hotels & restaurants data from Booking.com within a few minutes.
Use web scraping tools if you need
To quickly extract tourism big data

An affordable, scalable, robust, and secure solution 
2. Internal & external resources
You can also get the data from within the company. Lookout for valuable data in your reservation management software, services & accounts books, etc.,
You may also ask tourism boards and third-party data providers to avail you of the data. But the veracity of data is much higher if you extract using web scraping.
How Big Data Is Used in the Tourism Industry? 
The key to reviving tourism & sister sectors is to harness the power of culture and creativity, optimizing travel operations, personalizing offerings, delivering seamless experiences, and unlocking new growth channels. Big data can be of help here:
1. Tourism Market Research
In the last decade, the penetration of mobile devices has positively catalyzed the amount of data yielded by different sources. In the tourism sector, the data falls under three categories:
User-Generated Data:

online textual data like blogs, social media posts, comments, reviews, geo-tagged food, restaurant, and destination image data.

Device data:

CCTV cameras in tourist places, hotels, restaurants, vehicle & mobile GPS data, mobile roaming data, Bluetooth data, Meteorological data, etc.; 

Transaction data:

search engine data, webpage visiting data, online booking data, etc.,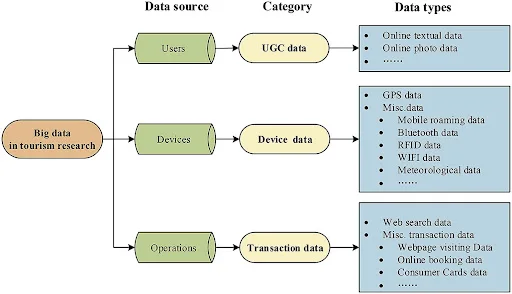 All this data can be good fodder for researchers to carry out tourism-related research. What sort of research? Tourism trends, tourist habits & behaviors, the impact of certain schemes/campaigns on the influx of tourists, etcetera can be analyzed.
2. Rationally allocating traffic resources
Real-time traffic flow state identification and prediction could be the answer to alleviating traffic congestion at tourist attraction points and on tourist routes:
Temporal Correlation: Fixed & mobile traffic flow detectors can help with gathering and analyzing traffic data. 

Spatial Correlation: Traffic flow at one or more junctions impacts

the flow at neighboring

junctions.

Historical Correlation: Traffic data around flow, speed, and occupancy has similar time-based characteristics on particular weekdays or weekends.

Traffic clustering models, data fusion models, correlational models, and optimization models are the most common analytics approaches to efficiently exploit traffic-related big data and intelligently handle the traffic.
3. Operation management of tourist attractions by analyzing tourist behaviors
Tourist behavior analysis could be useful to different stakeholders.

Seasonality of demand in travel, tourism, and hospitality demands flexible operations. Big data can be crucial for profitably managing the operational aspects of tourist attractions. 

Besides destination operation management agencies, it can be useful to retail chains, hotels, restaurant chains, etc. 

Tourists have high expenditure potential. When tourists visit your locality, they often go on shopping sprees, explore eateries, and participate in local festivals or events. Analyzing data around all these points assist executives in strategic decision-making.

For example, based on historical and present trends, tourism players can forecast the influx of tourists at a particular tourist attraction. Accordingly, they can make arrangements for the commute, accommodation, food, and other resources.
4. Estimation of travel demands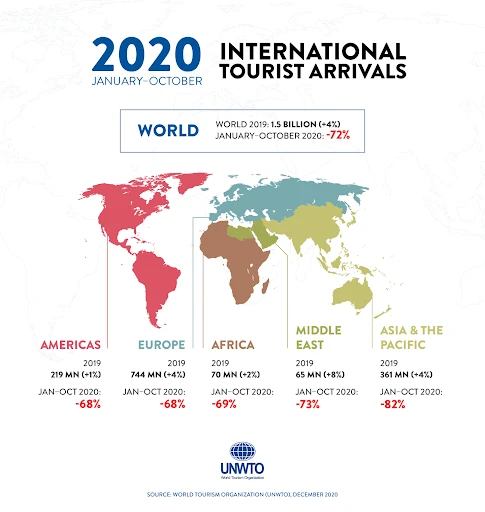 Travel demands have their roots in the "demand" concept of economics. Tourism demand generally means, tourist arrivals & tourist expenditures. You can collect and analyze tourist arrival data or expenditure data based on your objective, whether it is to maximize tourist footfalls or to maximize expenditure.
For example, tourism package planners can customize their plans to suit the pockets of tourists from a particular source country. Let's say, if the average expenditure of tourists from country XYZ is more, then maybe national tourism boards can plan to aggressively promote tourism in the USA, and even plan with service providers and tour package planners to lower the prices.
This may positively catalyze the tourist in-flow.
5. Revenue Management
Hotels and restaurants can have information about occupancy rates, current bookings, prices, etcetera, and combine it with external data like climate conditions, school vacations, local events, flight information, etcetera to effectively forecast the demands and make strategies for maximizing the revenue. For example, sensibly hiking the prices. 
6. Brand Management, Competitor Monitoring & Customer Experience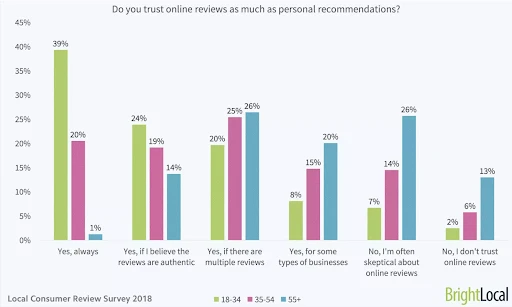 91% of young customers trust online reviews. Today, social media is so powerful that one negative tweet from an influencer can drastically bring down revenues for a business. It's important to monitor your brand image by keeping a tap on social media, blogs, and online review platforms.
On a positive note, you can also monitor what customers are liking about your service and highlight it in your marketing campaigns, improve it further, etcetera. You can not only analyze customer sentiments for your brand but also
Monitor your competitors

Analyze competitor pricing strategies and intelligently price your services
7. Personalized Marketing
Diversity, leisure, business travel, meeting relatives, etcetera are the leading factors influencing people to travel. If you know the intent behind travel, you can personalize your marketing strategies to clock more sales. The more qualified data you have, the better you can execute targeted personalized marketing.
8. Intelligent Travel Bots
The use of big data for NLP is an industry-agnostic use case. Social media textual big data can be well used for feeding machine learning algorithms. As these tourism-related social media posts are mostly by tourists, it's easy to develop intelligent customer-facing bots to address their questions in a language the tourists understand.
Big Data Challenges in Tourism Industry
Cybersecurity & Data Privacy
Web scraping tools have made it damn easy to extract tourism big data from the web. But big data has its challenges too. With increased reliance on tourism big data, the risks of data breaches are equally high. With every breach, trust, confidence, and brands are put at risk. Data governance & data ethics are other big concern related to tourism big data.
Analysing Unstructured Data
Though it is easy to scrape and collect data using web scraping tools, the web is filled with dirty, unstructured data which is tough to analyze. The efficiency of ML algorithms remains a challenge.
Conclusions
UNWTO has forecasted 1.8 Billion international tourist arrivals by 2030. Successfully leveraging big data, and other digital transformation technologies will be key to unlocking and harnessing new growth channels in the tourism industry.
In this insight, we gave you an in-depth overview of "Big Data In Tourism", how to extract travel & tourism data, big data use cases in tourism, challenges, etcetera. With technological advancements, we are seeing an unprecedented flux in customer behavior, business operations, and the way people live and communicate.
One tweet can impact businesses in unpredictable ways. It's important to take calculated, validated, evidence-driven business decisions.