In this article, I use two of my own examples to demonstrate the power of a YouTube Channel Crawler to extract valuable data for analysis, without the need for technical skills:
Export YouTube comments to find out the responses to a video and add percentages to my findings, and 

Creating a content plan to grow my YouTube channel
 How could extracting and analyzing the data from a YouTube channel benefit you? 
What Does It Mean to "Crawl YouTube"?
YouTube Channel Crawler copies what's in a channel (user comments, engagement numbers, and metadata of videos such as titles, tags, and descriptions). This data can be used for various purposes, such as competitor research, opinion mining, or SEO analysis.
When Would You Use a YouTube Crawler?
Let's say you plan to conduct market research on 500 YouTubers to find out the best candidates for affiliate marketing. 
With a tight budget, you could do the tedious thing and manually copy and paste the YouTubers' information page by page, or you could instead do the smart thing and use a web scraping tool like Octoparse. The tool simplifies things by extracting all the information you need from the web pages spontaneously and putting it into a well-structured spreadsheet. 
What would have taken you days to manually complete, can be done in seconds with a Crawler.
And the best part is that you don't need to be a programmer to do it; with a tool, you can:
Say goodbye to manually copying and pasting

Gather data from multiple sources

Scrape needed data in a well-structured format
YouTube Crawlers: My Non-Tech Story

 
You should know that I am not technical. Although I know nothing about programming, I still manage to take advantage of both web crawling and web scraping with a tool like Octoparse, in order to build my YouTube crawler. 
You don't need to be a coder to perform a YouTube channel crawling project. If you have the source, you can get the data! 
Reason #1: Satisfy My Own Personal Curiosity
I am new to data mining. I wanted to know how people would spend their Thanksgiving Day in the strange year of 2020. The questions I was asking myself were, "Will people still gather? Or are they fearful of the pandemic and plan to stay home instead?"
So. Curiosity intact, I took to YouTube to find out how people would react to videos that gave warnings of Thanksgiving celebrations under Covid-19. With the help of Octoparse, I built a YouTube Comment Scraper to crawl a total of 198 comments from 4 videos and did a bit of study on the issue. 
I wrote about my analysis in this article. In summary, this is what I found by performing a YouTube Channel Crawl:
"As we categorized people's reactions to the Covid-19 warnings about Thanksgiving celebratory meetings, 10.7% of people agreed on the severity of the pandemic and stated that they would take precautions, while 61.4% of the people making comments blamed overreactions or mocked the press for "building up this fraud'."
This is a great example of YouTube Channel Crawling; I could satisfy my curiosity about what people were saying, and attribute a percentage to those taking the precautions seriously, and those who were not, and I could understand why. 
Do you need to study a competitor or product? You can see from my own example that web crawling is a fantastic way to study customers or competitors.
If you are looking to build your own YouTube Channel Crawler from scratch, Octoparse is a good fit for you. You may be interested in below video tutorial. (this video was made years before so it just showcases the use of Octoaprse 7, while you can find your way out in Octoparse 8 as well) 
Reason #2: I Analyzed My Own YouTube Channel With a Web Crawler
I run my own YouTube Channel, and one day I ran across this channel comparison website and found that my peers were definitely surpassing me in both views and subscriptions. I hadn't uploaded new videos for some time, but if I wanted to grow my YouTube Channel, I realized I would need to figure out what kind of content I should produce in order to win some of my competitor's traffic.
My Plan of Action
First things first, I needed to come up with a plan of action. I found a great resource about doing keyword research for YouTube SEO, so I used that article to create an action plan:
Step 1: Crawl down video information of my channel
Step 2: Sort out the tags I have covered, filter with views
Step 3: Crawl down video information of my competitors
Step 4: Analyze the channel data and find the gap for my future content creation
The Data I Used For Analysis
To show you what I did, I will use the Octoparse YouTube Channel as an example.
This is the data I used in my research and analysis: 
Video titles

Video details (tags, views, descriptions, comments, publishing dates)
This is the information I got from crawling this particular page: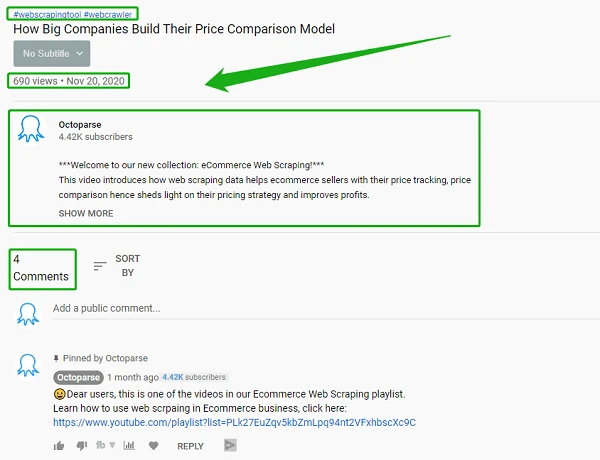 By analyzing the data that Octoparse crawled for me, I could effectively create a content plan that my viewers would value because all my content would be based on the information they provided via comments and so on. 
Instead of thumb-sucking content topics, because I used the Octoparse Web Crawler, my plan was totally data-backed, which guided me through the creation process and helped me keep my momentum.
Get Your Own YouTube Channel Crawler
So you could do it the long way and spend hours collecting data by hand, or you could simply use Octoparse to do it for you within a few minutes. 
We'll be smart and use Octoparse, so you can see just how easy it is to do your own web crawling:
Go to the system and set up a new task.

Enter the URL of the target website.

Create a list of items to be extracted.

If you want, you can now rename the fields to those of your choice.

Run the task.

Check the extracted data.

Export the data to Excel or another program.
 Easy peasy.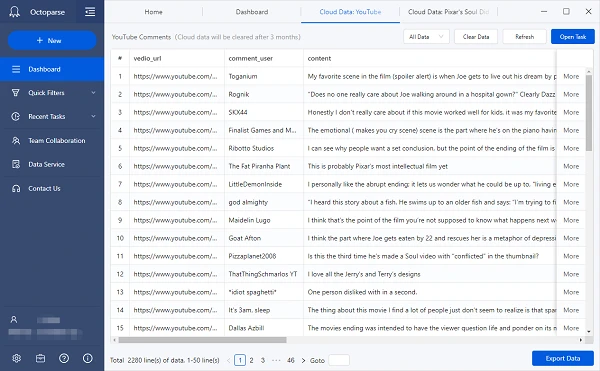 People's comments on Pixar's Soul on YouTube: extracted by Octoparse Web Crawler
Last Things
Octoparse makes web scraping easy. Businesses use data to make better decisions because data does not lie!
The kind of information you can get from Octoparse YouTube Channel Crawler will provide you with what you need to get the edge over your competitors. Using data to make decisions is just smart. 
Getting the information you need to make brilliant decisions backed by data needn't be hard; Octoparse understands non-tech users and as such, offers a plethora of resources to help non-tech folks do tech stuff.