Just imagine if you want to search for something in Google and copy all the result links into an Excel file for later use, what should you do? It must drive you crazy when you click and copy and paste all the links manually. You may ask: "Is there any machine automatically doing all the work for me?" Yes. There is such a thing as a web scraper!
A web scraper is a tool used for extracting data from websites. It can automatically gather or copy specific data from the web and put the data into a central local database or spreadsheet, for later retrieval or analysis.
There are free web scrapers to help you build your own scraper without coding. This article is going to introduce several web scrapers for you to choose from.
Octoparse is a cloud-based web crawler that helps you easily extract any web data without coding. With a user-friendly interface, it can easily deal with all sorts of websites, no matter JavaScript, AJAX, or any dynamic website. Its advanced machine-learning algorithm can accurately locate the data at the moment you click on it.
Is Octoparse Free?
The answer is YES. Octoparse can be used under a free plan and a free trial of paid versions is also available. It supports the Xpath setting to locate web elements precisely and Regex setting to re-format extracted data. The extracted data can be accessed via Excel/CSV or API, or exported to your own database. Octoparse has a powerful cloud platform to achieve important features like scheduled extraction and auto IP rotation.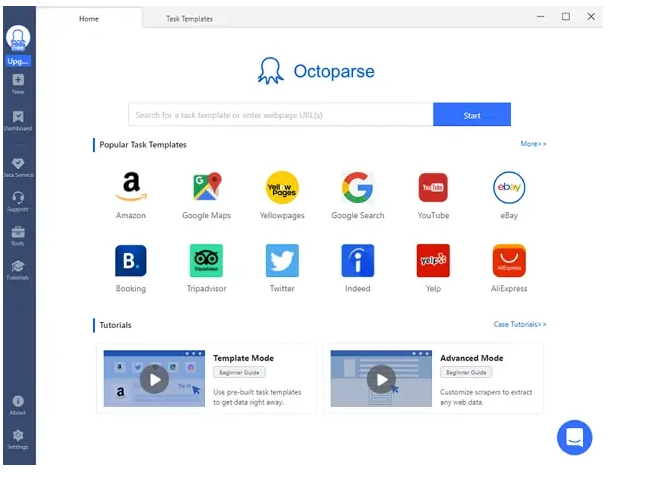 Import.io is web-based software for web scraping. Using highly sophisticated machine learning algorithms, it extracts text, URLs, images, documents, and even screenshots from both list and detail pages with just a URL you type in. Data could be accessed through APIs, XLSX/CSV, Google Sheets, etc. It allows you to schedule when to get the data and supports almost any combination of time, days, weeks, months, etc. The best thing is that it even can give you a data report after extraction.
Although with all these powerful functions, Import.io has canceled its free version and every user can just get a 7-day free trial. It currently has four paid versions with different limits to extractors, queries, and functions: Essential ($299/month), Professional ($1,999/year), Enterprise ($4,999/year), and Premium ($9,999/year). 
Parsehub, a cloud-based desktop app for data mining, is another easy-to-use scraper with a graphics app interface. It works with any interactive pages and easily searches through forms, opens dropdowns, logins to websites, clicks on maps, and handles sites with infinite scroll, tabs, pop-ups, etc. With its machine-learning relationship engine screening the page and understanding the hierarchy of elements, you'll see the data pulled in seconds. It allows you to access data via API, CSV/Excel, Google Sheets, or Tableau.
Parsehub is free to start and it has a limit to extraction speed (200 pages in 40 minutes), pages per run (200 pages), and the number of projects (5 projects) in the free plan. If you need high extraction speed or more pages, you'd better apply for the Standard plan ($149/month) or the Professional plan ($499/month). 
Another web-based scraper, Mozenda, also gets data magically by turning web data, regardless of type, into a structured format.
It automatically identifies lists and helps you build agents that collect precise data across many pages. Not only to scrape web pages, Mozenda even allows you to extract data from documents such as Excel, Word, PDF, etc. the same way you extract data from web pages. It supports publishing results in CSV, TSV, XML, or JSON format to an existing database or directly to popular BI tools such as Amazon Web Services or Microsoft Azure® for rapid analytics and visualization.
Mozenda offers a 30-day free trial and you can choose from its flexible pricing plans after that. It has a Professional version ($100/month) and an Enterprise version ($450/month), each having different limits to processing credits, storage, and agents.
5. Content Grabber
Content Grabber, with a typical point-and-click user interface, is used for extracting pretty much any content from almost any website and saving it as structured data in a format of your choice, including Excel reports, XML, CSV, and most databases.
Designed with performance and scalability as the top priority, Content Grabber has a range of different browsers to achieve maximum performance in every scenario – from a fully dynamic web browser to the ultra-fast HTML5 parser-only browser. It tackles the reliability issue head-on and adds strong support for debugging, error handling, and logging.
You can download a 15-day free trial with all the features of a professional edition but a maximum of 50 pages per agent on Windows. The monthly subscription is $149 for the professional edition and $299 for the premium subscription. Content Grabber allows users to purchase a license outright to own the software perpetually.
Conclusion
All these web scrapers can basically satisfy various extraction needs and software like Octoparse, even has blogs to share news and cases of data extraction, but it is important to consider the functions, limitations, and of course, price of different software according to your individual requirements when choosing one to stick to. It is lucky that all products offer a free trial before you buy them.