Capterra, Inc. is an amazing and free-of-cost online marketplace and acts as an intermediary between technology vendors and buyers of the software industry. This company helps customers to select and get software based on reviews and ratings given by dedicated customers. It was founded in 1999 by Michael Ortner and Rakesh Chilakapati.
As there is a lot of data available on Capterra and you may need a web scraper to get data. We are going to introduce you to the powerful and free Capterra Scraper and how to use it to scrape product data from Capterra without any coding.
Why Scraping Capterra
So, what is the need for scraping Capterra, or what benefits can someone get by doing this?
As, there are thousands of products and reviews on them, available on Capterra from multiple software businesses all over the world. You can see products, their ratings, pros and cons, reviews count, and descriptions available there.
If you want to get details about a specific product, it is very hard to go through every product to check out everything related to it. You can't go through everything to find the best product. That's why you need to scrape Capterra for getting data.
Benefits of scraping Capterra
It is a good data-driven strategy to boost your business and open many opportunities for fast and long-term growth.

It saves your time by providing you with a lot of information about a product, its description, reviews, insights with numeric values, related products, and many more.

Scraping provides you with rich and unique datasets about the software industry.
What kinds of data can you scrape from Capterra
You can get a lot of information about software:
Name of software

URL

Reviews and rating

Category

Number of reviews

Software description

Customer Care service

Company URL
Data about reviewer:
Name

Industry

Level and Size

Overall ratings

Roles

Ease use ratings

Customer service ratings

Overall ratings

Money value ratings
Data about review:
Review title

Pros and cons

Date of review

Comments

Timestamp

And many more.
Does Capterra have API Access
Capterra doesn't give any free or flexible API Access. It is legal to do web scraping even without having API access but depends on the local laws and way of using data or purpose of use.
Let's learn how to use a free Capterra scraper with a free and unofficial Capterra API to extract any type of data without any hesitation and being blocked.
Steps to Scrape Capterra for Products and Reviews
Octoparse is a well-known and powerful tool to scrape Capterra reviews and products without any coding. It is python-based software and is available in both free and premium versions. It will never be blocked while scraping and has a lot of custom options to do scraping of your choices. It is very simple to use Octoparse as it doesn't need any technical and coding knowledge to do scraping websites. You can also find advanced functions like cloud service, IP rotation, scheduled scraping, and others to help you get data much easier.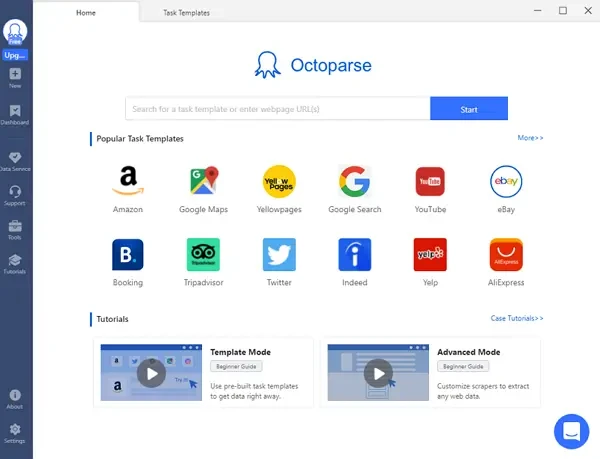 How to scrape data from capterra.com without any coding
Step 1: Download Octoparse and go to your targeted webpage
First, download Octoparse and install it on your PC. Then copy the target link you need to scrape from Capterra, paste it into the search bar of Octoparse and click on the Start button to continue.
Step 2: Start autodetection and create workflow accordingly
Octoparse will start auto-detecting the page to extract data, create a workflow after the process. And you can preview the data fields, make changes accordingly to make sure you can get what you need.
Step 3: Export Capterra data into Excel file
After checked the whole workflow and data fields, click on the Run button to start scraping. You can download data in multiple formats like Excel, CVS, JSON, or database.
Octoparse is the best web scraper to scrape websites like Capterra.com. Scraping Capterra helps a lot of people to find the best software with multiple and best reviews. So, what are you thinking about? Download Octoparse and start scraping Capterra right now.