Job sites are really popular today for anyone to find the right job or for any firm to hire the perfect candidates. These sites, however, also house large quantities of aggregated data which provides good insights for job trends, salary levels, competitors' info and many others. While these job sites are overwhelmed with massive volume of data, recruiters should know how to leverage and make full use of them while they are still fresh on the web. A regimented recruitment plan should consider factors such as:
Recruiting demand

Issue Recruitment info

Monitor the market's highs and lows

Be aware of the most sought-after

Managing the job seeker's info and many others
With that said, here I summarized the 5 essential skills for any recruiters to better utilize aggregated data from the web and successfully recruit the perfect candidate through analyzing the mined data. 
1. Find the best job title to post a position
It's surprisingly important to advertise a job position with an explicit and clear title. In most cases, job seeker would apply for jobs with a matching title that they could understand or be hunting for. For example, a software engineer won't look for a position titled as " Programming engineer".
Thus recruiters could use data from job sites, like Indeed, to figure out a more accurate and better fitting job title to any of the roles recruiting for. Then, talents with matching requirements will find a way to you instantly.
So now, how do you find the best fitting job title? You could input a general keyword to search on any job platforms, then focus on the filtered search results of Job Titles. The job titles listed on the top are the ones associated the most with the keyword you are searching for.
This trick can be used on various  job sites like Indeed, LinkedIn and etc.
2. Keep track of your competitor's talent pool  
This very process of shooting for target talents will keep you up-to-date with the share of talents in demand and avoid talent drain. This information will help recruiters to identify the underlying factors that are most attractive to any candidates, for example incentives, salaries, promotions and etc.
More specifically, we can use a job site's CV database to find the companies where most talents with certain required skills tend to gather around. For example, the top employers, like the figure shown below, with expected professional background are listed on the left side when we search the key term in its CV/Resume database.
3. Offer relative competitive wages
No surprisingly, competition from companies has driven up the wages to attract talents. By doing so, recruiters may refer to some relevant job positions posted by other companies via searching the job search function from the perspective of a candidate, like the Indeed for example. It will allow recruiters to track the information from their competitors, and offer a relatively competitive wage. Furthermore, you could pinpoint the accurate location within an area or specify whether this position is only available for full-time, part-time or others.
4. 

Keep an eye on the Industry Employment Trends
The supply-and-demand for professionals is always changing. Take Accounting Industry for example, its job seekers have increased by 9%, while the demand on the market has decreased by 2% in 2016 when compared with 2015. This statics is not looking very optimistic for any accounting candidates. Recruiters must keep a close eye on the flow of the brain drain, so as to have the  human resources advantages for a competitive development. Plus, recruiters can also find the most sought-after job titles, some top searching keywords, and popular work places by delving into these statistics.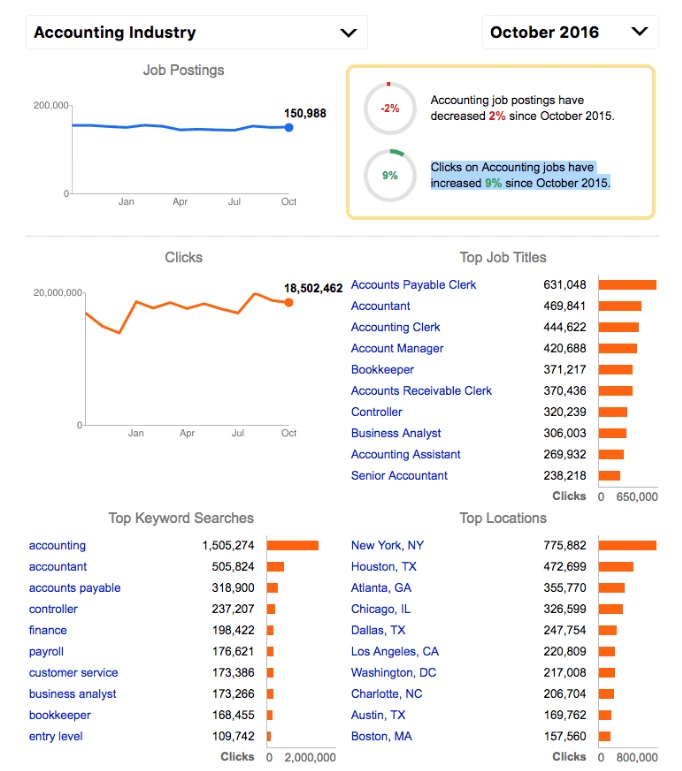 5. Scrape data for deep learning
Now, we've seen how the data from job sites could substantially help recruiters finding the most wanted candidates. Just when you are contemplating over how this data can be retrieved,  I would like share with you about an automated data scraping tool that enables you to crawl all the data of interest for further analysis in a breeze. 
Octoparse, a non-coding, desk-top web scraper. It is rather easy to work with with its user-friendly UI and self-explained workflow designer (see below screenshot). Users could easily extract the data within a few steps. In addition, Octoparse is capable of transforming the captured data into structured data for further evaluation and analysis.
Octoparse has provided a Regex built-in generation tool, which can help users normalize and purge data if needed. This specific tool provides great convenience for any users not so fond of Regex as it generates regular expressions automatically with a few easy selections.
Serving as a powerful scraper, Octoparse could scrape many tough websites with different data blocks that are hard to scrape. XPath is a common used built-in tool with Octoparse, which could help users to pinpoint the correct XPath and find out its web elements accordingly. You can also utilize the built-in XPath tool if you don't know how to read a XPath or make relevant modifications.
To conclude, the 5 skills mentioned above are just some tips for your reference. There are a lot more factors that should be considered when applied to different companies. While the recruitment procedure could be as complex as possible, a recruiter in the big data era should  learn how to effectively allocate resources and leverage data to reach the ultimate goal of what a company and a job seeker care most about .