If you are looking to analyze or audit a website to test its SEO, traffic, competitors, speed, or want to improve your conversion rate, then using a web analysis tool will help you identify the site's problems and fix them. There are a lot of tools for site analysis, so it is important that you use the right tool to get the best result.
In this article, we will discuss web analysis and explore some of the best tools you can use to analyze your website.
What Is Website Analysis
Website analysis is the process of reviewing and testing the performance of any website. It involves analyzing websites' data to improve traffic, increase conversions, and improve the overall user experience of the website.
The primary purpose of website analysis is to get data about websites' traffic, conversion rates, SEO, speed, and competitors and to improve these metrics. Web analysis tools can be divided into the following 5 types.
1. SEO Analyzer: SEO analyzer tools are analysis tools that help us understand the search engine rankings of a website. It helps to analyze a website's backlinks and how well your site is optimized for search ranking.
2. Keyword Analyzer: Keyword analyzer tools are those tools that help to analyze the keywords for which the site ranks. It shows where the site ranks for a specific keyword in a search engine.
3. Traffic Analyzer: These tools help us know how many visitors the website is getting and from which source and location the visitors are coming from. These tools help you monitor the traffic coming to the site.
4. Speed Analyzer: These tools help to analyze the loading speed of the website. It shows all the speed issues and how you can fix them.
5. Usability (UX) Analytics Tools: These tools help to analyze the user experience of the site and help you understand what the users do when they visit the website.
Best Web Scraping Tool to Crawler Site Pages
We can also use web scraping tools to analyze competitors' websites. They help to get the data from any website for analysis. We can get data about the websites' content and products, which we can analyze to create better content and products than the competitors.
For such web scraping projects, we can use a web data extraction software like Octoparse. It is an easy-to-use, beginner-friendly tool that can scrape almost any website, including websites that are highly dynamic and use Javascript and AJAX to load the data. It can also deal with logins, dropdowns, and infinite scrolling. It is one of the most efficient web scraping tools that can handle huge volumes of data and can run multiple tasks simultaneously.
So, if you are looking to scrape any website, you can use Octoparse to analyze the website's content, products, and services.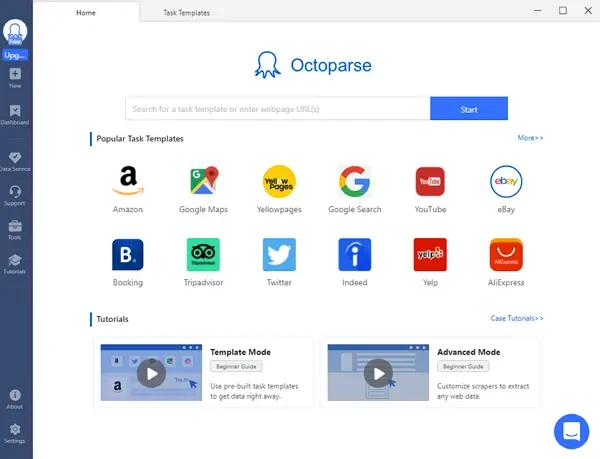 Top 20 Website Analysis Tools
Google Analytics is one of the most popular web analytics tools that help you understand your website visitors by analyzing pageviews, bounce rate, and user activity. You can monitor the visitors in real-time and find all the details about them, including their demographics, interests, devices, age, and geography.
Google Analytics lets you understand your site's visitors and helps you understand your customers' journey while using the website so that you can analyze their behavior and improve the user experience and conversion.
Ahrefs is an SEO analysis tool that can be used to determine how well a website performs in search engines. It helps to analyze any website's ranking, backlink profile, and traffic estimation. It provides data about the sites that are linking to your site and also checks the quality of those backlinks.
It is also used for keyword analysis to determine the search volume of any keyword and the difficulty of the keyword. You can see for which keyword a site is ranking and find potential keywords that can be used to improve your position in the SERP.
Moz is one of the popular SEO tools that help you improve the visibility of your website in search engines. It can crawl your site and find technical SEO issues and recommend a solution to those issues.
It also helps you optimize your pages to rank for target keywords and recommends specific improvements to rank higher. Moz ranks websites based on a search engine score called Domain Authority, which shows how likely your site is to rank in search engines. According to Moz, the higher the Domain Authority of a website, the greater the probability of it ranking higher on SERP.
Majestic is an SEO tool that focuses primarily on link analysis. It provides information about the quality and quantity of its backlink profile. It analyzes websites based on two metrics, Trust Flow and Citation Flow.
Trust Flow shows the quality of links pointing to the URL, and Citation Flow shows the quantity of links pointing to the URL. Higher Trust Flow means that a lot of authoritative sites are linking to the website and it is getting links of good quality.
SimilarWeb is a tool that helps to find the estimated traffic to any website and rank websites according to the traffic they get. It can provide an estimation of the total number of visitors to the website, traffic source, geographic location of the site's audience, and their demographics and interests.
It can also accurately provide data about the sites' competitors and the top keywords that are driving organic traffic to the website. With Similarweb, you can also compare two sites' traffic, top keywords, and rank side by side.
SerpStat is an SEO analytics tool that helps with keyword research, rank tracking, and competitor analysis. SerpStat has more than 30 tools to help conduct full website analysis, including both On Page and Off Page Analysis.
It can also help you plan your content for your blog, analyze competitors, collect keyword volume and keyword difficulty data, and analyze trends in keyword search volume. It also has a site audit tool, which shows the technical issues on the site and how to fix them.
UberSuggest is a keyword research tool by Neil Patel, who is a successful digital marketer and entrepreneur. It can be used to get an overall SEO overview of a site. Ubersuggest helps you find the top pages of any website by traffic and also the keywords for which the site ranks in the SERP.
With the Site Audit Tool in Uber Suggest, you can find SEO issues for your site and get instructions on how to solve those issues. You can also check your site's backlink profile to see which sites have linked to your site.
KWFinder is a keyword analysis and research tool that helps you find keywords that are easy to rank. With KWFinder, you can check your competitor's site and find the best keyword they rank for.
You can also get search volume and historic data for any keyword along with the keyword difficulty of the keyword. Keyword Difficulty shows how difficult it is to rank for that keyword. With this data, you can plan your content and link-building strategy accordingly.
Google Search Console is a tool developed by Google that helps you measure the site's search traffic and performance in Google search. Google Search Console is a free tool that helps you with monitoring, maintaining, and troubleshooting your site's visibility in Google Search results.
With Google Search Console, you can analyze which search queries bring traffic to your site and for which keywords your site is ranking on Google. It can also notify you when Google identifies any issues on your site and suggest methods to fix those issues.
Google Keyword Planner is a free keyword tool developed by Google that can be used to analyze and research to find keywords for your website. 
You can find keyword ideas that are related to your website and also help you get search volume and a forecast on how the keyword can perform. The Google Keyword Planner tool is a product of Google, so the search volume data and other data are much more accurate than other tools. Even though Google Keyword Planner is created to research keywords for running Google ads, it can be used as a keyword analysis tool to get the accurate search volume of any keyword.
PageSpeed Insights is a tool developed by Google to analyze how fast a website loads. It analyzes the speed of the site on both desktop and mobile devices and gives a score from 0-100. A score of 90-100 is considered good speed, and anything from 50-90 is considered average.
It uses metrics like First Contentful Paint(FCP), Speed Index, Blocking Time, etc. to measure the speed of the site. It also shows how you can improve the loading speed of the site to make it faster.
Pingdom Tool is one of the popular tools for site speed analysis. It allows you to monitor the performance and interaction of the site and test the page load time from more than 70 global polling locations.
Once the analysis of the website is complete, it scores the site speed based on different metrics and provides you with tips to improve the speed of your site. It also provides information about the page size, load time, and the number of requests made to load the site.
GTmetrix is another popular tool for speed analysis. It helps you check how fast the website loads and how your site performs in different countries and browsers. With GTmetrix, you can track your website's performance and get notified when your page is slow. It provides a full report on the website's issues and their impact. It also shows how to fix all the issues and improve the overall speed of the site.
GTmetrix analyzes the page load of the site from 82 servers located in 22 countries to check the sites' performance. It can also check the performance of the site on over 30 mobile devices so that you can optimize it for mobile users as well.
Matomo is one of the web analytics software that is used to analyze website visitors. It uses heatmaps, session recording, log analytics, and content tracking to understand the visitors' behavior while using your website.
You can also see the performance of your keywords and trends on Google and Bing search engines using Matomo. You can map the whole sales funnel and measure the dropoffs so that you can create a strategy to minimize the dropoffs and increase conversions and sales.
Parse.ly is a content analytics tool that is used to measure the performance of content published on a website. Parse.ly gets the articles from the publisher's site and then analyzes the content and creates a content strategy to improve user engagement, retention, and conversion. You can also check how well your posts are performing with Parse.ly.
Parse.ly can help you break down the total traffic of your site by posts and visualize and sort posts based on metrics like visitors, page views, bounce rate, time engaged, etc., which helps in a better understanding of the content's performance.
HotJar is a web analytics tool that is used to analyze the behavior of visitors to a website. It uses heatmaps, session recordings, surveys, and feedback widgets to help you understand how users interact with the website.
With HotJar, you can identify trends and find deeper insights into the behavior of the user. It helps you know what the users actually want from the website. By analyzing the users' behavior on your site, you can improve the overall user experience, performance, and conversions.
Crazy Egg is another UI analytics tool used to understand what the website visitors are doing when they use your website. It uses heatmaps, scroll maps, recordings, A/B testing, traffic analysis, and surveys to understand the user's behavior. It helps to track and understand the users' behavior so that you can improve the user experience on the site and increase your sales and conversions.
It can track user behavior such as clicks and mouse movements in order to better understand the users when they visit the website. With A/B testing, you can compare two versions of your webpage to determine which version performs better before making changes to the page.
Mouseflow is another Behavior Analytics tool used to optimize the user experience of the website. Over 190,000 digital markers, startups, and enterprise clients use Mouseflow to improve their websites.
It helps to track the activities of the users and find patterns. You can also see where your visitors click, their mouse movements, and where your visitors drop so that you can improve your site's user interface and experience for better conversion.
KissMetric is another web analytics tool used to analyze the behavior of users. Kissmetric tracks the users' entire journey on the website so that you can have insights on every page they visit, every click they make, and every purchase they make on the site.
You can have a real-time report on live data for the visitors currently accessing your site. It also allows you to break down the users based on demographics, location, and their actions on the site. It can also help you track users' conversion rates, bounce rates, bounce points, carts, and customer lifetime value.
Woopra is a Customer Journey Analytics tool that is used to track what users do. Woopra can find opportunities and issues in each step of the funnel. It also provides retention reports, which measure how long the user has remained on the site and taken some action. You can have an insight on every customer and track whether they continue using the website after signup or make any purchases.
It can help you understand how every step in the funnel affects the customer experience and how you can improve them to grow and scale your business.
Final Words
The most critical step in analyzing any website is to select the right tool according to your needs. You will not receive the desired result if you do not use the appropriate tool for your analysis. Hence, if you are looking to analyze your website, first determine which aspect of your site you are analyzing and then select the most suitable tool that best fits your needs.